Where are they now? 1987 Cardinals
Ozzie, McGee, Coleman -- and Oquendo -- helped St. Louis top Giants in first NLCS meeting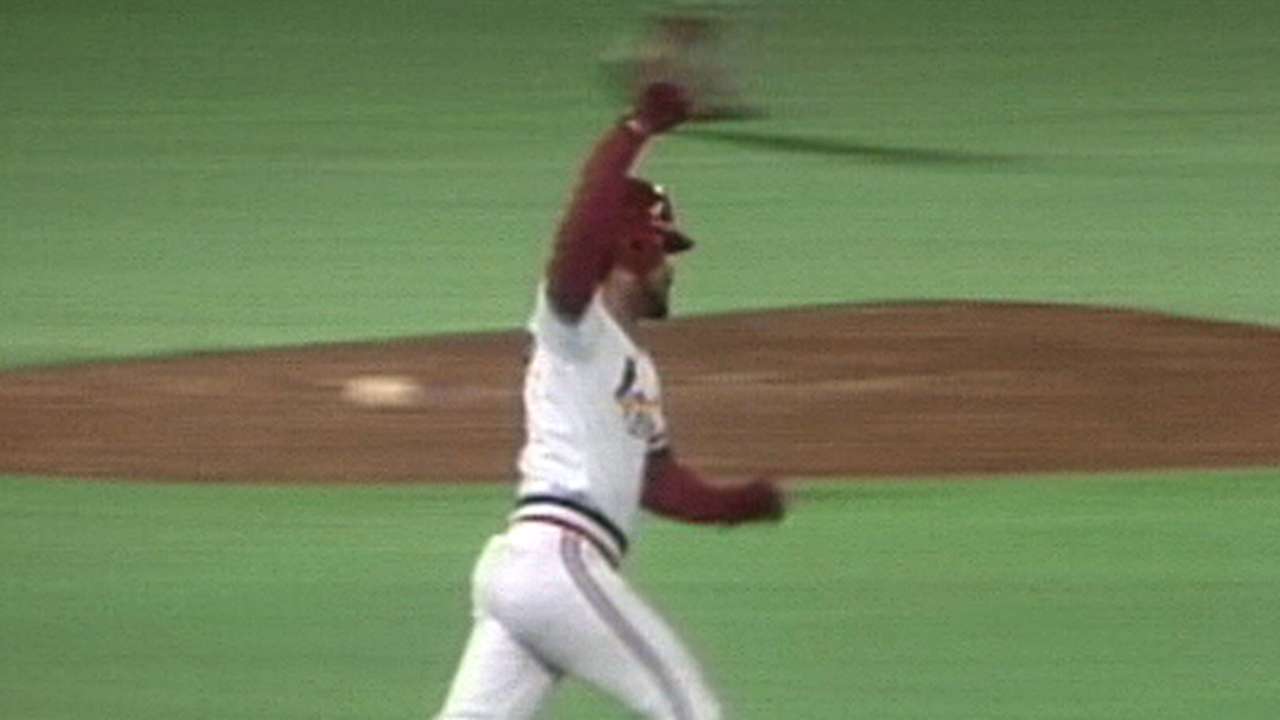 In 1987, the Cardinals reached the postseason for the final time as members of the National League East. They won the division with a record of 95-67, advancing to the NL Championship Series against the Giants.
Despite missing cleanup man Jack Clark, who sprained his right ankle during a game in September, the Cards toppled San Francisco in seven games, overcoming a 3-2 series deficit with shutouts in the final two contests. Ultimately, the Twins defeated Whitey Herzog's squad in a seven-game World Series.
With the Cardinals and Giants getting set for another NLCS showdown -- their fourth such meeting since 1987 -- here's a look at what the '87 Cards are up to now.
Jack Clark, 1B: Clark was one of the best players in the Major Leagues in 1987, which was his finest season. He had 35 home runs, 106 RBIs and an eye-popping slash line of .286/.459/.597. Then he sprained his ankle, perhaps costing him the NL's Most Valuable Player Award. He was on the NLCS roster but batted just once, striking out in the fifth inning of Game 3. Today, Clark lives in the St. Louis area.
Vince Coleman, LF: All Coleman did during the regular season was steal 100-plus bases for a third straight year to lead the NL and rack up 702 plate appearances. During the NLCS, the leadoff man drove in four runs, which matched Jose Oquendo for the team lead. Coleman is now, aptly, a base-running instructor for the Astros. He lives in San Diego.
Danny Cox, SP: Cox twirled a complete-game, eight-hit shutout in Game 7 against the Giants to clinch the Cards' third pennant in six years. He was also the winning pitcher in Game 5 of the World Series. He lives near Freeburg, Ill., and in June he coached the Illinois squad at the Illinois-Missouri High School Baseball Showcase at Busch Stadium. Former Cardinals right-hander Alan Benes was the coach for Team Missouri.
Ken Dayley, RP: Dayley, the Cards' ace left-hander reliever, notched saves in Games 1 and 6 of the NLCS and allowed just one earned run in 8 2/3 postseason innings -- though he did give up a grand slam to the Twins' Kent Hrbek in Game 6 of the World Series. He works in real estate in the St. Louis area.
Dan Driessen, 1B: When Clark went down, Driessen, in the final year of his career, split duties at first base with Jim Lindeman. Driessen was hardly the same player he had been with Cincinnati's Big Red Machine, but he had a solid October and hit a pair of doubles in a Game 1 win over San Francisco. He operates Driessen Excavating Services in Hilton Head, S.C., and helps coach the Hilton Head High School baseball team.
Curt Ford, RF: Ford, who played in 89 games as a part-time outfielder, had three hits in the NLCS and batted .308 in the World Series. He lives in the St. Louis area, where he does youth baseball training.
Bob Forsch, SP: The 1987 season was Forsch's 14th and final full season with St. Louis. After making 30 starts during the regular season, he pitched out of the bullpen in the playoffs, enduring several rough outings but taking the victory in Game 3 of the NLCS after throwing two scoreless innings. Forsch died on Nov. 3, 2011, at age 61, of a thoracic aortic aneurysm.
Tom Herr, 2B: Herr smacked a two-run single in the sixth inning of the decisive NLCS Game 7, putting it out of reach for the Giants. He also provided a memorable moment early in the season, hitting a walk-off grand slam against the Mets in a 12-8, 10-inning victory on April 18. Herr, who lives in Pennsylvania, has coached at multiple levels of the Minor Leagues.
Ricky Horton, RP: Back then, he was Ricky. Now he goes by Rick, providing color commentary for Cardinals games on FSN Midwest over the past 10 seasons. He has also filled in on KMOX radio broadcasts. Horton, who lives in St. Louis with his wife and two children, posted a 3.73 ERA during the regular season and pitched once in the NLCS, tossing three shutout innings in a Game 5 defeat.
Lance Johnson, OF: Johnson was 24 years old when he began his career with St. Louis, appearing only as a pinch-runner in the postseason. He was traded to the White Sox the following February in a deal for Jose DeLeon and spent eight years with Chicago, leading the American League in triples in four straight seasons before moving on to the Mets, Cubs and Yankees. He lives with his wife in Alabama.
Steve Lake, C: After appearing in 74 games during the regular season, the strong defensive backstop started Game 7 of the World Series and had an RBI single in the 4-2 loss. The Inglewood, Calif., native stuck around in the Majors until 1993, leaving the Cardinals after the 1988 season before spending four years with the Phillies and one with the Cubs.
Tom Lawless, 2B: Fans will always remember Lawless for his bat-flip in Game 4 of the World Series after smashing a go-ahead home run -- one of three home runs he hit in 531 big league at-bats over eight seasons. He went 2-for-25 (.080) during the regular season, but he had two hits in six NLCS at-bats before his big homer. Lawless was interim manager of the Astros for the final month of this season.
Jim Lindeman, 1B: Lindeman, helping fill in for Clark, had a solid NLCS, hitting a two-run homer in the sixth inning of Game 3 that keyed a 6-5 comeback victory in San Francisco. He is the athletic director and baseball coach at Rolling Meadows High School in Illinois.
Joe Magrane, SP: A stud rookie in '87, the left-handed Magrane finished third in NL Rookie of the Year voting, making 27 starts (one in relief) and recording a 3.54 ERA. He struggled in Game 3 vs. San Francisco, giving up four runs in four innings, but Forsch relieved him and the Cards went on to win. Magrane worked on Rays television broadcasts from 1998 to 2008 and now is an analyst for MLB Network.
Greg Mathews, SP: Mathews logged 197 2/3 innings during the regular season, the highest such number in his five-year career. He set the tone in Game 1 of the NLCS, holding the Giants to three runs (two earned) over 7 1/3 innings. Today, Mathews is a pitching coach for Glendale Community College in California.
Willie McGee, CF: Two years removed from his MVP season, McGee had a career-high 105 RBIs while batting in the No. 5 spot. Now, he is becoming a Cardinals lifer. After finishing his career with St. Louis, McGee was hired last year to be a special assistant to general manager John Mozeliak, working with Minor League prospects on baserunning and outfield defense. He was inducted into the Cardinals Hall of Fame in August.
John Morris, RF: Morris, a utility infielder, batted .261 in his second season with the Cardinals and got five playoff at-bats. He works in the Reds organization as a special assistant to the GM.
Jose Oquendo, IF-OF: The Cardinals' third-base coach of 15 years was a utility-man extraordinaire in 1987, playing every position except catcher during the regular season to earn him the nickname "The Secret Weapon" from Herzog. He saved his best-kept secret for Game 7 of the NLCS, hitting a three-run shot in the second inning -- after hitting just one homer all season -- to put St. Louis ahead, 4-0.
Tom Pagnozzi, C: The '87 season was Pagnozzi's first big-league rodeo. He saw limited playing time and just one at-bat in the NLCS and four more in the World Series and then spent his entire 12-year big league career with the Cards. Pagnozzi does extensive charity work in his hometown of Fayetteville, Ark., where he played college ball.
Tony Peña, C: In his first of three seasons with St. Louis, Peña experienced a dip in production from his days in Pittsburgh -- but he stepped up in the playoffs. Catching every inning of the NLCS, Peña hit .381. Today he is the Yankees' bench coach and has spent more than three decades in professional baseball as a player, scout, manager and coach.
Terry Pendleton, 3B: Now the first-base coach for the Braves, Pendleton did his best work at the opposite corner of the diamond. The three-time Gold Glove winner had a breakout season, flashing the leather and showing the first signs of pop that would earn him an MVP in 1991 with Atlanta.
Ozzie Smith, SS: The Wizard was at his best, notching a career-high 75 RBIs, batting .303 and, of course, winning a Gold Glove while finishing second in NL MVP voting. He also hit 40 doubles, 10 more than he hit in any other season. Smith has run an indoor youth sports academy in St. Louis' Chesterfield Mall since 1990. He's also taking another stab at the restaurant business, with Ozzie's Sports Bar and Grill opening earlier this month at Lumiere Place near Busch Stadium.
John Tudor, SP: St. Louis' best pitcher entering the season, Tudor ended up missing three months after Mets catcher Barry Lyons crashed into him in the dugout and broke Tudor's leg during a game in April. But he finished the regular season strong, throwing a Game 6 gem in the NLCS. He resides in Massachusetts and makes annual trips to Florida to participate in the Cardinals' fantasy camp.
Lee Tunnell, RP: In his lone season with St. Louis, the right-hander made two relief appearances in the playoffs, both in the World Series. He has been the bullpen coach for the Brewers since July 2012.
Todd Worrell, SP: The former closer continues to make an impact on the Missouri baseball scene. He is the pitching coach at Westminster Christian Academy and for the independent River City Rascals in O'Fallon, Mo. He saved Game 3 of the NLCS and Games 3 and 5 of the World Series.
Aaron Leibowitz is an associate reporter for MLB.com. This story was not subject to the approval of Major League Baseball or its clubs.