Lineups breakdown: Royals vs. Orioles, Game 1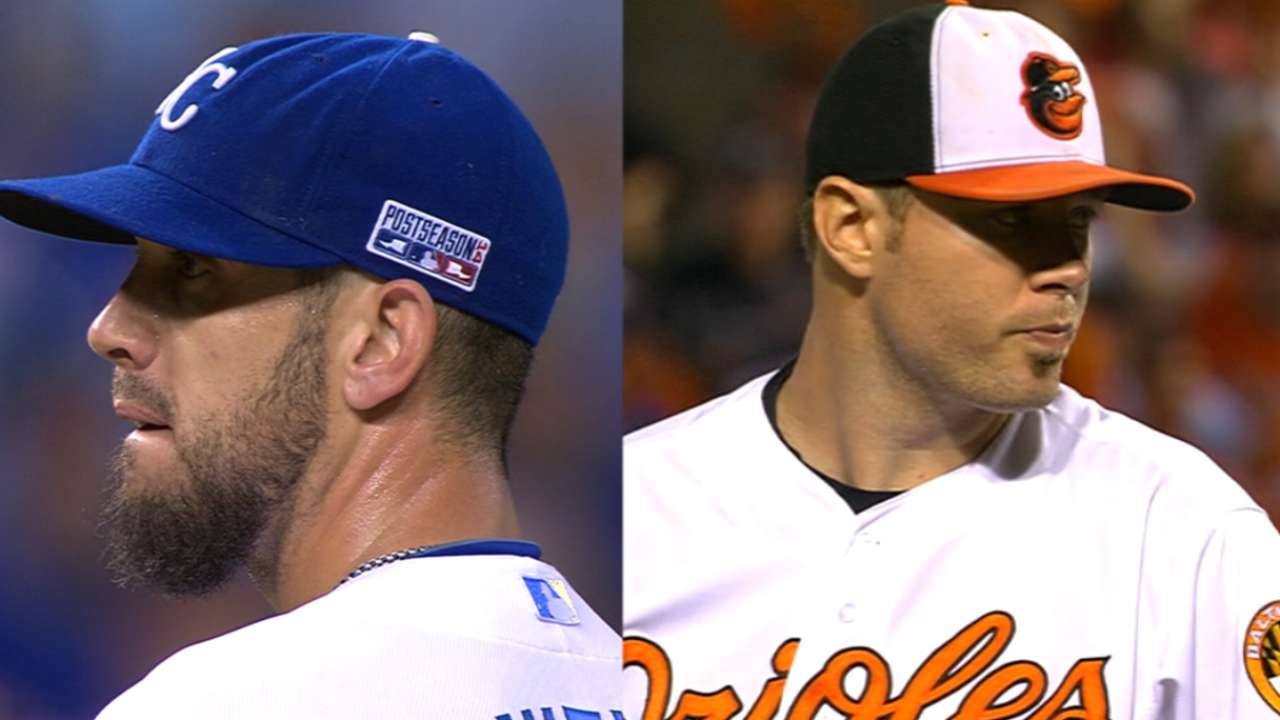 Both the Royals and Orioles swept through the American League Division Series, with Baltimore breezing past the Tigers and Kansas City dispensing of the Angels. Now, they're a step away from the World Series. Four wins stand between the Royals and their first World Series berth since 1985, or between the Orioles and their first Fall Classic appearance since 1983.
It all begins tonight, when Baltimore's power will be put on display against Kansas City's athleticism. Here is a breakdown of the starting lineups for Game 1 of the AL Championship Series (8 p.m. ET, TBS):
ROYALS
Manager Ned Yost is not much for change, not if something is working well. So he stayed with his standard lineup.
It's a batting order that gave him victories in four straight games, the Wild Card Game over the Athletics and the Division Series sweep over the Angels.
The order opens with speed in Alcides Escobar, Nori Aoki and Lorenzo Cain, followed by hot-hitting Eric Hosmer, who is 7-for-14 in postseason play with two homers, a triple, a double, five runs and five RBIs.
Then comes the heavier lumber in Billy Butler, Alex Gordon and Salvador Perez in the 5-6-7 spots, followed by Omar Infante and Mike Moustakas, who contributed two homers in the ALDS.
Escobar, who is 5-for-18 in the four postseason games, has done well against Orioles starter Chris Tillman -- 4-for-11 (.364) -- as has Moustakas, who has gone 3-for-8 (.375) with one homer.
Gordon is 3-for-13 against the right-hander but two of those hits have been homers. Butler is 2-for-14 and Perez 1-for-6 but each has a home run.
Hosmer? He's 1-for-8 against Tillman. Cain is 1-for-5, Aoki is 1-for-4 and Infante is 1-for-2.
Yost switched to this batting order on Sept. 13, and with only minor variations since, it has delivered a 13-6 record.
SS Alcides Escobar
RF Nori Aoki
CF Lorenzo Cain
1B Eric Hosmer
DH Billy Butler
LF Alex Gordon
C Salvador Perez
2B Omar Infante
3B Mike Moustakas
ORIOLES
The same starting lineup that finished off the Tigers at Comerica Park on Sunday will take the field in Game 1 against right-hander James Shields and the Royals at Camden Yards.
Designated hitter Nelson Cruz is in the cleanup spot after finishing 6-for-12 with two homers and five RBIs in the ALDS. Cruz does not boast particularly impressive numbers against Shields, having gone 6-for-26 with one homer and eight strikeouts in his career.
After recording only two hits in the ALDS, center fielder Adam Jones remains in the Orioles' No. 3 spot and has a good chance to break out. Jones has one of the Orioles' best track records against Shields, with a .304 average (14-for-46), one homer, a triple and five doubles in 47 career plate appearances against the Royals starter.
Leadoff man Nick Markakis has also fared well against Shields in the past, and he's seen him more than any other Baltimore hitter. Markakis is 21-for-71 (.296) with two homers and five doubles, with an .841 OPS that matches Jones' mark against Shields.
Left fielder Alejandro De Aza, batting second, went 3-for-8 with two doubles in the ALDS but has struggled against Shields in the past. De Aza is 5-for-30 with a double in 32 career plate appearances vs. the right-hander.
Shortstop J.J. Hardy, who hit .300 with a homer in the ALDS, owns a career .278/.409/.389 line against Shields. First baseman Steve Pearce, batting fifth, has never faced Shields before. He went 3-for-10 with a walk in the ALDS.
RF Nick Markakis
LF Alejandro De Aza
CF Adam Jones
DH Nelson Cruz
1B Steve Pearce
SS J.J. Hardy
3B Ryan Flaherty
C Nick Hundley
2B Jonathan Schoop
Dick Kaegel and Adam Berry are reporters for MLB.com. This story was not subject to the approval of Major League Baseball or its clubs.