No changes on Royals' roster for ALCS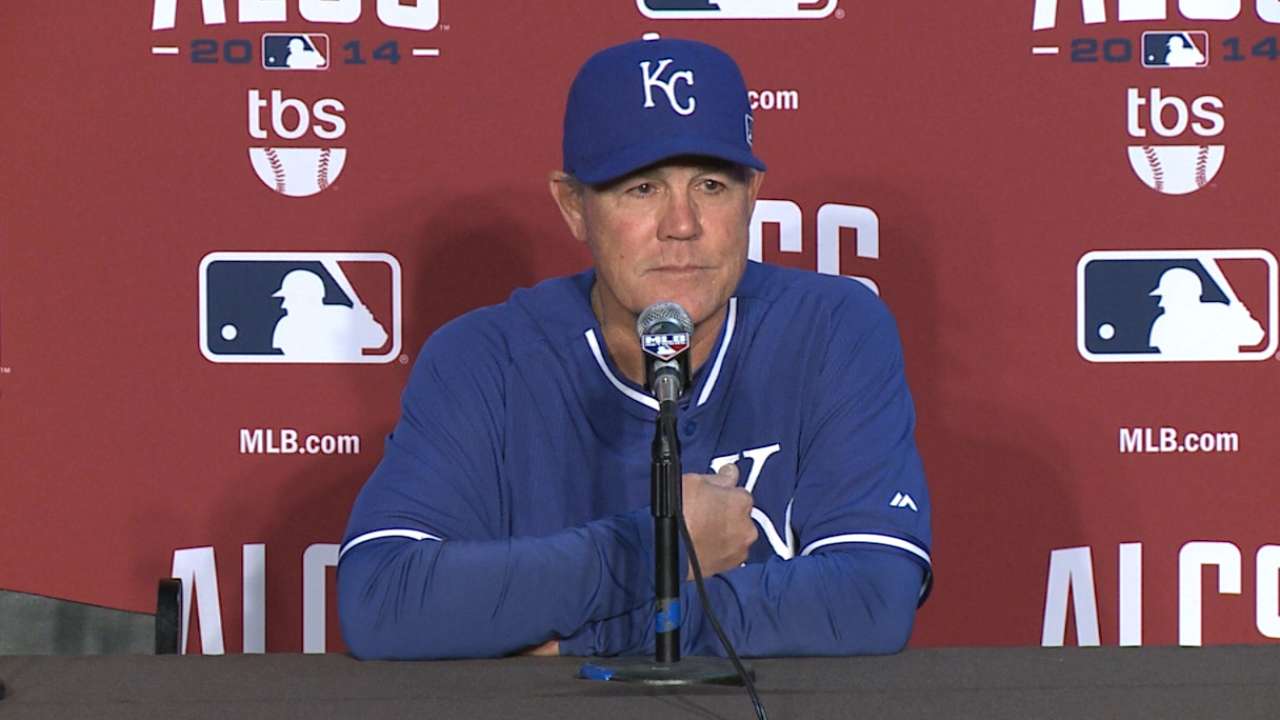 BALTIMORE -- The Royals roster will be the same for the American League Championship Series against the Orioles as it was for their Division Series victory over the Angels. The ALCS opens tonight at Camden Yards (8 ET, TBS).
There are 11 pitchers, including rotation regulars James Shields, Yordano Ventura, Jeremy Guthrie, Danny Duffy and Jason Vargas, and relievers Greg Holland, Wade Davis, Kelvin Herrera, Tim Collins, Jason Frasor and Brandon Finnegan.
The catchers are Salvador Perez and backup Erik Kratz.
The six infielders are first baseman Eric Hosmer, second baseman Omar Infante, shortstop Alcides Escobar, third baseman Mike Moustakas, designated hitter Billy Butler and backup Christian Colon.
There are six outfielders: left fielder Alex Gordon, center fielder Lorenzo Cain, right fielder Nori Aoki, backup Jarrod Dyson, pinch-hitter Josh Willingham and pinch-runner Terrance Gore.
Those left off the roster once more included pitchers Aaron Crow, Francisley Bueno and Scott Downs and outfielder Raul Ibanez.
Manager Ned Yost said that the Royals considered adding a 12th pitcher for the series but decided against it.
"We felt that we have enough depth in our bullpen that we could afford to go with 11 pitchers and take the extra position player," Yost said. "We've got enough inning depth. Collins can go two. Finnegan can go two. We've got guys down there that can pitch some innings."
Also available would be one of the starters -- Duffy, Vargas or Guthrie -- depending on who might be in line to start Games 3 and 4 in Kansas City. Yost has made no announcement concerning those games.
"We'll just kind of play it by ear," Yost said. "Again, the weather might play into it. But all three of them will be available out there in case we need them."
PITCHERS (11)
Tim Collins
Wade Davis
Danny Duffy
Brandon Finnegan
Jason Frasor
Jeremy Guthrie
Kelvin Herrera
Greg Holland
James Shields
Jason Vargas
Yordano Ventura
CATCHERS (2)
Erik Kratz
Salvador Perez
INFIELDERS (6)
Billy Butler
Christian Colon
Alcides Escobar
Eric Hosmer
Omar Infante
Mike Moustakas
OUTFIELDERS (6)
Nori Aoki
Lorenzo Cain
Jarrod Dyson
Alex Gordon
Terrance Gore
Josh Willingham
Dick Kaegel is a reporter for MLB.com. This story was not subject to the approval of Major League Baseball or its clubs.