Hinch headed to Stanford Hall of Fame
New Astros manager won Pac-10 Player of the Year Award twice at university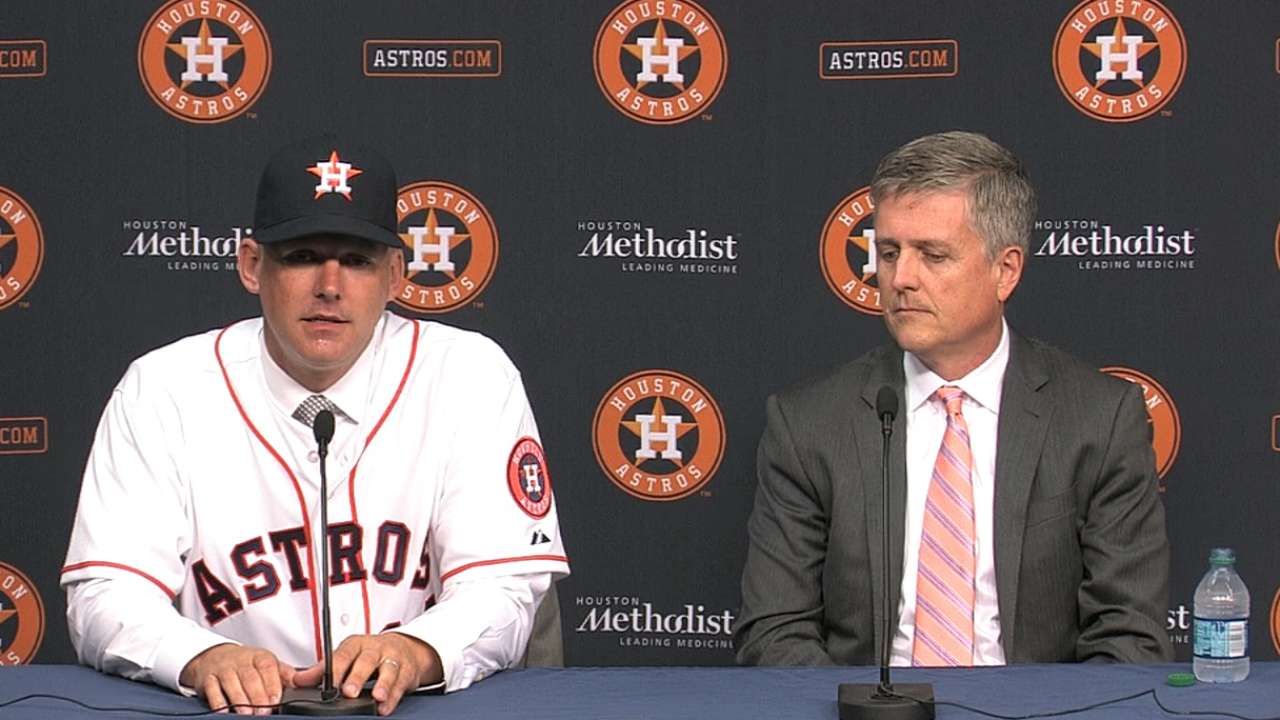 HOUSTON -- Astros manager A.J. Hinch will be among seven former athletes and one coach inducted into the Stanford University Athletics Hall of Fame on Saturday in Palo Alto, Calif.
Hinch, who was hired by the Astros last week, will be inducted with Nicole Barnhart (women's soccer), Notah Begay III (men's golf), Toi Cook (baseball and football), Laura Granville (women's tennis), Skip Kenney (men's swimming and diving coach), Anika Leerssen (sailing) and Heather Olson (synchronized swimming).
The inductees will be honored at a private reception and dinner on Saturday as well as introduced at halftime of Stanford's football game against Washington State on Friday night. Hinch's wife and two daughters will make the trip to Stanford with him, joining his mother and sister from Oklahoma and other family and friends.
"It's about as humbling a call you can get given the history of sports there and all the people that have come through there," Hinch said. "It's a great honor to share with my family this weekend and to see some old friends, my old coaches, in a place that's really dear to me, having spent four years there and continuing to hopefully be around that campus."
Hinch, a two-time Pac-10 Player of the Year, graduated from Stanford with a degree in psychology in 1996. The catcher hit better than .300 in all four seasons at Stanford, including a .381 mark with 11 home runs and 59 RBIs as a senior. He also caught for the Cardinal's '95 College World Series team and earned a bronze medal at the '96 Olympic Games in Atlanta.
"It's a place where I grew up a lot," Hinch said. "When I left Oklahoma and went to college, little did I know the impact it was going to have -- and the people that I've met, the long-time friendships, the continuous learning that's gone on there. It's really set the stage for my career in baseball, because I was drafted out of there and it's sort of really a place I call home.
"Any time between 18-22 [years old], those are important years to learn a lot more about yourself and develop some lifelong friends and life-long habits. I'm not sure there's a better place to do it than Stanford."
A third-round draft pick in 1995 by Minnesota, Hinch opted to stay at Stanford for his senior season. He was picked by Oakland the following year, also in the third round, and debuted with the A's in '98. Hinch played for seven MLB seasons, his last coming with Philadelphia in 2004. He batted .219 with 32 home runs and 112 RBIs in 350 career Major League games.
Hinch was in Houston this week interviewing candidates to be his bench coach before heading to California for the ceremony.
"It's been a whirlwind couple of weeks for me," he said. "This is at a perfect time where I can celebrate the job as the Astros manager and the Stanford weekend. October's been pretty good to me."
Hinch is united with a pair of former Stanford player in the Astros organization. Catcher Jason Castro was a first-round pick out of Stanford, and Minor League pitcher Mark Appel was the No. 1 overall pick by the Astros in 2013 out of Stanford.
Brian McTaggart is a reporter for MLB.com and writes an MLBlog, Tag's Lines. Follow @brianmctaggart on Twitter. This story was not subject to the approval of Major League Baseball or its clubs.