Veteran Beimel hopes to return to Mariners' bullpen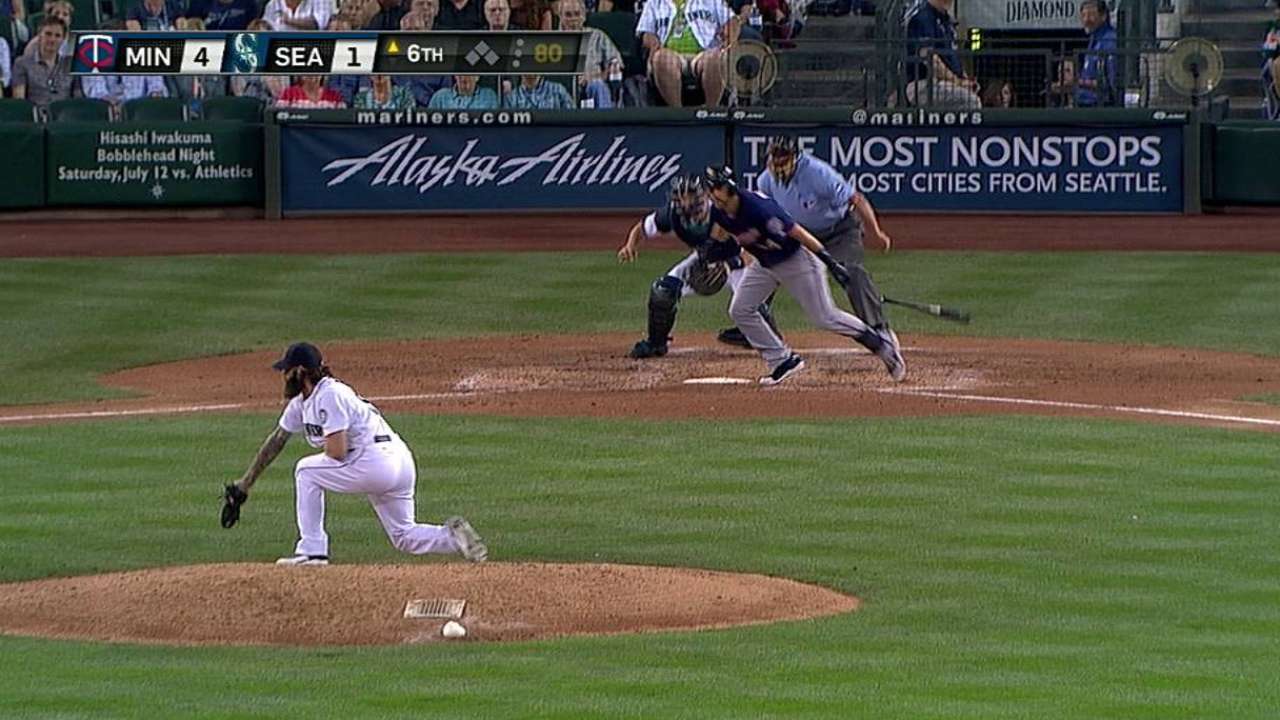 SEATTLE -- As the elder statesman in baseball's best bullpen for 2014, Joe Beimel knows what the Mariners put together last season was something special.
And the 37-year-old southpaw from Pennsylvania would love to be part of it again next year if things fall into place, even though he's the lone free agent in a group that shattered Seattle's club record and posted the second-lowest ERA for an American League bullpen over the past 24 seasons at 2.59.
After not pitching in the Majors since 2011 due to elbow issues and recovery from Tommy John surgery, Beimel turned into one of baseball's best comeback stories as he went 3-1 with a 2.20 ERA in 45 innings over 56 appearances.
Before heading to his offseason home in Hermosa Beach, Calif., Beimel made it clear he's amenable to another turn in Seattle after making the club this year as a non-roster invitee on a Minor League deal that cost the Mariners just $850,000.
"I've let it be known that I want to come back," Beimel said. "My agent has told [general manager Jack Zduriencik] that I'd love to come back and it's just one of those things. I've been a free agent many times before, so it's definitely a two-way street. We'll see what happens with that."
Manager Lloyd McClendon, who was Beimel's first Major League skipper in Pittsburgh in 2001, makes no secret of his support for the veteran lefty.
"I've relayed my beliefs to the GM and how I feel and I've said I want him back, unequivocally," McClendon said.
Zduriencik always holds player negotiations close to the vest, but even he allowed that Beimel is a logical target among the six remaining free agents on the club.
"We will entertain anybody that is on the club right now," Zduriencik said. "I'm not going to say it's going to happen, but we're certainly going to entertain bringing him back."
Beimel teamed with Charlie Furbush as the lefty specialists in a versatile bullpen filled with young, hard-throwing youngsters. Relying more on veteran savvy and baseball smarts, Beimel held left-handed hitters to a .188 batting average (compared to .282 vs. right-handers) and was strong from start to finish in his first full season in the big leagues since 2010 when he made 71 appearances for the Rockies.
It was a pretty remarkable season for a guy who sat out all of 2012 following elbow surgery and put up a 4.36 ERA in 30 games for Triple-A Gwinnett in the Braves system in 2013, with lefties hitting .290 against him.
"It was great," Beimel said. "After last year, coming back and not feeling that good, to come into this season and early on I knew it was going to be a good year just because I was healthy and everything was feeling great. It was just one of those seasons that was pretty awesome."
Beimel and closer Fernando Rodney, another 37-year-old veteran, were the primary additions to a bullpen that had finished 29th out of 30 MLB teams with a 4.58 ERA the year before. Rookie Dominic Leone added a big boost as well, while Tom Wilhelmsen had a big bounce-back year.
And through it all, Beimel's cool outlook and gravelly voice of experience provided a steadying influence for a group that turned every game into a party in the 'pen, then proceeded to turn the lights out on the opposition once they were called on.
While Beimel -- who is the father of two teenagers -- brought a little more experienced point of view, he fit right into the bullpen antics.
"It's just been fun to come to the field every day and hang out with these guys," Beimel said. "We go out to the bullpen and it's never dull. We're serious in the times we need to be serious, but for the most part everybody is relaxed and joking around. We have our little chants and things we do out there, but when we get into the game it's time to go and everybody focuses.
"Pretty obviously we did such a great job this year a lot of that is a tribute to the relaxed atmosphere before you go into a game. You're not all tense and anxious."
Beimel's only regret was not getting back into the postseason. The ironman in the Dodgers' bullpen from 2006-08, he pitched six playoff games for Los Angeles in 2008 and Colorado in '09. The free-spirited lefty did everything in his power to get the Mariners into a Wild Card bid this year, including shaving his bushy beard after Seattle lost five in a row on its final road trip.
"I just wanted to change things up," Beimel said. "I went with the fu manchu for a couple days and that wasn't really working. So before we came back home, my wife was like, 'Can you at least shave for the last three games?' I said, 'You know what? You put up with that beard for nine months, all right, I'll shave it completely off.'
"I think she forgot how handsome I really am," Beimel said with a laugh. "I had to show the people of Seattle that I am a decent-looking guy."
Indeed, after pitching for seven organizations in the past seven seasons, Beimel would love to finally have a more permanent baseball home in Seattle if things fall into place in the coming days.
"This has been my favorite team that I've played on. The best group of guys," said the 12-year MLB veteran. "There's no reason to not want to come back."
Greg Johns is a reporter for MLB.com. Follow him on Twitter @GregJohnsMLB as well as his Mariners Musings blog. This story was not subject to the approval of Major League Baseball or its clubs.