Peralta in spotlight for all the right reasons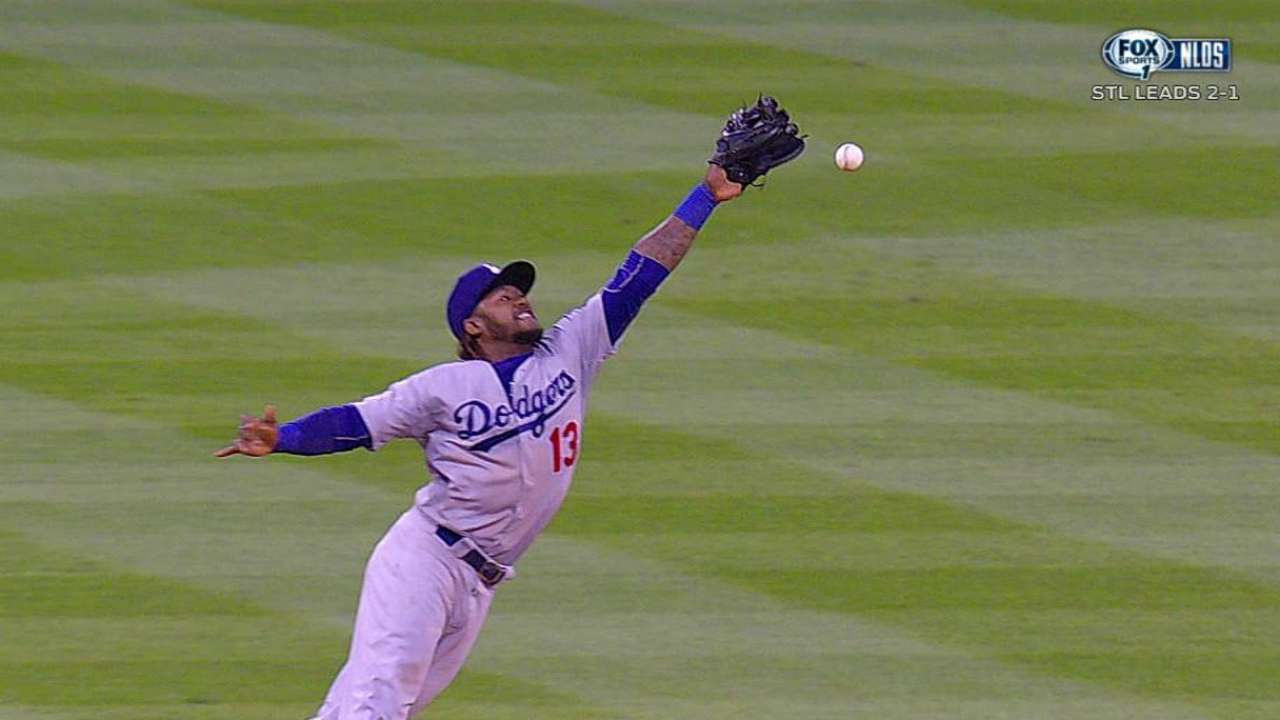 ST. LOUIS -- In three appearances runs with the Tigers, shortstop Jhonny Peralta was never better than he was in 2013, when he keyed a victory in an elimination game of the American League Division Series with a three-run blast and hit .333/.353/.545 with five extra-base hits over 10 games. The Tigers' inability to move past the Red Sox in the AL Championship Series could hardly be pinned on him.
And yet, Peralta found himself spending last October constantly ducking from derision.
Despite what the numbers may say, Peralta was anything but comfortable last postseason. Although taking the field offered the soft-spoken shortstop an escape from being peppered with suspension-related questions, he carried the weight of an off-the-field mistake with him each time he stepped to the plate.
The forgiveness Peralta had asked for -- and been readily offered -- from his teammates following a 50-game suspension for taking a Biogenesis-subscribed diuretic in 2012 was meaningful, but it wasn't enough to release him from the self-induced pressures of feeling he had to prove himself to everyone else. "It was hard to play like that," Peralta recalled on Thursday as he prepared to participate in an LCS for the fourth straight season. "When I was on the field, everyone was putting a lot of attention on what I was doing. It was hard in that situation to come into the playoffs and show what I can do." And now?
"More free. I feel more free."
Whereas Peralta entered the 2013 postseason thrust into a new position (left field) after spending the eight weeks leading up to the postseason trying to stay in shape in the Dominican Republic and then in the instructional league, he entered the playoffs this time around as one of the anchors to the Cardinals' offense.
Brought in last winter to fill St. Louis' gaping hole at short, Peralta emerged as one of the club's steadiest defenders and arguably its best hitter over the course of the regular season. He led a power-dry team in home runs (21), doubles (38) and WAR (5.8) while becoming a reliable four- or five-hole hitter to help the Cardinals fill a middle-of-the-order void.
In a season in which the Cardinals ranked 23rd in runs scored (619), Peralta's presence and production were crucial.
"We wouldn't be here without Jhonny Peralta," principal owner Bill DeWitt Jr. said, not mincing words. "He really had a terrific year, and I'm really pleased that we have him and are excited for him that his first year as a Cardinal, he had the kind of year that he did."
It was DeWitt who had to sign off on inking Peralta last November, with the Cardinals offering the most lucrative contract (four years, $53 million) they had ever given a free-agent position player who had no prior experience with the club. Both DeWitt and general manager John Mozeliak did their due diligence on the front end, turning to some who had played with Peralta to learn what he was like as both a teammate and person.
All the feedback was positive, and in talking directly to Peralta, the Cardinals sensed his remorse. That was all they needed to offer him a second chance, one that Peralta then seized.
"It was important for me to prove myself and show people how I can play," Peralta said. "What I wanted to show to fans here in St. Louis and to all the fans watching out there is that I am still a good player."
Peralta was quickly embraced by the city -- unlike in his other baseball stops, he's recognized everywhere he goes in St. Louis, he said -- and by his teammates, who didn't ask him to issue another group apology or explanation. They simply put out a hand -- or, in Adam Wainwright's case, a hug.
It was Wainwright who, after Peralta fielded suspension-related questions from the media upon arriving at Spring Training, embraced the shortstop and offered three meaning-filled words:
"Thrilled you're here," he said.
From there, it was all business.
"Once he came in, it was a really quick fit," Matt Carpenter said. "He's just an easygoing guy who comes to work every day ready to play and ready to win. It was a real smooth transition."
"We've needed him," added Matt Holliday. "We haven't scored a ton of runs like we did last year, and we've needed every single run we've gotten. He's been big for us."
Brought in for his bat, Peralta also proved to be, in manager Mike Matheny's words, "a great surprise" on defense. At 32, Peralta may not have the range he once possessed, but everything in the field looks smooth. He led all Cardinals defenders with 17 Defensive Runs Saved and ranked third among all NL shortstops in that category.
It was all part of the lead-up back to the postseason, where Peralta has been five times before. He's a career .278/.321/.489 hitter in the playoffs with eight homers and 24 RBIs in 49 games. The Dodgers held Peralta to three hits in the NLDS, though two came in the Cardinals' two big innings against Clayton Kershaw.
It's not solely about results these days for Peralta, though. It's also about embracing the chance to be back in the spotlight -- but this time with it shining on him for all the right reasons.
"It was different how people reacted and everything last year," Peralta said. "For me, this year, I'm more relaxed on the field and more confident. Thank God everything is over, and I'm here now."
Jenifer Langosch is a reporter for MLB.com. Read her blog, By Gosh, It's Langosch, and follow her on Twitter @LangoschMLB. This story was not subject to the approval of Major League Baseball or its clubs.