Carpenter aims to continue lefty blitz vs. Bumgarner
After overwhelming Kershaw, Cards third baseman analyzing Giants' deceptive southpaw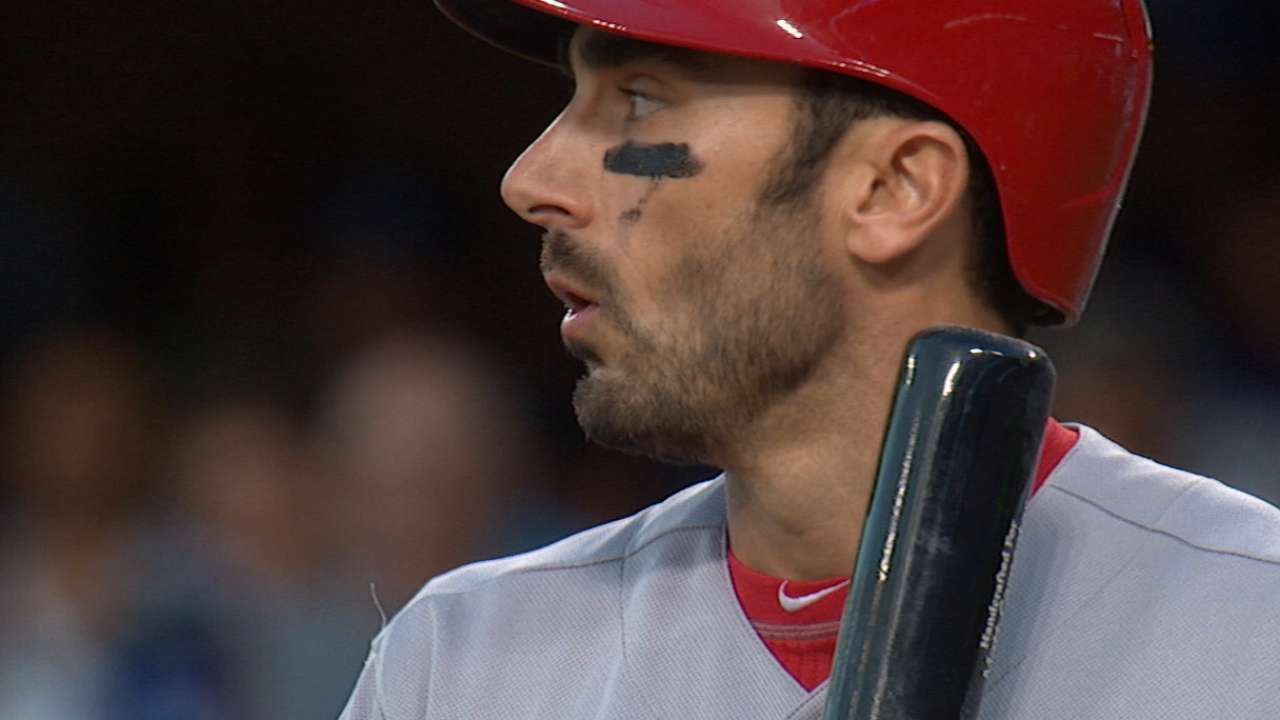 ST. LOUIS -- There was nothing more impressive in the Cardinals' four-game National League Division Series victory over the Dodgers than the way lefty-swinging third baseman Matt Carpenter handled a bevy of high-profile Los Angeles left-handed pitchers.
Carpenter hit .375 (6-for-16) in the series, and he hit a home run and a double in each of the first three games, while totaling seven RBIs. More impressively, the homers came off Clayton Kershaw, J.P. Howell and Hyun-Jin Ryu, all top left-handers. And Carpenter's three-run double chased Kershaw during an eight-run Cards seventh inning that decided Game 1.
Five of Carpenter's six hits came against left-handers as he batted .385 vs. southpaws in the series. Carpenter would like nothing better than to carry that over to the NL Championship Series against the Giants, especially with premier lefty Madison Bumgarner ready to start Game 1 for San Francisco at Busch Stadium on Saturday against right-hander Adam Wainwright (7 p.m. CT on FOX).
"He's a different breed," Carpenter said on Thursday about Bumgarner, who won 18 games during the regular season but lost Game 3 of the Giants' four-game NLDS victory over the Nationals. "He's funky. He throws from behind you. There's some deception there. I've faced him a couple of times. For me, it all stems back to -- you've got to stay on the ball, you've got to let it get deep [in the batter's box], you've got to keep from pulling off the ball, especially with a guy like him who's going to come behind you like that."
What Carpenter is talking about is Bumgarner's sweeping three-quarter motion, from which the ball seems to come by way of first base, starting from behind the back of a left-handed hitter. Carpenter already has had some success against him. He is 3-for-5 with two doubles lifetime against Bumgarner, all of it coming this past year.
Kershaw, in contrast, has more of an over-the-top motion with a fastball and a curve that is effective cutting across the plate on left-handed hitters.
What happened with Kershaw against the Cardinals is that both pitches seemed to flatten out and rise in the strike zone as he reached the 100-pitch mark during the seventh inning of each of his two starts. Carpenter hit a homer off him in the sixth inning of Game 1 and then came back the next inning and blasted a high fastball into right-center to drive in three runs with the double.
In Game 4, it was first baseman Matt Adams, another of St. Louis' lefty hitters, who picked off a hanging Kershaw curve and hit the three-run homer that decided the series. Kershaw allowed 11 earned runs combined over both starts -- nine of them coming in the seventh inning, which seemed to indicate some sort of fatigue late in his 28th and 29th starts of the year.
Cards manager Mike Matheny said his club has each hitter take an individual approach to every pitcher. No two hitters are alike, as are no two pitchers.
"I think it's just a consistent approach and the intensity he takes into every at-bat," Matheny said about Carpenter, in particular. "Righty, lefty [pitcher], it doesn't matter, and knowing what pitches he's preparing himself for. We talk about that individualized approach, and that's something he takes into account. He's going to approach certain left-handers differently than others, and the same thing with righties. But he has a knack for fighting off the tough pitch. That's something he works very hard at and puts himself in a position where when he does get a good pitch to hit, he's ready for it."
To illustrate Carpenter's patience, he finished first in the NL and third in the Majors this season by facing an average of 4.37 pitches per plate appearance. Only Mike Trout of the Angels and Brett Gardner of the Yankees were ahead of him.
All that patience, though, didn't result in a lot of offensive production -- until the playoffs, at least. Carpenter hit .272 -- .262 against left-handers -- with eight homers and 59 RBIs. But his game certainly flourishes when he gets on base. Carpenter's 162 hits and NL-leading 95 walks gave him a very valuable .375 on-base percentage and a team-leading 99 runs scored.
Yet, suddenly Carpenter became all-world in the NLDS, beginning his feast on an All-Star left-hander who led the Majors with a 21-3 record and a 1.77 ERA. Carpenter did the same thing last year in Kershaw's 9-0 loss in Game 6 of the NLCS, doubling at the end of an 11-pitch at-bat to open the floodgates in the third inning. Go figure.
"As a left-handed hitter, facing a left-handed pitcher, you've got to focus on staying on the ball," Carpenter said. "You can't pull off a lefty when the curveballs and sliders are breaking away from you. I think it's a confidence thing, too. Some lefties can be tough on left-handed hitters, and you just have to have confidence to stick to your approach and give yourself a chance to be successful. That's what I've always done. I've just tried to battle and stay on the baseball."
It should be noted that Carpenter was just a role player for the Cardinals against the Giants two years ago, when San Francisco came back from a 3-1 deficit to win the 2012 NLCS. David Freese was then St. Louis' starting third baseman.
Still, in an inkling of things to come, Carpenter came off the bench to replace an injured Carlos Beltran at home early in Game 3 of that series and hit a two-run third-inning homer to help win that game. In that case, it came against Matt Cain, a right-hander.
Barry M. Bloom is a national reporter for MLB.com and writes an MLBlog, Boomskie on Baseball. This story was not subject to the approval of Major League Baseball or its clubs.