ALCS trio experiencing new joy of fatherhood
KC's Holland and Cain, Baltimore's Britton all recently welcomed first children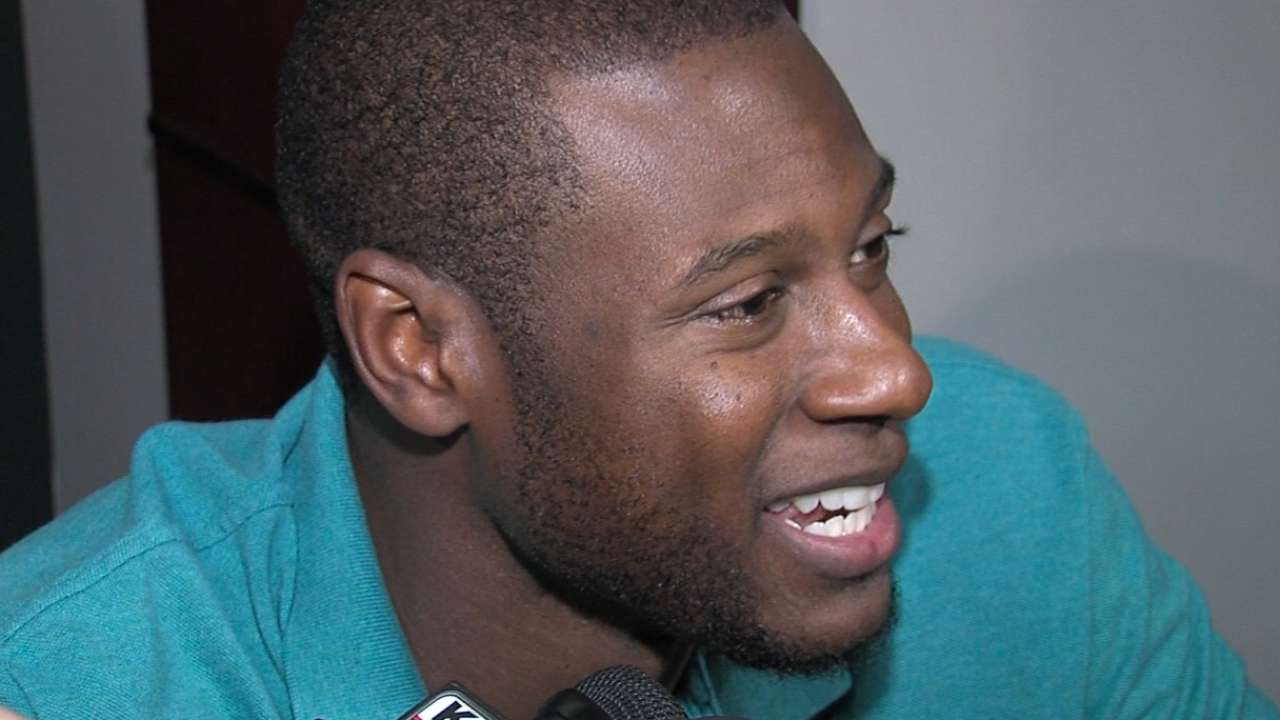 BALTIMORE -- Pay close attention to the player introductions at Camden Yards tonight. Among the talented folks that represent both teams, you may see a trio of very tired, very happy faces as the American League Championship Series commences at 8 p.m. ET on TBS.
Three players that comprise the ALCS rosters -- Kansas City's Lorenzo Cain and Greg Holland, and Baltimore's Zach Britton -- have received a double dose of life-changing moments in the last week. Not only are all playing in the postseason for the first time, but they all became dads for the first time, too.
The initiator of the Baby Boom, if you will, is Holland, who followed Kansas City's American League Wild Card win over the A's with a mad dash to North Carolina, where his wife, Lacey, gave birth to their son.
Nash Gregory Holland was born the following day. New papa Holland headed to Anaheim the next day, landing around 7 p.m. local time for Game 1 of the AL Division Series. He arrived to the ballpark midway through the game, but was locked in and ready when the bell rang in the ninth inning, logging the first postseason save of his career.
"I kind of made a few security guards nervous running up to them with a pack over my shoulder with my ID in my hand saying, 'I'm a player. I'm a player. Don't tackle me to the ground,'" Holland said. "It was kind of hectic running through the parking lot, but they let me in. It was kind of weird when a guy's like, 'You're a player? That's not possible because the game is in the fifth inning.' But I had to explain the details and actually got a congratulations, and he jogged me right down the concourse and got me where I needed to go.
"It has been a lot of fun. I can't really put it into words. It's two things I've never experienced. Winning three extra-innings games and the birth of your first child are experiences that only happen once. It is unbelievable. My wife and son are healthy and that's the most important thing."
Lorenzo Cain's wife, Jenny, gave birth to their son, Cameron Loe Cain, at midnight Monday. Cain caught a flight to Baltimore on Thursday, and by mid-afternoon, he was with his team working out at Camden Yards.
"It was an amazing moment," Cain said of seeing his son for the first time. "I cried like a big baby and I can't even explain the feelings that went through my body. I'm glad he's here. I hope he can maybe slip out to Kansas City and catch a game or two."
Heading to the airport at 4 a.m. is never fun under any circumstances, but considering who Cain was leaving behind this time, it made it doubly hard.
"Once he came out I enjoyed that moment and held him as much as I could," he said. "It was tough, but I've got to get back to work, get back to business and get with my teammates, and get to work on getting to the World Series and hopefully winning it."
After landing in Baltimore following a sweep of the Tigers in Detroit on Sunday night, Britton immediately got right back on a plane and flew to California for the birth of his son, Zander.
Courtney Britton gave birth Tuesday night after an almost 24-hour labor. The baby was actually due Thursday, so perhaps a round of applause is appropriate for Mrs. Britton's impeccable timing. A Thursday birth would have complicated things a bit, with the ALCS beginning today.
Courtney is apparently receiving kudos from Orioles fans.
"As they should," Britton said. "We should be giving her another playoff share, right? Yeah, she's a champ. She's been through a lot and is just resting now."
Alyson Footer is a national correspondent for MLB.com. Follow her on Twitter @alysonfooter. This story was not subject to the approval of Major League Baseball or its clubs.