Ripken excited about resurgence of Orioles-Royals rivalry
Hall of Famer will have front row seat to ALCS as broadcaster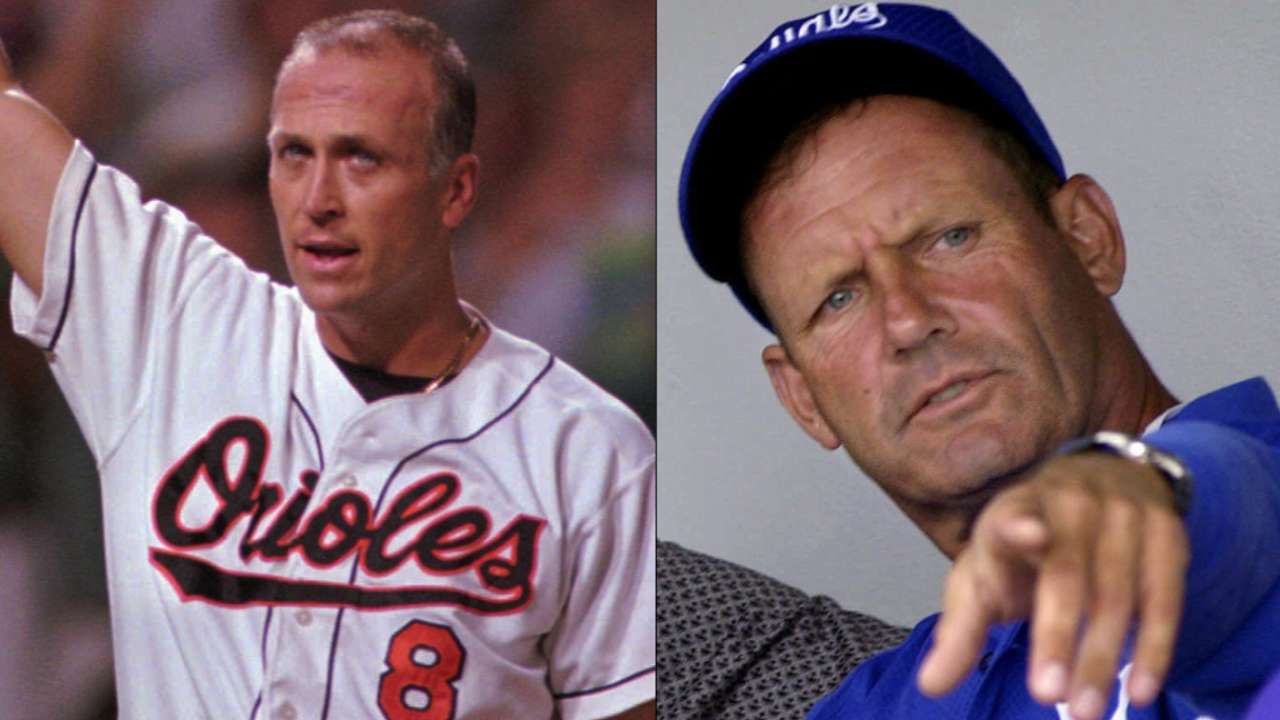 BALTIMORE -- Cal Ripken Jr. was just 23 years old when the Orioles last won the World Series in 1983. He was the American League MVP, and the future looked promising for him and his team. A Hall of Fame career ensued, but Ripken and the O's never made it back to baseball's biggest stage.
Ripken came close. The Orioles advanced to back-to-back American League Championship Series in 1996-97, but were bounced in five games on each occasion. In the end, those experiences made Ripken appreciate his lone World Series ring even more.
"Looking back on it, I'm thankful I had one," Ripken said Thursday at Camden Yards.
It's been a long road for the Orioles on their journey back to the ALCS. A lot has changed since 1997, with countless highs and lows along the way. Ripken, 54, can certainly appreciate what Baltimore has done to return to this point.
"I was a young man and we won the World Series and you expected with our organization that we'd have many other opportunities to play in the World Series," he said. "When you're older, and we had a chance in '96 and '97 and we were this close to getting back to the World Series, I was in a position as an older person that had gone through it, to realize how difficult and hard it is to win a World Series."
Ripken will have a firsthand look at the Orioles' quest to return to the Fall Classic. He'll be in the broadcast booth as an analyst for TBS. That's also allowed him an opportunity to catch up with former teammates Brady Anderson and Mike Bordick.
Anderson, Baltimore's vice president of baseball operations, started in center field and batted leadoff in the ALCS in 1996 and '97. Now in his fourth full season in the front office, Anderson has played a part in the Orioles' resurgence.
"Feels great to be a part of it, sort of from the beginning of the turnaround," Anderson said. "You really can't overestimate [manager Buck Showalter's] presence on and off the field, how he's contributed, how he's brought the organization together along with [general manager] Dan Duquette, not just at the Major League level, but throughout the Minors. The way the whole system works is night and day from how it was. And it's nice to see the team rewarded that way."
Orioles fans have been rewarded, too.
"I think Baltimore has been hungry to make it back to the postseason," said Bordick, a broadcaster with MASN who played next to Ripken on the left side of the infield with the 1997 Orioles. "They have great passion. High energy. Great intensity. And I think it really shows the true passion that Baltimore has for baseball."
In looking ahead to Friday's Game 1 against Kansas City, Ripken was asked what it meant to play against the great Royals teams of the 1980s. Those clubs were similar in some aspects to the 2014 Royals: loaded with talent, plenty of speed and a penchant for small ball. Not much has changed for the Orioles either. They rely on the long ball just as they did when Ripken wore orange and black.
"The first part of my career, the Royals were a very good organization, playoff-bound every year, just fresh off of being in the World Series, so it was really meaningful when you played the Royals," Ripken recalled. "And I remember, I know there's a different style that has developed as far as how the Orioles score runs and how the Royals score runs. It almost seemed more severe years ago when they played on turf. Being on that turf, it felt like they had a total advantage, seemed like it was a track meet all the time. And we had to deal with that, which is really fun."
Like the Orioles, the Royals endured a long postseason drought -- 29 years to be exact -- that finally ended this season.
"It's a bit ironic to look at the two organizations," Ripken said. "They were great organizations, and they were thought of a certain way around baseball. And then for a while they went away. And now they're both back. And it's really exciting to think about that."
It should be exciting to watch, too.
Austin Laymance is a reporter for MLB.com. Follow him on Twitter at @jalaymance. This story was not subject to the approval of Major League Baseball or its clubs.