Oct. 9: Chris Tillman workout day interview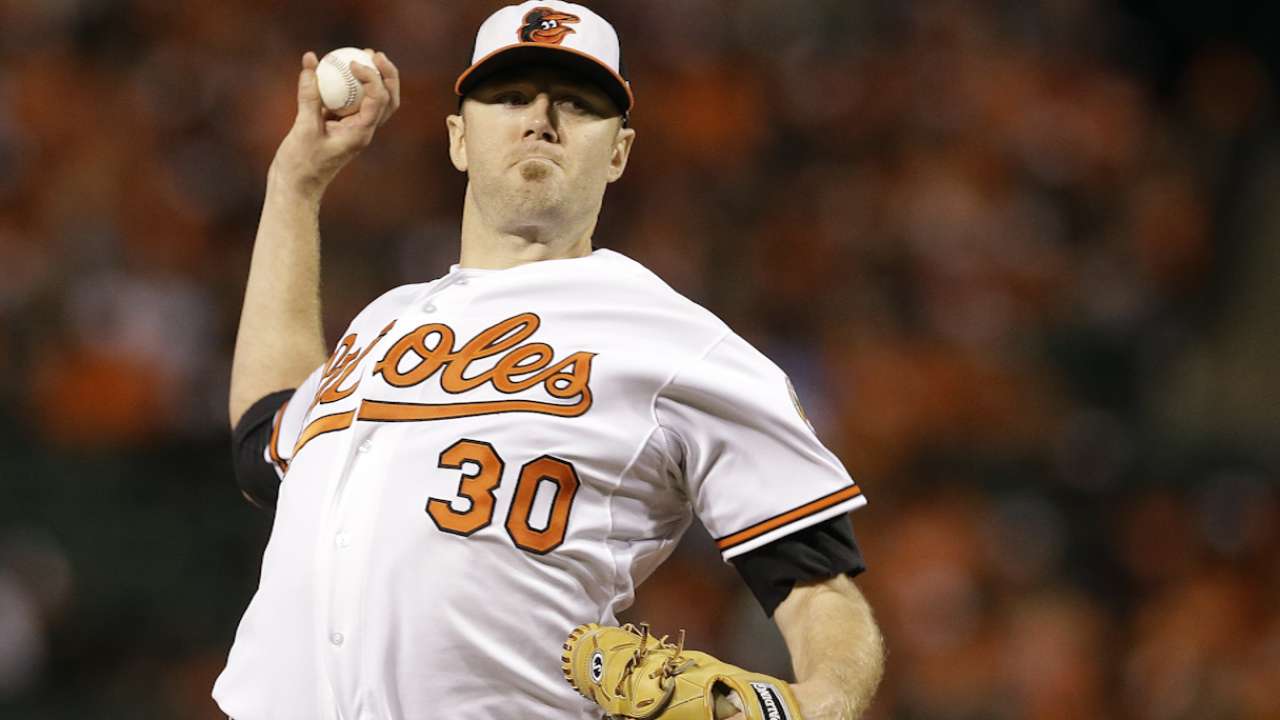 Q. Did you basically just assume that you were going to be getting the start? Has anything changed since we asked you what it was like to start Game 1 of the series?
CHRIS TILLMAN: No, I don't think I assumed it. I went about my business the same way. I think I had to prepare like I was going to pitch the first game. And I think that's my approach every time. You've got to prepare like you're going to pitch every fifth day. And that's what I did.
The feeling is the same for me, I think. As a team, as a group, we prepare the same. And you can't ask anything more of yourself.
Q. After Game 1 of the ALDS Max Scherzer spoke about you and him creating a hole on the mound. Can you talk about that?
CHRIS TILLMAN: A what?
Q. A hole on the mound. He was blaming that early on in his starts, saying that was affecting him and causing him to go side to side a lot. And he was referencing you that there was something wrong with the mound. Did you notice anything in that first game?
CHRIS TILLMAN: No, I didn't. I'm normally the one that has a problem with the hole in the mound. And I don't like it. I didn't notice anything out of the normal for this place. Something like that does affect you, it does. It's kind of small, but as a starting pitcher you're used to the mound being the same way every time. I personally didn't notice it.
Q. Obviously you guys have heard a lot about the Royals' speed coming in. You're a guy who's been particularly good at holding runners. Is that something that's going to be in the back of your head for Game 1? Is there anything you change at all because that running game is there?
CHRIS TILLMAN: You know what? I don't think I change anything. I take a lot of pride in controlling the running game. I think our catchers have done a great job all year of controlling it. If you put that in the back of your head I feel like you're just adding pressure for yourself. If it's something that you're good at, that's a strength for you, I don't think I need to put anymore emphasis on it. Our catchers do a good job of controlling it and making us aware of what's going on. It's no secret. It's out there.
Q. You pitched your first complete‑game shutout against these guys back in May. Do you go back and look at a tape of what worked well against them or is just ‑‑ or do you just look at recent tape to see what they're doing recently?
CHRIS TILLMAN: You know, I can, but I'm not going to. They're a different team now. I think they're playing much better baseball now. Not that they weren't good then. They play good baseball all year. They got here because of what they've been doing.
They hit and run, they steal. They're trying to press the envelope all the time. And you know what, as a group we know that. We know what's going to come at us. And it's going to play out the way it does. You get ready for it the best you can and whatever happens, happens.
Q. All of your teammates have been talking about just keep doing what you're doing that got you here. And I'm wondering, is it a difficult balance with your emotions that each time you take the mound now the deeper it gets in the postseason the stakes continue to rise? What about that balance with your emotions?
CHRIS TILLMAN: Like I said, I think for me personally, I take the same approach every time. If you're going out and doing more or doing anything less you're not giving your teammates the same read. They know what they're going to get from me every time. I try to be consistent in between starts. They know me just as well as I know myself. And if I go overboard with preparation or if anybody does it, for that matter, I think it's another loop, another wrinkle.
I'm going to do the same thing. And I know as a group the pitchers and catchers sit down to form a game plan, will do the normal things we do.
Q. What's it like for you on the mound when you're out there and the crowd like it was last week just going crazy? What's it like for you and how does it invigorate you when you're out there and the ball is in your hand?
CHRIS TILLMAN: It was awesome. To tell you the truth, it really was. It's the loudest crowd I've ever been a part of. I was there to experience it in 2012. I'd like to say it got me ready for it, but it didn't. It was pretty cool.
And being on the field and having the same guys that you've been with pretty much all year, it makes it that much more special. To tell you the truth, I don't think it's just going to be here in Baltimore. They've got a great fan base over in Kansas City. If it goes down to the wire it's going to be seven games that are pretty loud.
Q. How much do you enjoy the challenge of matching up with the other team's No. 1 starter this time of year, whether it was Scherzer last time, Shields tomorrow, what's that challenge like for you?
CHRIS TILLMAN: It's always a challenge. I think as a starting pitcher my mindset is it's not me versus James, it's not me versus whoever, Scherzer, Verlander; it's me versus the Royals. I've got to face nine guys that are out there trying to beat me and get on base and wreak havoc, this time, especially. And that's the way I look at it.
There's times where you say, you know, I want to beat this guy in particular, but as the season goes on, you get past that. It's just you versus the Royals instead of the other starting pitcher.
Q. I spoke to Matt Wieters earlier and he said how all of you guys one through five, it gives him a chance to catch base stealers. Is that an organizational philosophy, is that something you've always possessed or have you always worked on that?
CHRIS TILLMAN: No, I definitely haven't always possessed that. I used to be horrible. It was one of the things early on in my career that I was just awful at it. And I think having a guy like Wieters around early in my career, from Double‑A, Triple‑A, he's been the one that kind of talked to me about it.
And when Buck got here, it was a big pet peeve of his. You've got to be quick and give your catchers a chance. That's anytime the opposing guys get an extra 90 feet for free, you're not doing yourself a favor. It's an organizational thing now. Early on I don't think it was. I was young and immature and didn't know any better, to tell you the truth.