Wieters contributing to O's from the sidelines
Injured catcher working with backstops, scouted Tigers before ALDS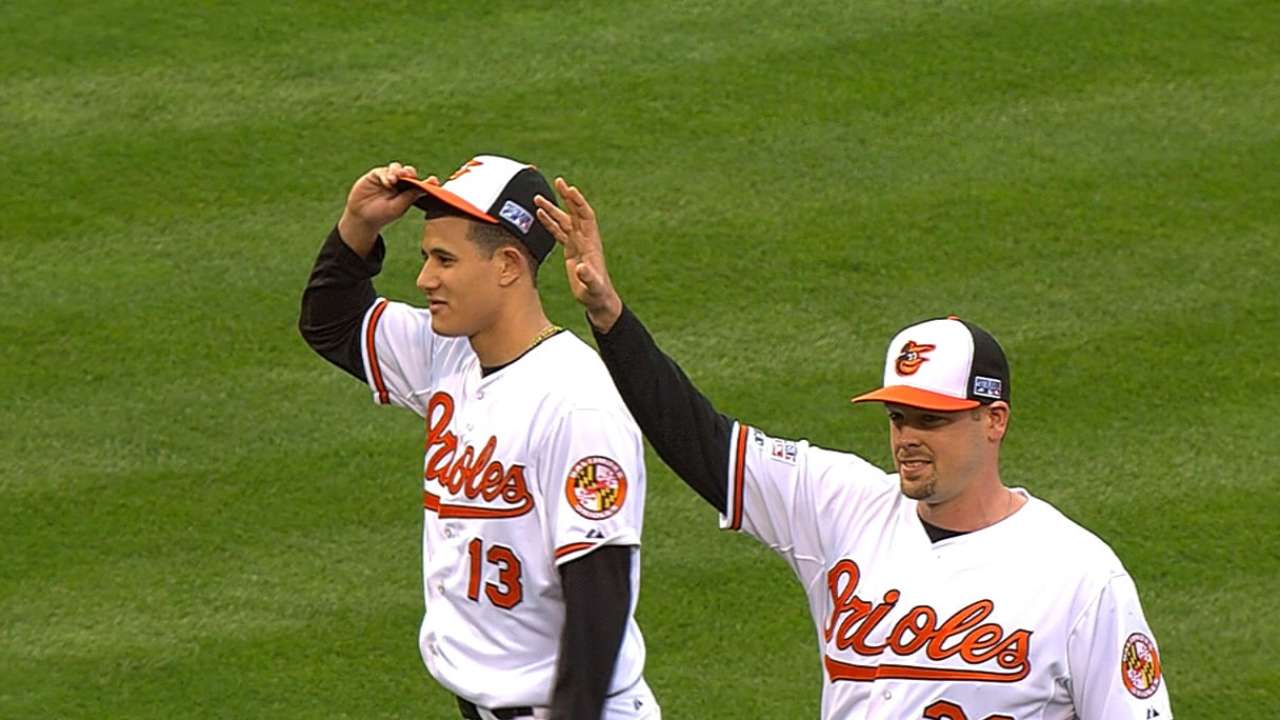 BALTIMORE -- Things have gone surprisingly well for the Orioles since Matt Wieters played his last game for them on May 10. Despite the All-Star catcher's season-ending Tommy John surgery, as well as a season-ending injury to star third baseman Manny Machado, the O's rolled to a division title and begin their first American League Championship Series since 1997 tonight at 8 p.m. ET on TBS. Wieters has had to find ways to keep busy and remain useful.
In August, he had the LASIK surgery he'd been meaning to get. Now he spends a huge portion of his down time wheeling and dealing to defend his fantasy football championship.
"It's hard to keep up with him," said relief pitcher Darren O'Day, who was the fantasy league's regular-season champion last year.
To stay useful, Wieters has become a sort of extra coach for catchers Caleb Joseph and Nick Hundley. During the final week of the regular season, Orioles manager Buck Showalter sent him to Detroit to scout as the Tigers inched toward a division title and AL Division Series meeting with the Orioles.
With the steal-happy Royals standing between Baltimore and its first World Series appearance since 1983, Wieters' mind is more important than it has been all season. With Wieters' tutelage, Joseph and Hundley have worked to replicate a tactic Wieters employs to throw out runners. With five days to prepare for the Royals, Wieters has had a lengthy chance to scout their basestealing threats.
Joseph first began mimicking Wieters' "cheat" -- which involves setting his feet to throw before the ball actually reaches the glove -- in the Minors last season at the insistence of catching coordinator Don Werner. A year later, he's been able to get first-hand help with Wieters relegated to the sideline.
With Wieters' help, Joseph has gone from being a catcher with a poor defensive reputation in the Minors to the AL leader in caught-stealing percentage as a rookie.
"When he gets it right, he can throw as well as anybody in the game," Wieters said.
Before Hundley arrived in Baltimore as part of a May trade with the Padres, he wasn't using Wieters' technique, and had yet to throw out a runner in 2014.
About a month into his tenure with the Orioles, Hundley started imitating Wieters with the help of bench coach John Russell and Wieters himself. Joseph took nearly a year of practice to grow comfortable enough with the ploy to use it in games. Hundley started implementing it immediately and has thrown out 19 percent of runners with the O's.
"He picked it up pretty naturally," Joseph said. "It takes some serious athleticism."
Hundley also credits Wieters for helping him build a relationship with the Orioles' pitching staff. Aside from Ubaldo Jimenez, all of the O's starting pitchers in 2014 had worked primarily with Wieters in the Majors. He knows them better than anyone.
"There's no way I could have gotten acclimated as quick if it weren't for him," Hundley said.
Wieters' last role since his injury has been, essentially, serving as Showalter's right-hand man.
Wieters frequently sidles up next to Showalter in the home dugout during games at Oriole Park at Camden Yards to chat up the manager, and vice versa. It's why Showalter felt confident enough to send Wieters out as a scout: He trusts his catcher's opinion and isn't afraid to ask for it during games.
"I always felt like I had a good relationship when I was catching with Buck, but now it's instant so I can actually pick his brain a little bit more when he makes a decision," Wieters said. "There's no situation he hasn't prepared for and everything he does may have two or three reasons why he did it."
Wieters said it's too early to start thinking about being a manager or coach one day, but all the reviews on his ability are overwhelmingly positive. He's a savvy baseball mind who brings who brings a unique perspective as one of the game's best defensive catchers.
And perhaps most importantly, Coach Wieters is a more pleasant alter ego.
"Matt the coach isn't as grumpy," O'Day said. "Matt the coach is a little more relaxed. He's always looking for ways and angles during the game, whether it's picking up tendencies or helping our catchers out. It always helps to have a guy with a baseball mind like that watching games."
David Wilson is an associate reporter for MLB.com. This story was not subject to the approval of Major League Baseball or its clubs.