Ozzie: Hard work, winning part of St. Louis culture
Hall of Famer expects NLCS intensity between Cards, Giants to equal '87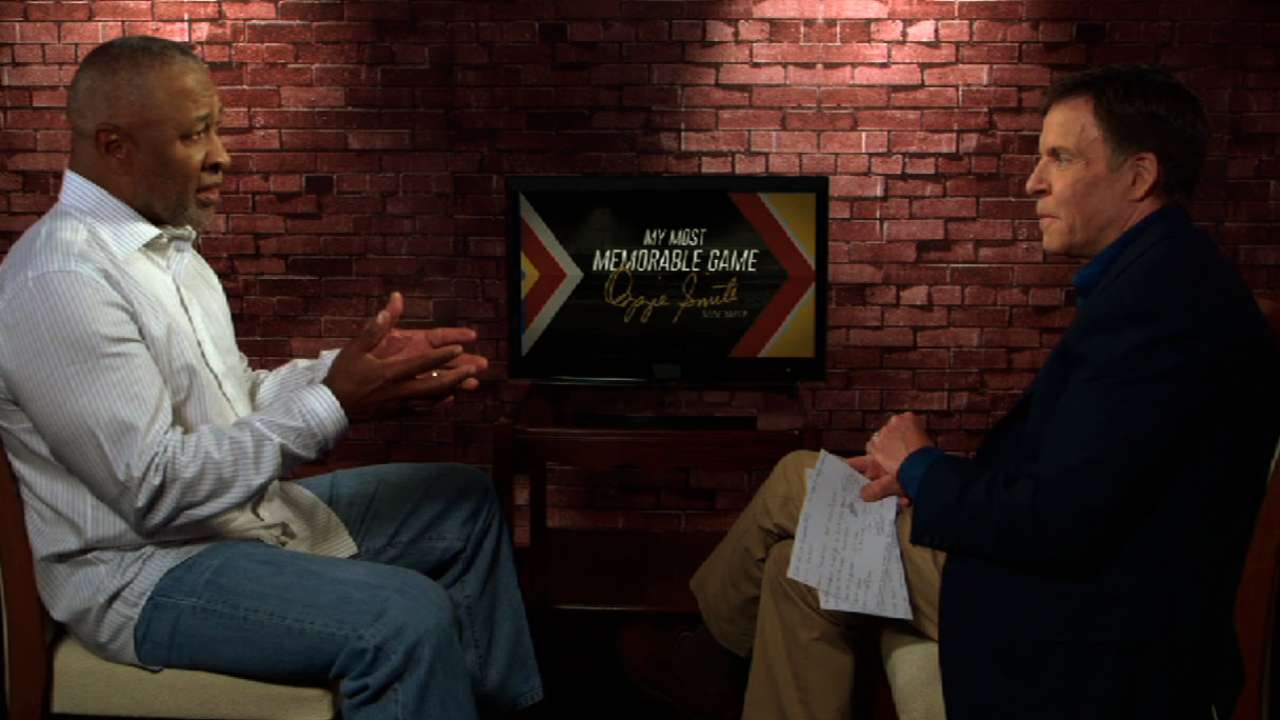 ST. LOUIS -- It took a long time this year for this Cardinals team to really come together like people thought it would. This was probably more challenging a year than it had been in the past, because it seemed like for most of the season, it was all about trying to find the right combination of players in the lineup.
Finding continuity this year was a real challenge. But because of the way that the guys work, their commitment to it, they just held in long enough and were good enough to still be able to win this division.
I think sometimes, even in years where you win, it's a challenge. This was one of those years. I don't think they played to the level of expectation over the long haul of the season. I think within the last three weeks, we've seen more the type of team that we were expecting coming into the season. But it took that long for it all to come together. It took that long to get firing on all cylinders. But it couldn't have come at a better time for the organization.
With what they were able to achieve last year (winning the National League pennant), there was no reason for them not to feel that they couldn't accomplish the same thing this year. Coming into Spring Training, I don't think it was about surprising anybody. I think people were well aware that this organization has been as consistent as anybody as far as producing talent. Players understand what this culture of baseball is all about here in St. Louis.
I was able to visit with the team during Spring Training, and the things I shared with them were mostly from a mental standpoint. Knowing that this year, if you're going to get better, the way you're going to get better is to be more fundamentally sound than the people you're playing against. That's the only way that you're going to win more games. I think they understood that. I think manager Mike Matheny has done a great job with getting guys to buy in to the things that they're trying to do as an organization.
We've become very accustomed to being in the playoffs here in St. Louis, and I think in many ways, we've become spoiled. When the leaves turn brown, we expect to be working hard at winning the crown. Most people who have lived here for four or five years have had a chance to experience what postseason play is all about. The togetherness it brings to a city, it's a very, very special time. I'm not going to say that fan bases aren't good everywhere, but here it's a way of life. It's a part of the culture of the city.
It's also very generational among those who have played here. Anybody who has had the opportunity to come here and play takes a lot of pride in the product that is put on the field. I think the Cardinals organization has earned the respect across baseball for the product that they put out there every year. Even in years where we don't win, it's still a quality product. It starts from the top and it works all the way down through the organization.
I think there's a reason why you see so many people who play for this organization end up staying and living in this town. That's because people in this town welcome them in. They understand a hard day's work. They expect you to put in your time, and if you do, people understand the effort. If you put in the effort, they're willing to forgive and forget some of the bad seasons.
When we played the Giants in the 1987 NL Championship Series, we had to battle tooth and nail. Going on the road at this time of year is not going to be easy, because you have to battle all of the elements. You have to battle the other fans. We certainly had to do that in San Francisco. Some of the fights that we got into, that was just an indication of how much we wanted it. That's how much it meant to us. It was that intensity -- being willing to fight and claw to get to where you want to get to -- that came out.
We were fortunate enough in 1987 to beat the Giants and go to the World Series. For me, 1982, '85 and '87 were very special years, because we got to experience the World Series. There are some guys that play a lifetime and never get a chance to experience it once.
The same competitiveness we had in that 1987 NLCS will be there this year between these two teams. You just hope your guys, when the opportunities present themselves, are up for the challenge. This is when you need your big-time players to step up and do their job. I think you have guys on both sides who have the ability to do that.
It should be a very, very good series, and it will all start with pitching. You have to have a guy who can go out there and give you six, seven strong innings and then turn it over to the bullpen. And it's taking advantage of opportunities when they present themselves.
It's hard at this particular time to say who is going to win, because it depends on how clutch somebody is going to be in a certain situation. You just hope that the big guys who you depend on are able to come up with the big hit when you need it, and your pitchers are able to make a big pitch when you need it. You just hope, if you're a Cardinals fan, that your guys do it better than San Francisco.
Hall of Famer Ozzie Smith was a 15-time All-Star and a 13-time Gold Glove Award winner, and he played for the St. Louis Cardinals from 1982-96. This story was not subject to the approval of Major League Baseball or its clubs.