Tale of the tape: Royals-Orioles, Game 1
A look at Shields and Tillman for their ALCS matchup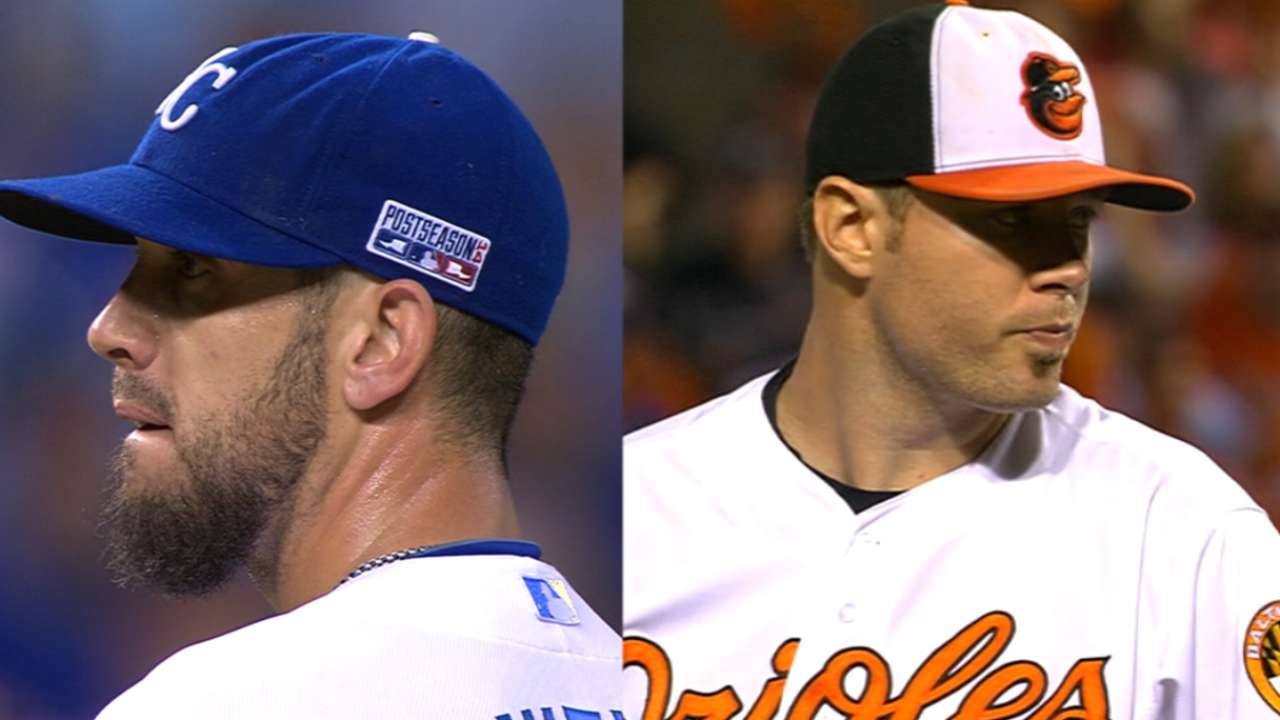 James Shields, Royals
Against the Orioles
2014: 2 GS, 2-0, 3.21 ERA
Career: 26 GS, 11-7, 3.52 ERA
Loves to face: Alejandro De Aza, 5-for-30, 3 K
Hates to face: Nick Markakis, 21-for-71, 2 HR, 5 2B
Game breakdown
Why he'll win: Because Kansas City claimed two of its first four postseason games with its ace on the mound and there's no reason to think the third time will be any different.
Pitcher beware: Balls traditionally fly out of Camden Yards with relative ease, and Baltimore was MLB's regular-season leader in home runs by a large margin.
Bottom line: Expect Shields to at least keep the Royals in the game, just like he has in his first two postseason starts (1-0, 4.91 ERA).
Chris Tillman, Orioles
Against the Royals
2014: 1 GS, 1-0, 0.00 ERA
Career: 5 GS, 2-2, 6.21 ERA
Loves to face: Billy Butler, 2-for-14, 1 K
Hates to face: Alcides Escobar, 4-for-11, 1 2B
Game breakdown
Why he'll win: Tillman was Baltimore's most consistent pitcher in the regular season (3.34 ERA, 34 starts), and he already helped the O's sweep Detroit in the AL Division Series with a Game 1 win. Additionally, he threw a shutout in his only start versus Kansas City this season.
Pitcher beware: Mike Moustakas and Eric Hosmer have been awoken by the postseason. The Royals' corner-infield combination has slugged all four of Kansas City's playoff home runs. Tillman must cool the duo if he hopes to succeed.
Bottom line: The right-hander had success at Camden Yards, with a 2.54 ERA in 18 regular-season starts and five strong innings in the ALDS. He'll give the Orioles a chance against a hot Royals team.
Jackson Alexander is an associate reporter for MLB.com. This story was not subject to the approval of Major League Baseball or its clubs.