O's set out to contain, not control, Royals' running game
Showalter has worked with pitchers, catchers on ways to keep basestealers in check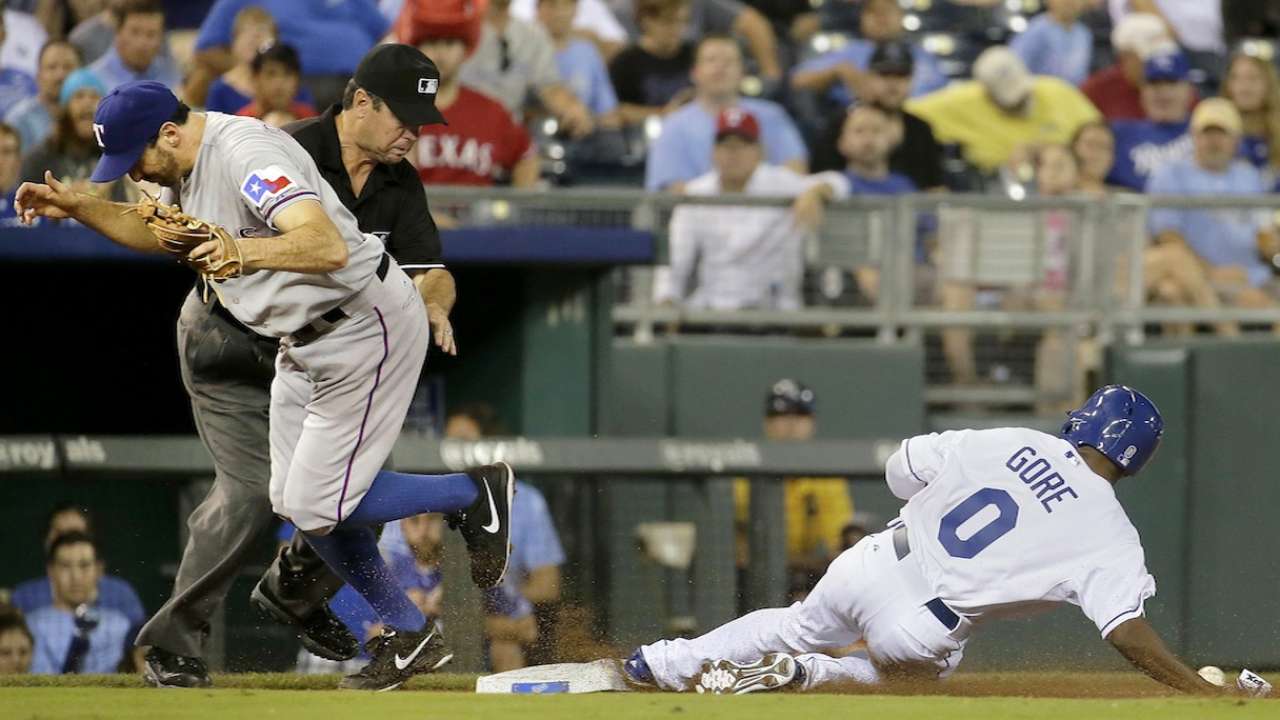 BALTIMORE -- With the fast and aggressive Royals invading Camden Yards for the start of the American League Championship Series tonight at 8 p.m. ET on TBS, Orioles manager Buck Showalter was asked Thursday how his club can control a running game that has overwhelmed opponents all season.
"You don't," he said. "They're not automatically going to all of a sudden run slower tomorrow. If anything, they're going to run faster. You don't control that. It's impossible."
Yet Showalter's team, more than the Royals' previous two postseason opponents, just might have the tools to disrupt Kansas City's assault on the basepaths. It will take a team effort that starts with the preparations of Showalter's staff, centers on a pitching staff the manager has groomed to work quickly and ultimately rests on the arms of two catchers forced into expanded duty by the season-ending injury to All-Star Matt Wieters.
The challenge is clear. The Royals led the Majors with 153 stolen bases, finished a close third with an 81 percent success rate, ran wild on the A's for seven steals in the AL Wild Card Game and then went 5-for-5 against the Angels in an AL Division Series sweep. The Royals' regular lineup features five players who stole at least nine bases this year, and their two fastest men, Jarrod Dyson and Terrance Gore, lurk on the bench as late-innings options.
It's a challenge the Orioles aren't backing down from, even if they aren't planning to do anything different than what got them to this point.
"It's just mano a mano," catcher Caleb Joseph said. "Our best vs. your best, and we'll see. We're not going to change our entire game plan just because they run."
The Orioles go into Game 1 knowing what to expect. It's no secret the Royals will run, but figuring out exactly who will go and when is a different matter.
That's where the Orioles' advance scouts and bench coach John Russell can make an impact. A former Major League catcher and manager, Russell meets with the catchers and pitchers before a series or game to discuss scouting reports and tendencies. He keeps times on opposing baserunners and knows who will run often, who will run occasionally and what counts they prefer.
"He's as prepared as anybody I've been around as a bench coach," said catcher Nick Hundley, whom the Orioles acquired from the Padres in late May.
Once the players have the information, it's up to them to execute it. They did that this year, allowing the fourth-fewest steals in the AL and finishing tied for sixth in caught stealing percentage. Those numbers improve by counting only players likely to be on the ALCS roster.
Baltimore's ability to control the running game goes back to Showalter. When he took over the club, the skipper made it clear to his pitchers that they would be expected to do their part.
"From Day 1 of Spring Training, that's a big topic for him," right-hander Kevin Gausman said. "He wants us all to be quick to the plate and he wants us to throw strikes. So if you don't do that, you might not be around very long."
Those who have stayed have adapted. Left-hander Brian Matusz described himself as "terribly slow" to the plate back in 2010, when Showalter took the helm midseason. Matusz remembers Showalter talking to his pitchers about the importance of being athletic on the mound, and he responded by ditching his leg kick and going home more directly. He's allowed three steals over the past three seasons, none this year.
Righty Chris Tillman, who will start Game 1, is another success story. From 2007-10, mostly in the Minors, he gave up 55 steals in 78 tries. Over the past two years, opponents are 2-for-13 off him.
"When Buck got here, it was a big pet peeve of his," Tillman said. "You've got to be quick and give your catchers a chance."
Between the speed of the runner, the pitch and the catcher's throw, safe or out comes down to tiny fractions of a second. A pitcher who can shave his delivery down to better than 1.3 seconds can shut down a running game, Wieters said, while a time of 1.35 gives the catcher a good chance at nabbing even a fast runner. Times of 1.4-1.5 seconds, in contrast, can leave a team exposed.
It's not just about the speed to the plate either. Pitchers can disrupt timing by adding what Joseph called "little quirks and nuances," such as mixing up how long they hold the ball or how often they look over. They'll also try to keep runners honest with pickoff throws and other tactics.
Then once the ball is in flight toward the batter, the play's fate rests with the catcher. In this series, with Wieters recovering from Tommy John surgery, that means Hundley and Joseph. Showalter said Thursday that at least for Game 1, he plans to go with Hundley, who has caught each of Tillman's last 14 outings.
Hundley also offers more offensive production, but he went only 5-for-36 throwing out runners this year between San Diego and Baltimore. Joseph is a 28-year-old rookie who is hitless in 33 at-bats since Sept. 12, but he threw out 23 of 57 runners for the Orioles. That 40.4 percent success rate was second, behind Yadier Molina, among Major League catchers with at least 40 chances this year.
"He's been unbelievable for us this year," Gausman said.
The Orioles know that no matter who is on the mound or behind the plate, the Royals will take their shots in this series. And that's OK with them.
"You want those situations," Hundley said. "You want guys to run. The position we're in is to catch and throw people out when you get that opportunity. Why wouldn't you want to play against the best? And that's what we're doing right now."
Andrew Simon is a reporter for MLB.com. Follow him on Twitter @AndrewSimonMLB. This story was not subject to the approval of Major League Baseball or its clubs.