O's turn to calm, consistent Tillman in Game 1
Right-hander described as unflappable, very good at holding runners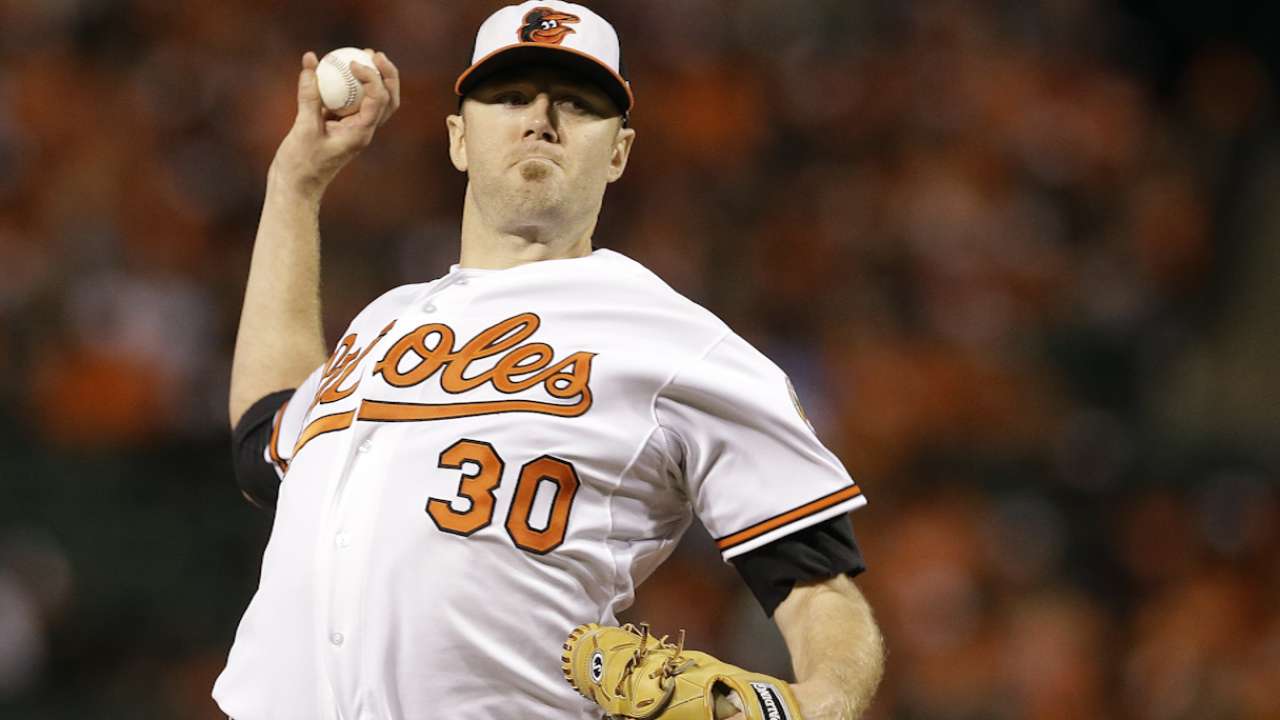 BALTIMORE -- The ace of the Orioles isn't much of a name outside of Baltimore. Yet that doesn't bother Chris Tillman at all as he gets ready to take the ball in the most high-profile start of his career -- Game 1 of the American League Championship Series against the Royals tonight.
Tillman is the definition of substance over style.
"Chris is not a look-at-me guy," said Orioles manager Buck Showalter. "He wants to blend in. We've got a lot of those guys. And he'd be the first to tell you, when you're talking about [James] Shields and you're talking about [Justin] Verlander and [Max] Scherzer and [David] Price, Chris will say, 'I haven't earned that, I haven't done it consistently over a long period of time.'"
After beating Scherzer -- last year's AL Cy Young Award winner -- in Game 1 of the AL Division Series, Tillman will try to best "Big Game" Shields in the opener of the ALCS at 8 p.m. ET on TBS.
"It's always a challenge," Tillman said. "I think as a starting pitcher my mindset is it's not me versus James, it's not me versus whoever, Scherzer, Verlander; it's me versus the Royals. I've got to face nine guys that are out there trying to beat me and get on base and wreak havoc, this time, especially. And that's the way I look at it."
Tillman, at the age of 26, could one day come with the same type of cachet as his more known opponents, even if he will never seek it out.
Since becoming a regular member of Baltimore's starting rotation on July 4, 2012, Tillman is 38-16 with a 3.42 ERA in 82 starts.
The numbers will probably never be what sets Tillman apart, though. Talk to any teammate about him, and the common thread that gets talked about is his fierce competitiveness.
"I always like to say that he's a silent assassin," said Orioles right-hander Kevin Gausman. "He's very intense, very competitive, and I think that's good when you have a guy who's at the head of our rotation who's like that. You don't want a prima donna or a guy like that, you want a hard-nosed guy who likes the game and likes to comes to the ballpark early every single day."
Two years ago, when the Orioles played against the Yankees in the Division Series, Tillman wasn't even on the roster. Showalter can only laugh about that now.
"Someone reminded me again that he wasn't on the playoff roster [in 2012]. That was pretty stupid," quipped Showalter. "You remember what was going on that year. We had a choice between him and Joe Saunders. And, for five innings, Joe was the right choice."
These days, Tillman is always the top choice for the Orioles.
"He's a guy that makes for a soft pillow at night because ... he's going to fire and he's not going to be intimidated by the competition," said Showalter. "And more times than not he keeps us engaged in the game and gives us a chance to win."
The competition will be intense in the ALCS, and that's exactly how Tillman prefers it. The Baltimore crowd was the definition of electric in the ALDS, and it should be ratcheted up even another notch tonight.
"It was awesome, to tell you the truth, it really was. It's the loudest crowd I've ever been a part of," said Tillman.
The key to success this time of year is channeling that adrenaline, and Tillman has a personality that seems perfectly suited for it.
"I take the same approach every time," Tillman said. "If you're going out and doing more or doing anything less, you're not giving your teammates the same read. They know what they're going to get from me every time. I try to be consistent in between starts. They know me just as well as I know myself. And if I go overboard with preparation or if anybody does it, for that matter, I think it's another loop, another wrinkle."
Back on Feb. 8, 2008, when the Orioles got Tillman as part of a genius trade with the Mariners that also brought Adam Jones to Baltimore for lefty Erik Bedard, it was hard to know how much of an impact he would make. But that is becoming more evident each year.
"He's a guy who goes out there with four quality pitches and he can throw any of them on any given count," said Orioles outfielder Nick Markakis. "When you can do that as a starter, you gain a lot of confidence in your defense. When we're out there with Tilly on the mound, we like our chances just as good as if we had anybody in baseball."
Another thing that could serve Tillman well in this series is his ability to shut down the running game. He has allowed all of two stolen bases over the last two seasons. And in case you haven't heard, the Royals love to run.
"You know what? I don't think I change anything," Tillman said. "I take a lot of pride in controlling the running game. I think our catchers have done a great job all year of controlling it. If you put that in the back of your head, I feel like you're just adding pressure for yourself. If it's something that you're good at, that's a strength for you. I don't think I need to put any more emphasis on it."
Ian Browne is a reporter for MLB.com. Read his blog, Brownie Points, and follow him on Twitter @IanMBrowne. This story was not subject to the approval of Major League Baseball or its clubs.