Yost pushing all the right buttons with young Royals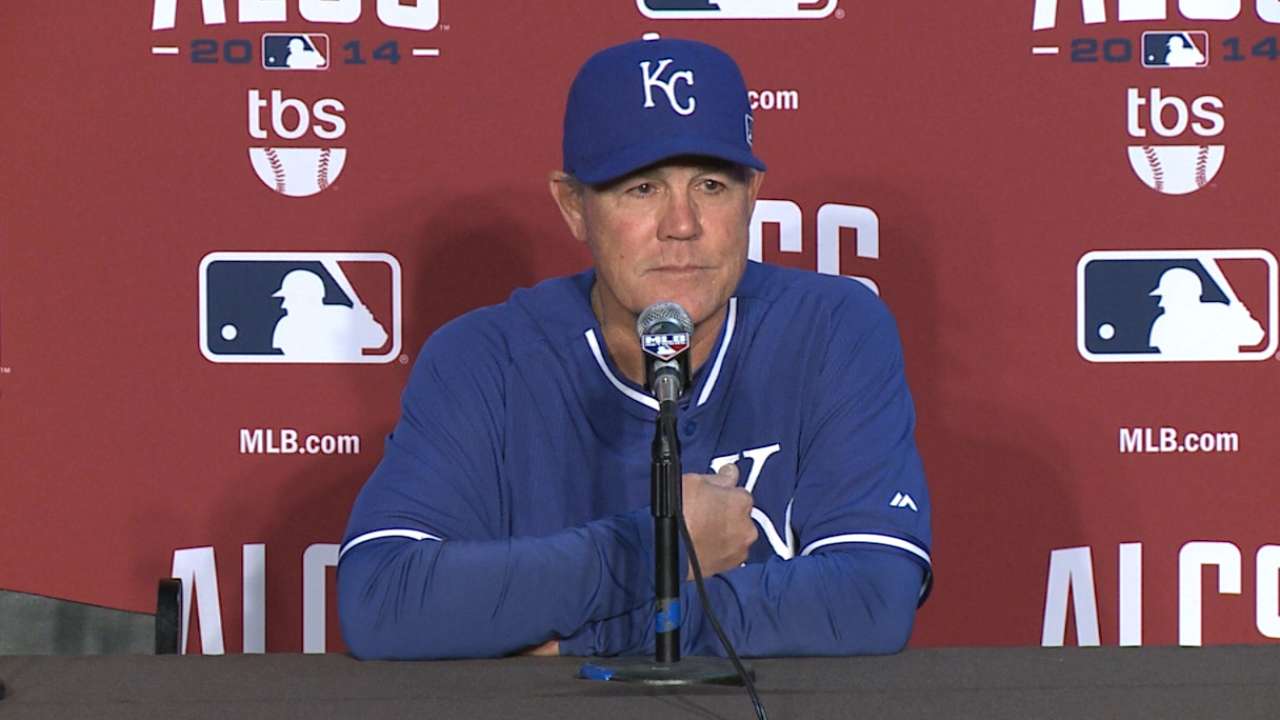 BALTIMORE -- Ned Yost is 60 years old, he's been at this big league managing business for 11 years and, as he might phrase it, he's getting pretty dad-gummed good at it.
Yost, in his fifth year of managing the Royals, has realized he's finally found the right rhythm as a manager. At least that's the way he sounded on Thursday as he did some self-analysis for reporters. This, after all, is his biggest moment -- managing his club against the Orioles for the American League pennant, with Game 1 set for tonight at 7 p.m. CT on TBS. And Yost talked a bit about how got this bunch of players to the postseason.
"I learned last year that as a manager I always tried to push them to be more like me instead of letting them be themselves," Yost said. "I learned last year that if you let a young group that has energy and is excited to play the game be themselves, you'll probably be in a better position."
"So it's been fun watching them develop and being themselves. You can see they're a loose group. They like each other. They play hard for each other. They love to win together. And it's just letting them be themselves, I think. It was a big lesson that I learned."
What the Royals have become is a hard-driving, free-wheeling, fun-loving mix of a young core group with some older and wise veterans.
If Yost can, at times, be "Grumpy Ned," he can also be Understanding Ned. If he can be Critical Ned, he can also be Encouraging Ned. He's managed to find the balance.
That came with making an effort to know his players better.
"Some of the younger guys, they need a little more. Some of the veteran guys, they don't need a whole lot," he said. "I think the most important thing that you have to do is you ... have to learn about the individual. You've got to know how he was brought up. You've got to know his personality. You've got to know what makes him tick so you can communicate effectively with him to get the best out of him."
It's the old pat-one-guy-on-the-back, kick-another-guy-in-the-butt routine.
Yost made the point that when general manager Dayton Moore adds a player to the roster, all aspects are considered. He's got to be a fit.
"Have they been winning-type players? Are they blue-collar-type guys that work hard and their main focus is winning, so it can match up with the young group that we had here?" he said.
Yost learned how to be an old-school manager during 12 years as a coach under Atlanta manager Bobby Cox when the Braves were notching title after title in the National League East. As a backup catcher, Yost was a hard-nosed player raised on discipline. As a coach, he learned to appreciate Cox's hard-line rules, and he took that into his first managing job at Milwaukee.
"So you start your managerial career the same way, trying to set a rigid set of guidelines," Yost said. "This is what I want you to do, this is how I want you to act, this is how I want you to play. This is how I want you to act when we win. This is how I want you to act when we lose. This is how I want you to act on the plane."
It didn't always work with the Brewers, and as Yost approached his first playoffs in September 2008, he was unceremoniously dismissed. That gave him time to reassess his approach, and the Royals gave him another shot early in the 2010 season.
"I came to the realization that these guys are all unique. They've got youthful enthusiasm and they come from a different generation than I came from," Yost said. "For me, trying to mold them into something I want them to be -- why don't I just let them be who they are? And then that frees them up to be who they are on the field."
And perhaps the same could be said for the oft-criticized Yost, who has endured second-guessing on his in-game strategy but seems to have found the second gear so many were clamoring for.
"We wanted to try to get in postseason mode about two and a half weeks out before we got into the postseason so our guys would be ready for it," Yost said. "We've done things like we've extended Kelvin Herrera, we've extended Wade Davis. We had Holly [Greg Holland] up to come in the ballgame on the road in a tie situation.
"We're doing things differently. We're defending a little bit earlier. We're pinch-running more in certain situations to try to win baseball games."
The Go-Go Royals, in fact, set a postseason record with seven stolen bases vs. Oakland in the AL Wild Card Game, and have stolen five more in the games since. Their 12 swipes this postseason are more than all the other teams combined. The bullpen -- called on earlier and more often -- has been fantastic, and the team is playing fast and loose in the field, notching one spectacular catch after another.
So if you're going to criticize his earlier staid, conservative approach, you must also credit Yost for the aggressive demeanor of his club now.
"You're seeing the energy, you're seeing the excitement, you're seeing the fun that they have playing with each other," Yost said. "And there's no restrictions to it. It's a good group. They respect the game. They respect the process. But they have a lot of fun doing it."
Probably no more fun than in that comeback, 12-inning Wild Card win over the A's.
"The biggest thing that has gotten us to this point right here was the Wild Card Game," Yost said. "To come back from those odds the way that they did, I think this showed each and every man in that locker room that we're capable of doing anything."
Obviously, Yost has come to feel the same way.
Dick Kaegel is a reporter for MLB.com. This story was not subject to the approval of Major League Baseball or its clubs.