Royals' arsenal of arms well equipped for potent O's
Baltimore led Majors in home runs, but KC staff adept at keeping ball in park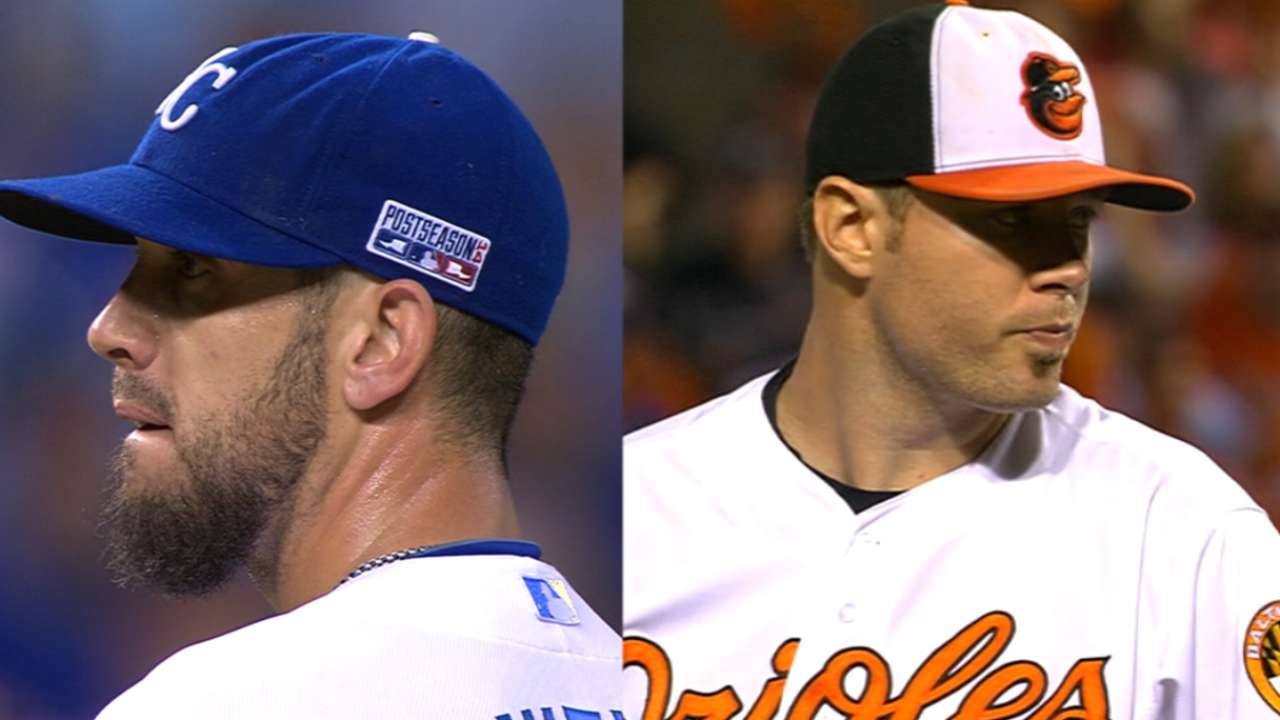 BALTIMORE -- Here is a cold, hard fact. The Baltimore Orioles hit 211 home runs this year, the most by any team in the Major Leagues.
So how do the Royals stop that onslaught?
Basically, according to a consensus, pitch like you always do and don't think too much about it.
"I think that's all mental," said reliever Kelvin Herrera. "You want to try to throw the ball down and away. Keep the ball down and get a lot of ground balls."
Mental? Maybe so.
"They have a great lineup, but if you start worrying about the ball going over the fence, it usually does," said closer Greg Holland.
Royals pitchers have not been real generous in giving up home runs this season -- they allowed 128, the third fewest in the American League. Only the Angels (126) and the Tigers (127) surrendered fewer. And Kansas City fared pretty well on the road, too, allowing 69 home runs (seventh best in AL) in 81 games, vs. 59 at home, good for second best to the Angels.
The 32 blasts against the Royals' bullpen were the fewest in the AL, and the postseason core four of Herrera, rookie Brandon Finnegan, Wade Davis and Holland allowed just three of those -- all by the Royals closer -- in 201 1/3 combined innings in the regular season.
Camden Yards, where the first two games of the ALCS will be contested (Game 1 is tonight at 7 p.m. CT on TBS), is rather cozy. However, the Orioles have hit just three more homers at home this year, 107 to 104, than on the road.
So the O's are dangerous at any venue.
"You still stay on the attack," said Royals pitching coach Dave Eiland. "You don't pick and pitch away from contact to do that or you're going to get in hitters' counts and the percentage of home runs is really going to go up. You just have to stay on the attack, pitch to your strengths and their weaknesses. But the main thing is you still have to attack the strike zone with quality pitches."
Oddly enough, of the O's four home runs against the Royals in seven games this year, three came at more spacious Kauffman Stadium. Nelson Cruz hit one at Camden Yards. Cruz, Chris Davis and Adam Jones each homered in Kansas City.
The Royals, who had the fewest homers in the Majors with 95, hit one at Camden Yards (Omar Infante) but had two at Kauffman against the O's, both by Alex Gordon.
"The K plays big, but I do know that both teams are pitching in the same park," said Royals pitcher Danny Duffy.
Despite the Orioles muscling up at K.C., the size of the park helped the Royals give up the AL's second-fewest homers at home this season.
And maybe the Royals' approach this year has been pretty sound.
"I'm just going to keep doing what I'm doing," said rookie starter Yordano Ventura. "I'm not going to worry about the Orioles or how many home runs they've hit -- I'm going to pitch in the style I'm used to."
Good idea. Ventura allowed only 0.69 home runs per nine innings in the regular season. That ranked 26th out of 88 qualified starters, according to fangraphs.com.
Holland is another guy who endorses staying with the program.
"We're going to do nothing different than we've done all year," Holland said. "Get a game plan as how to approach each hitter and go out there and execute pitches. I don't think you can start changing stuff up now because you're facing a team that's hitting a lot of homers. The Tigers hit a lot of homers, too, and we play them 19 times a year."
Duffy agreed that it's best to pitch what you know works.
"We're just got to make sure that we execute our pitches, whether we want to go down and away or wherever it might be," Duffy said. "We've got to make sure we go in for effect. It's not really changing the game plan, but respecting their power and just trying to execute. That's the name of the game, it doesn't matter what kind of power you're facing, you've just got to execute."
Finnegan, just three months removed from the First-Year Player Draft, was mercifully unaware that the Orioles led the Majors in home runs until ... sorry, kid.
"But you can't worry about what they do against other people, you've just got to go out and do your thing. It doesn't matter how they play against other people, it matters how they play in this series," Finnegan said. "If you start worrying about them hitting home runs, you're going to leave a pitch up and they're going to hit that home run."
Anyway, Eiland's advice is to forget about where you are.
"You still have to play your game and you still have to pitch like you've pitched all year," Eiland said. "We've pitched pretty well here before. It doesn't mean anything, but we've proved ourselves. It's like when you go to Boston, you can put too much stock in the short wall, the Green Monster. You go to Yankee Stadium, you can psych yourself out on the short porch in right. You just have to pitch your game, attack the strike zone, trust your stuff and put your strengths against their weaknesses."
Dick Kaegel is a reporter for MLB.com. This story was not subject to the approval of Major League Baseball or its clubs.