MLB.com Columnist
Phil Rogers
GM Moore's vision is paying off in Kansas City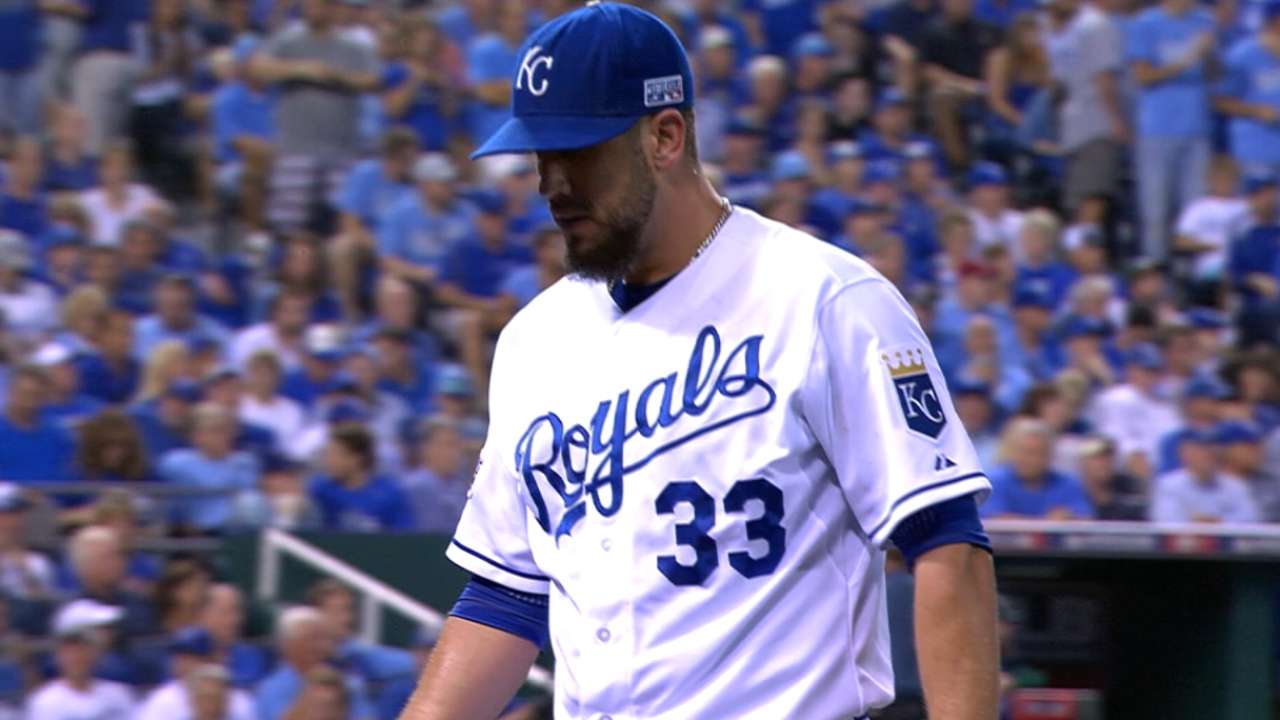 BALTIMORE -- Constructing a roster you believe can get you to the World Series isn't all that different from building your dream house.
You can spend years in the planning stages, steal dozens of ideas from your friends and dedicate every weekend to visiting designer showcases. But there comes a time when you have to pick your granite and decide whether that dormer on the second floor will complement the chimney.
Dayton Moore knows that as well as anyone. He and Royals chairman David Glass were unusually patient in the early stages of the project, spending heavily on the foundation, but then Moore made the tough calls.
And, by and large, he made excellent choices.
Hired as the Royals' general manager in the middle of the 2006 season after working his way upward from scout to assistant GM in Atlanta, the 47-year-old Moore not only stockpiled the Royals with more than their share of top amateurs -- his biggest success might have been getting Glass' approval to invest heavily in the Draft before limits were established in 2012 -- while also expanding the organization's international footprint. But, significantly, he followed that up by making smart trades. Manager Ned Yost points to the seven-player deal that sent
Wil Myers
to the Rays for
James Shields
and
Wade Davis
as a turning point for the franchise, but that's only the middle piece in a series of three trades that helped the Royals go from 67 wins in 2010 to 93 wins, and counting, with their American League Championship Series showdown with the Orioles set to begin tonight at Camden Yards, 8 p.m. ET on TBS. All of them were the kind of trades that general managers say they love to make -- the ones that benefit both teams. They've paid dividends on both ends, even if some were short-lived.
When Moore left Atlanta to replace Allard Baird as Royals GM -- taking himself out of the running to eventually succeed Braves GM John Schuerholz, who became club president one year later -- Moore inherited only one enviable asset. That was 22-year-old right-hander Zack Greinke, who would win the AL Cy Young Award in 2009.
Moore knew he didn't have the resources to do a long-term contract extension with Greinke, who went on to sign a $147-million free-agent deal with the Dodgers, but not before Moore traded him to the Brewers. The six-player package that the Royals received in return included center fielder Lorenzo Cain, who was then 24 and settling into the big leagues, and shortstop Alcides Escobar, who had batted only .235 in his first season as a Major League regular. Right-hander Jake Odorizzi, a 20-year-old former first-round pick, was included in that trade, too, and that would prove useful two years later.
Escobar has become the two-way player he was in the Brewers' farm system, playing a steady shortstop while hitting enough (.285 with a .317 on-base percentage and 31 stolen bases) to be Yost's leadoff man. Cain is arguably the centerpiece player in an athletic lineup, delivering in the No. 3 spot in the order while taking hits away from opponents with leaping, diving and sliding catches.
It's been 14 years since Kansas City had a power hitter deliver 30-plus home runs. That's why it was such a shock when Moore dealt Myers, then the Minor League Player of the Year after batting .314 with 37 homers between Double-A and Triple-A, two seasons ago.
Perhaps no transaction in the Major Leagues has generated more debate than that deal, which sent Myers, Odorizzi, Mike Montgomery and Patrick Leonard to Tampa Bay for Shields and Davis, who has transitioned from a fifth starter into an elite setup man. The Royals received Elliott Johnson as the player to be named later in the deal, which was greeted by thousands of posts on hundreds of message boards.
"Royals Mortgage Future to be Mediocre in 2013'' was the headline on one prominent website, and for the first of the two years that Shields was under control that was the case. Despite Shields' leadership and a promising Spring Training when the Royals were the best team in the Cactus League, they finished in third place, with an 86-76 record.
But Moore stayed the course, holding onto Shields when he could have traded him away to recoup the young talent that Myers represented.
"We felt that, as I said all along, we pointed towards 2012, 2013 for us to have a group of home-grown players on the field, and then we would do everything that we could in our power to support their efforts to win a championship, given that opportunity,'' Moore said. "Those opportunities to acquire a top-rotation starter and an impact pitcher like Wade Davis, they're not presented year in and year out. We were fortunate that the timing of it was such that it was staring us in the face and put us in a position to compete in 2014, and this is obviously where we are.
"The plan all along was to graduate a group of players to the Major Leagues, help them, and then do everything we can as a front office and as a leadership team to make sure we supported their efforts in winning.''
Moore went back to the Brewers last winter in his effort to do that. He parted with promising young pitching -- in the form of 24-year-old lefty Will Smith -- for a 31-year-old international warrior, Nori Aoki, who would be under the Royals' control only one year. This wasn't nearly as big of a trade as the ones involving Shields and Greinke, but it was certainly risky, as Aoki will be a free agent after this season.
It has turned into a godsend. Aoki is proving himself to be a magician at the plate -- he was 11-for-13 with two walks in a September series with the White Sox -- and has been a pleasant surprise in right field. His catch at the outfield wall, behind Cain, in Game 2 was one of the biggest moments of the Royals' AL Division Series sweep of the Angels.
There aren't that many questions left for Kansas City. But the ones that remain surely are intriguing.
For starters, can they upset the favored Orioles in the ALCS? And not far behind that one, will they be able to hold onto their architect when the Braves -- and who knows, maybe other teams -- come calling?
Along with the futures of free-agent pitchers Jon Lester and Max Scherzer, and soon to be Shields, it seems that one of the the biggest Hot Stove questions of the offseason will be whether the Braves can pry Moore away from the Royals.
That remains strictly a hypothetical question at the moment, as Moore said Thursday, the Braves have not asked the Royals for permission to speak to him. He signed a contract extension last fall that runs through 2016 in Kansas City. He's a Kansas native who has sunk his family's roots into the Midwest soil. But what does it say that Moore has never said he isn't interested in the Braves?
Glass has said he "can't imagine" that Moore would leave Kansas City to return to the Braves, where he worked in scouting and player development for 12 years. But watching the Royals ascend as the Braves decline, it's easy to see why Moore would appeal to his old franchise.
Schuerholz and interim Braves general manager John Hart are conducting a search for a GM to replace Frank Wren. Moore is viewed as the strongest outside candidate, even as he oversees a Royals franchise that is four wins away from the World Series.
Moore is not discussing the situation, focusing instead on what is left to do to try to get his team to the World Series. There will be time for his own situation to play out later. At the moment, this is all about the house he already built.
Phil Rogers is a columnist for MLB.com. This story was not subject to the approval of Major League Baseball or its clubs.