Sveum's simple approach clicked with young Royals
Hitting coach caters advice to each player's strengths and weaknesses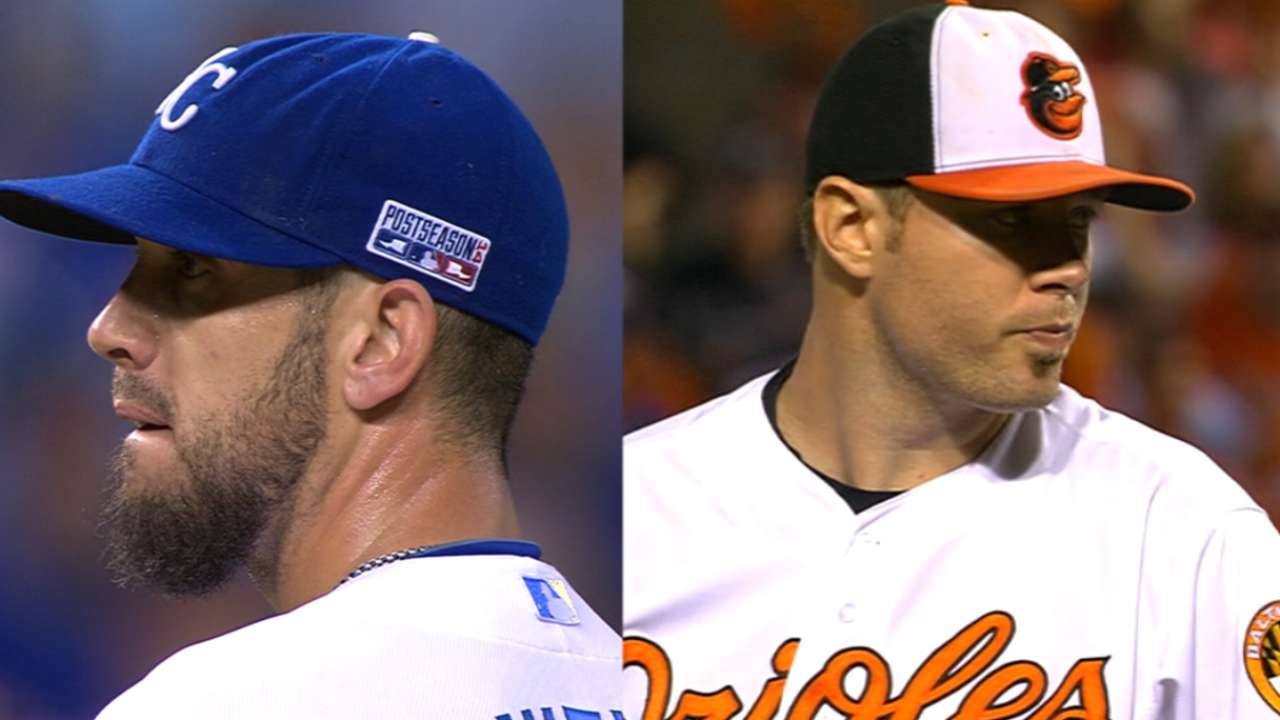 BALTIMORE -- It was Sept. 30, 2013. Dale Sveum had just found out he would no longer be the Cubs' manager and his cell phone rang. Ned Yost, the Royals' skipper and Sveum's former boss in Milwaukee, was on the other end, already set to offer him a job on his coaching staff in Kansas City.
"As soon as I heard he was fired, I called him," Yost recalled from Wednesday's American League Championship Series workout at Oriole Park at Camden Yards. "He's one of the best coaches I've ever had."
Sveum -- the Brewers' interim manager when Yost was dismissed in mid-September of 2008 -- was coaching third base until Yost named him the Royals' hitting coach on May 29, making him the fifth man to take over the job since the end of the 2012 season.
"We've struggled to find the right voice," said Royals general manager Dayton Moore, who went from Kevin Seitzer to Jack Maloof to George Brett to Pedro Grifol to Sveum in a 19-month stretch. "Dale has done a tremendous job, just providing some leadership at the right time."
The Royals looked nothing like the energetic, upstart team they currently resemble when Sveum switched roles, regardless of whether one believes a direct correlation exists. They were three games below .500 and had a run-differential of minus-16, with an offense that couldn't get on base (24th in the Majors in on-base percentage) and couldn't hit for power (dead last in homers).
They never really became a juggernaut after that, either, but they improved in batting average (.253 to .267), on-base percentage (.308 to .316), slugging (.352 to .388), runs per game (3.87 to 4.09) and isolated power (.099 to .121).
Some of that was merely a progression to the mean, because, as Royals center fielder Lorenzo Cain pointed out, "We struggled so bad that I just felt like eventually we would break out. It was that bad."
But some of it was also the concepts Sveum brought, and the manner in which he incorporated them.
Cain said Sveum, also his hitting coach in Milwaukee in 2010, "brought more of a free approach, of just going up there and kind of clearing your mind and swinging the bat." Omar Infante talked about how Sveum emphasized "using your top hand to hit more line drives," a function of Sveum's ultimate goal of improving the Royals' success with pitches up in the strike zone.
In the first half, the Royals had the third-lowest line-drive percentage in baseball at 19.3.
In the second half, that number jumped to 22.9, second-best in the Majors.
A hitting coach's impact at the Major League level is often negligible, but the importance is heightened on a Royals team with so many young position players.
Eric Hosmer batted .195 in June and his swing was getting long, so Sveum helped incorporate what Yost called "a very short, very quick" swing path that helped the first baseman raise his batting average by 24 points over the last three months. When Mike Moustakas returned from the Minors on June 1, after slashing .152/.223/.320 in his first 139 plate appearances, Sveum stressed pulling the ball, focusing on driving it "through the shift as opposed to against it," the left-handed-hitting third baseman recalled.
"Dale does a good job of working with you as a player," Moustakas said. "No one's the same. No swing's the same, no hitter's the same. I think Dale does a great job of individualizing each hitter and letting us work on what we're good at."
Moustakas felt Grifol "got a bad end of the deal," moving to catching instructor and taking the fall for the players' own struggles. A lot of hitting coaches have been made scapegoats around these recent Royals. It's the nature of the job, and it created way too many voices for hitters, who perpetually seek consistency.
That's why players say Sveum's approach -- "a simplified one," as Billy Butler described it -- was so welcomed.
"The biggest thing with Dale is that he gives you the chance to figure it out yourself," Hosmer said. "He's got a more patient approach. He kind of lets you figure it out, and if you can't, then he'll let you come to him for advice so that he isn't really hounding you all the time."
Alden Gonzalez is a reporter for MLB.com. Read his blog, Gonzo and "The Show", and follow him on Twitter @Alden_Gonzalez. This story was not subject to the approval of Major League Baseball or its clubs.