Bucs considering future of four key veterans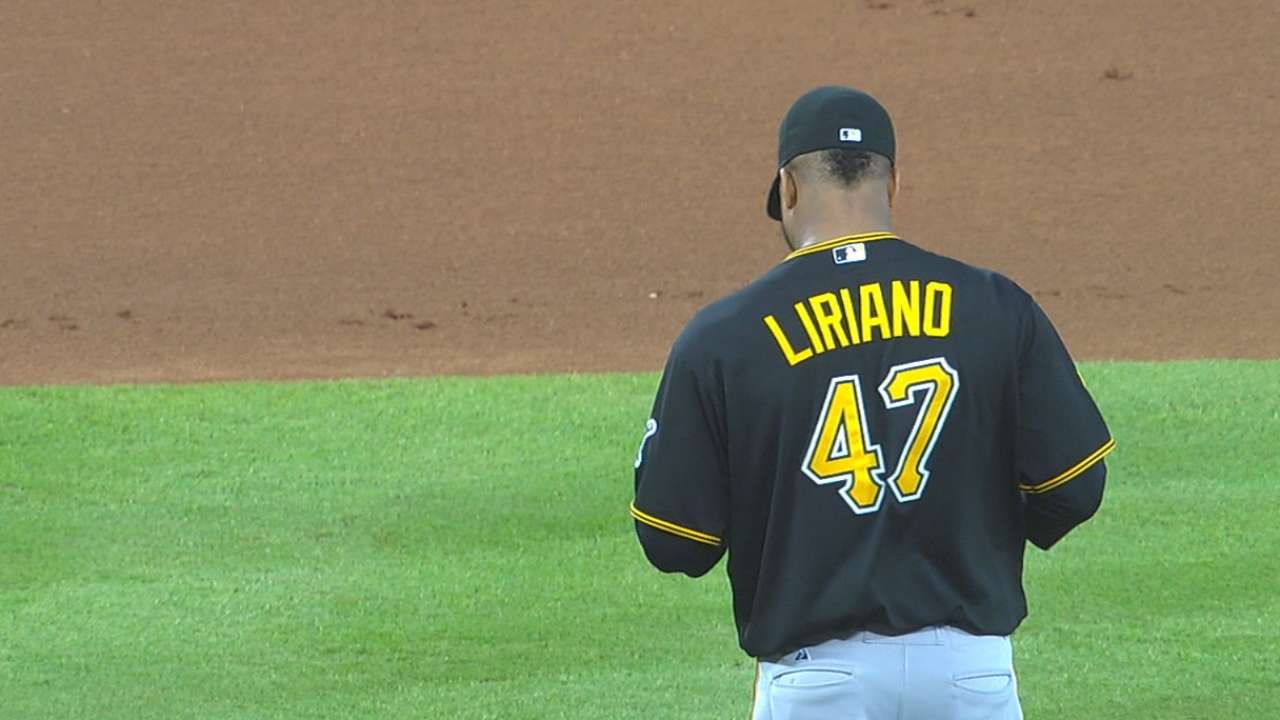 PITTSBURGH -- The day after the Pirates' loss in the National League Wild Card Game, four of their players became free agents. On the sixth day after the conclusion of the World Series, other clubs can begin dickering with Russell Martin, Edinson Volquez, Francisco Liriano and Clint Barmes.
Until then, the Bucs are free to do their own negotiations with the four. Per club policy, general manager Neal Huntington won't comment to the extent he has taken advantage of having the players' undivided attention.
"We'll stay with our policy and prefer not to talk about the process until it's complete," Huntington said Thursday.
On Thursday, we did learn that another Pirates veteran who could have become a free agent turned down that option: Outfielder Jose Tabata, who had been designated for assignment on Oct. 3, was outrighted to Triple-A Indianapolis; by accepting that move, Tabata protected the guaranteed $8.5 million remaining on his contract.
The Pirates are still in the starting blocks with the four free agents, of whom, interestingly, Liriano offers the most intrigue.
Martin is the most wanted. A year after declining a $14.1 million qualifying offer to A.J. Burnett for fear he might accept, the Pirates are certain to make the $15.3 million offer to Martin, certain of its rejection.
Entering an extremely thin catchers market off a career season, Martin, 31, will be a hot commodity. The opening line on his likely landing is four years for $50 million.
Volquez, after an impressive comeback season, may also be in line for long-term offers, longer than the two years with which the Pirates feel comfortable for pitchers. Barmes has a home on the Bucs' bench, if he wants it.
That leaves Liriano, who is so fascinating for a very simple reason: There is no telling where his market will go after a season in which he only appeared to decline after the comeback of 2013.
Liriano went 7-10 after being 16-8 during a dominant '13. Yet, beyond the won-loss record, his 2014 was remarkably in the same class:
• 2013: 3.02 ERA, 163 strikeouts in 161 innings, 27 fewer hits allowed than innings pitched, an opponents average of .224.
• 2014: 3.38 ERA, 175 strikeouts in 162 1/3 innings, 32 fewer hits allowed than innings pitched, an opponents average of .218.
As can be seen, even his workload evened out. His one midseason month on the DL with a strained left oblique matched the first month of 2013 he'd missed recovering from an offseason fracture of his right forearm.
Only five MLB pitchers this season had a lower opponents average than Liriano's .218 -- Johnny Cueto, Clayton Kershaw, Felix Hernandez, Garrett Richards and Chris Sale.
"He had another good season for us as he got healthy," Huntington said. "He did a great job the two years he was here, no question."
Will Liriano's persistent -- but now less-deserved -- reputation for inconsistency ward off suitors enough to improve the Pirates' chances of signing him to a new deal? And if they do, does it influence good buddy Volquez's inclination to also re-up?
These are key questions for a team whose rotation is a puzzle beyond Gerrit Cole and two pitchers who weren't even in the '14 picture until accommodated by emergencies, lefty Jeff Locke and Vance Worley.
Tom Singer is a reporter for MLB.com and writes an MLBlog Change for a Nickel. He can also be found on Twitter @Tom_Singer. This story was not subject to the approval of Major League Baseball or its clubs.