Shields' passion sets the tone in Royals' clubhouse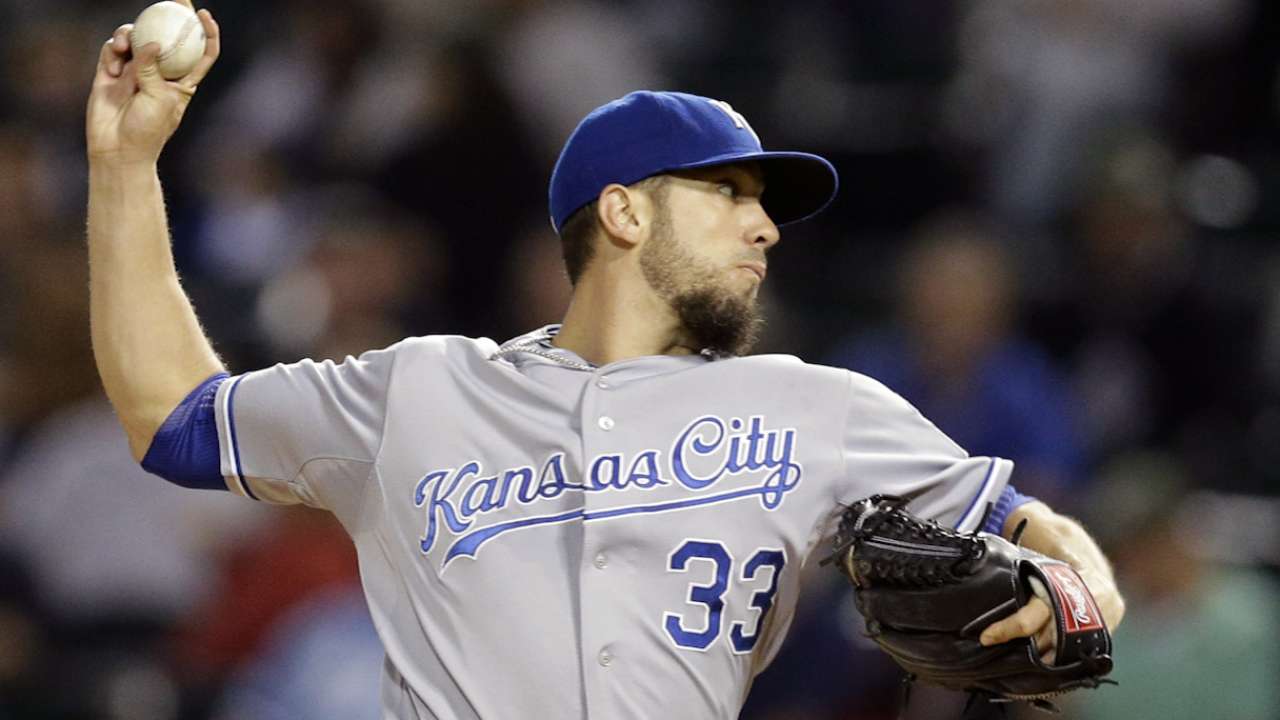 BALTIMORE -- Unlike several of his peers, who often downplay its value, Royals manager Ned Yost is a strong believer in clubhouse chemistry -- the intangible, magical vibes fueling his team's winning ways. There's no linear model connecting the two, but it all starts with leadership, Yost believes.
And for the Royals, that means it all starts with James Shields.
"I think that one of the most genius moves anyone's ever made in baseball was to get him," lefty Danny Duffy said of Shields. "It changed our clubhouse. It changed our organization. It's night and day from what it was when I first got here."
"When we look to make an addition to our team, one of the first things we look at is chemistry," said Yost. "How are they going to fit in? Are they winning-type players? Have they been winning-type players? Are they blue-collar-type guys that work hard and their main focus is winning, so it can match up with the young group that we have here?" These are the questions Royals general manager Dayton Moore asked himself during his 2012 offseason quest of a pitching ace. Shields was his answer to all of them, and he's been every bit as advertised, and more. The 32-year-old will be a free agent this offseason, but his work is not quite done. Shields will christen the American League Championship Series against opposing hurler
Chris Tillman
and the Orioles at Camden Yards beginning today at 7 p.m. CT on TBS, as the Royals look to further their first postseason journey since winning the World Series in 1985.
"He's that guy who's going to set the tone for the series," said reliever Wade Davis. "He goes out and does his thing, the next guy's going to follow suit, and it's worked like that since the day I got called up."
The Royals weren't likely to reel in a front-line starter via free agency, so the trade market was the avenue to landing the ace they needed, costing them top prospect Wil Myers to acquire Shields from the Rays.
Myers got off to a fast start with Tampa, taking home AL Rookie of the Year honors last year. Shields has remained at the top of his game all the while, going 27-17 with a 3.17 ERA in 68 regular-season starts for Kansas City. But it's his leadership, always reverberating in the clubhouse, that will have the most lasting impact on a franchise that, according to Duffy, "was so used to struggling."
"[Shields] kind of changed the whole vibe in the clubhouse," he continued. "If we used to win in a game, we'd come in the clubhouse and you really couldn't tell. Now we've got music jumping. Every win has meaning. Everything, really, has meaning. Even losses, they hurt more. Everything we do matters. Every pitch. Every at-bat. It's big."
That's all "Big Game James" has ever known.
"He's very emotional, probably more emotional than anyone I've ever played with," said Davis. "He really cares a lot, and I think the emotional side of him just brings all that out. It brings it out in all of us.
"He's gotten everybody to kind of look at that pot of gold at the end of the tunnel, instead of just thinking, 'OK, we're here in the big leagues, and that's enough.' We're focusing on something that's better than just being in the big leagues. The way he pitches, he shows that, and it definitely rubs off on people."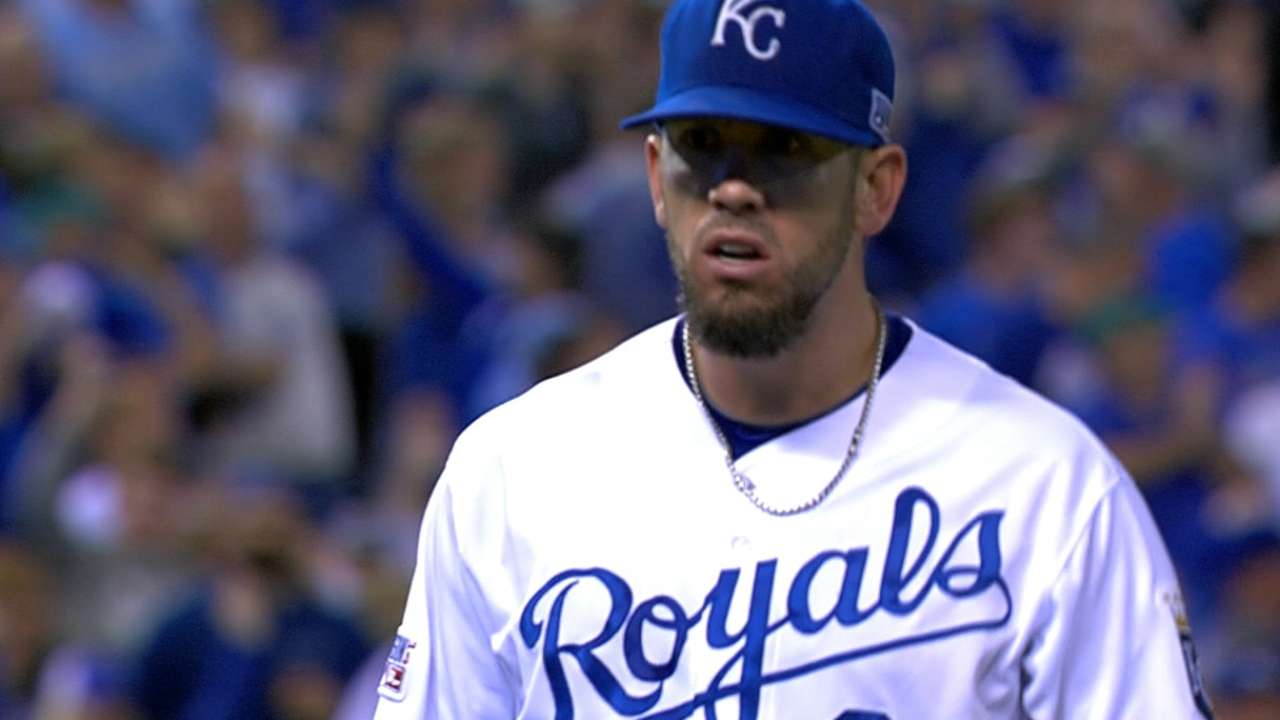 Shields already has two postseason starts behind him this year and eight in his career, including a series-clinching win over the Angels in Game 3 of the AL Division Series on Sunday, and he needs no help getting ready for another.
Obviously we understand the magnitude of what's going on in Kansas City," said Shields. "If you go to our game, you can really understand why, the atmosphere, it's unbelievable. We definitely feed off the atmosphere. We feed off the crowd."
Similarly, Shields' teammates take from him.
We're giving it everything we got for him because we know he's giving us everything, and you can see that when he's out there," said Billy Butler. "He's a vital part of this club. We wouldn't be here without him."
No doubt he's one of the biggest reasons we're here," said Duffy. "I just expect to see eight scoreless every time. He carries that aura about him, he knows what he can do, what he's capable of, and he goes out there and does it nine times out of 10. It means everything to this team because he's our ace. He's as intense as they come.
We all get who he is, which to an outsider is probably terrifying. I'm sure people say that about me, too. It's a level of intensity I've never seen in anyone. I watched Kobe Bryant my whole life, and that's the only person I can compare it to, that supreme focus."
The sibling-less Duffy calls Shields his "big brother" and says the veteran took him under his wing from Day 1.
A lot of people were upset with me in the organization back in the day for being so red out there, being so hot-tempered, and I tried to shut that down, and it kind of took away from my game," Duffy said. "James comes in and was like, 'Dude, if you're red, if you're mad, be red, but just channel how mad you are and do it for the better of you.' He's everything to me."
The chemistry and the family atmosphere here is great," said Shields. "I really feel like that's part of why we're here right now. We're really coming together as a team. We're really uniting as a team. We're playing really good baseball and we're having fun with it."
Jane Lee is a reporter for MLB.com. This story was not subject to the approval of Major League Baseball or its clubs.