Oct. 9 James Shields workout day interview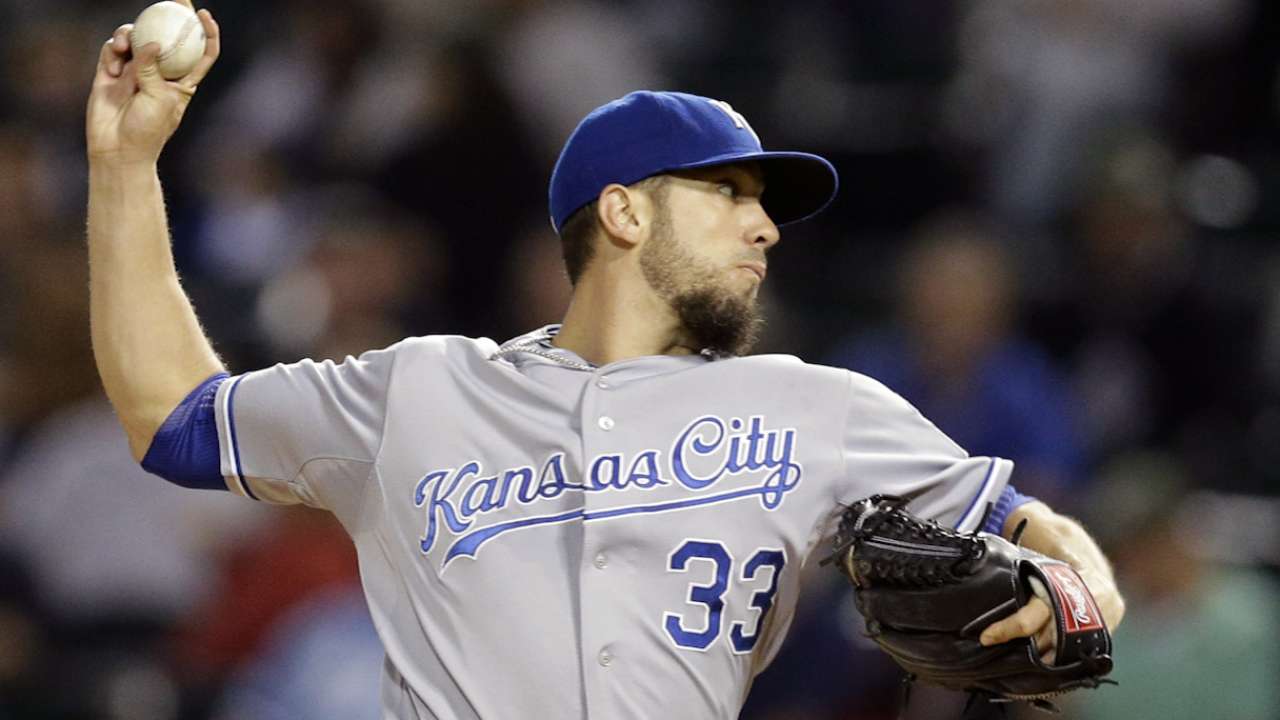 Q. As evidenced just now, talk about the family atmosphere about this team of the Royals?
JAMES SHIELDS: Oh, man, the chemistry and the family atmosphere is great. I really feel like that's part of why we're here right now. Really coming together as a team. We're really uniting as a team. We're playing really good baseball and we're having fun with it. We like to joke around with each other, and trying to stay as loose as we possibly can right now.
Q. As much as a pitcher loves to have offensive support, I'd imagine defense is just as key. Both teams have such tremendous defenses. Can you talk from a pitcher's standpoint having a group like that playing behind you?
JAMES SHIELDS: These guys put on one of the best displays of defense in one series as I've seen against the Angels. As a pitcher, that's your best friend, defense. You have to trust your defense.
I think we have one of the best defenses in the League. Obviously the Orioles have great defense, as well, and it's going to be a good matchup.
Q. By a third of an inning now you've thrown the most innings in baseball in the last 7 years, and you threw another 220‑some year. At this time of year and after all that, can you possibly be physically ready to roll at near 100 percent?
JAMES SHIELDS: Yeah, I feel good. My body feels great. Obviously this is as late as possible in the season as you can get. I've trained myself over the last few years of being able to handle this. So as of right now my body feels great. Everything's right on track where it needs to be, and I'm ready to go.
Q. Right now the forecast for tomorrow night is pretty bad, a lot of rain. Does that throw off your preparation at all or is that way off to the side?
JAMES SHIELDS: I heard it's 40 percent. No, not really. I pitched a lot of games actually this year in some rain. And sometimes that's just the way it goes. I remember in 2008 we had a full rain delay in the World Series. So those things happen. You kind of have to go with the flow.
This year has been very unusual as far as rain delays and rainouts. But it's part of the game. You've got to get used to it and hopefully it doesn't rain tomorrow.
Q. There's obviously so much excitement in Kansas City because of how long it's been. Do you try to use that energy positively, do you block it out, what's your approach?
JAMES SHIELDS: Yeah, we try to just stay within ourselves and play the baseball we're playing right now. I think we're playing good baseball right now. Obviously we understand the magnitude of what's going on in Kansas City.
If you go to our game you can really understand why, the atmosphere, it's unbelievable. We definitely feed off the atmosphere. We feed off the crowd. But we're going to go out there and play our game and trust our ability to win ballgames.
Q. Have they talked to you at all about going on three days rest, are you expecting to have regular rest coming back around?
JAMES SHIELDS: They haven't talked to me yet about any of that stuff. I imagine I'll go on regular rest. But you never know. You never know. I guess it all depends on how this shakes down. I'm up for any challenge that they want to give me.
Q. You've had good numbers against Baltimore certainly this year. Why do you think it's better against a tough ballclub you've been able to pitch well?
JAMES SHIELDS: I don't know. I'm asked that a lot. People say you pitch bad against this team, you pitch good against this team. It's one of those things, I guess.
I'm not going to go too deep into it. I feel like I can pitch good against any team on any given day.