Long time coming: Hudson finally reaches next level
In 16th season, Giants hurler enjoying first trip to League Championship Series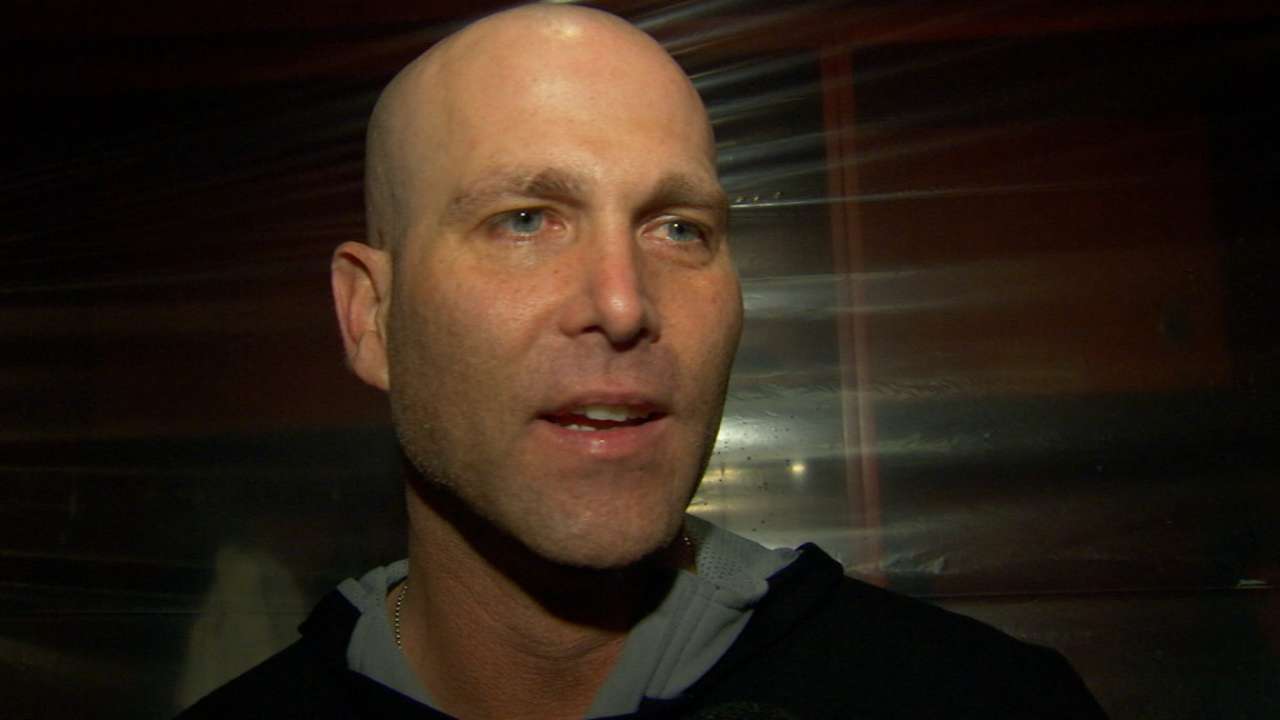 SAN FRANCISCO -- The road to the National League Championship Series was a familiar one for many on the Giants' roster, their 2012 trip still fresh in their minds. But for Tim Hudson, the trek to the next level of baseball's postseason took some 16 years to traverse, with six frustrating roadblocks along the way.
With the Giants clinching a berth in the NLCS on Tuesday with their NL Division Series victory over the Nationals, the veteran starter finally reached the next level of the October party. That Hudson did it after seeing his postseason dreams end in the Division Series six times before wasn't lost on his teammates, and it struck the 39-year-old as a dream come true -- finally.
"The longer you play without having achieved that, the more magnified I think it gets with every year," Hudson said. "Obviously, I'm toward the end of my career here and this is the first time I've been past the [Division Series]. I don't think there's anybody on the field that's going to be more emotionally involved than I am the next series or two series, whatever it might be."
At last, there is a next series for Hudson.
Hudson's struggles getting past the Division Series began after his first full season in the Majors with the A's in 2000 against the Yankees, and the Yanks knocked them out again the next year, famously rallying from a 2-0 deficit. Two more ALDS losses with the A's followed, and he knocked on the door with the Braves in '05 and '10, denied both times. After his Game 2 start against the Nationals, Hudson ranked in the top 10 all time in Division Series starts (10, tied for fourth), innings (62, seventh) and strikeouts (45, ninth), but he still hadn't graduated past that round until the Giants' Game 4 victory.
When the spell was broken Tuesday night, it was as though his Giants teammates had decided enough was enough. Wafting through the clubhouse during the celebration were words from teammate after teammate saying how good it felt to win one for Hudson, including Game 4 starter Ryan Vogelsong.
"I know personally for me, today I had a lot of thoughts about getting Hudson to the next round," Vogelsong said after his brilliant performance in the clincher. "You know, he's never been past the [Division Series], and it was weighing on my mind pretty heavy today, that I needed to come out here and throw a great game to get Huddy to the next round."
That mission, one 16 years in the making for Hudson, was accomplished, and the veteran obviously appreciated the sentiment.
"It's humbling," Hudson said. "A lot of guys were telling me that they were determined to get past the [Division Series] for me, and obviously that makes me feel great that my teammates care about me that much. But this has been a total team effort."
That's what Hudson signed up for when he agreed to a two-year, $23 million deal with the Giants last winter, and now it's on to uncharted territory for him -- the NLCS, starting Saturday in St. Louis (5 p.m. PT on FOX).
By now, what Hudson hoped he'd find in the Giants' clubhouse has been exactly as advertised, and he's enjoying the ride.
"Guys know how to win, they know how to win when it counts," Hudson said. "That's the reason I came here, that's the reason I came to San Francisco, because they know how to do it on the big stage."
Now that stage is getting bigger for Hudson, a whole new level of postseason play for the veteran. And to think, a year ago, he was recuperating from a fractured ankle, a devastating injury sustained that July, ending his 2013 season and possibly putting his career in jeopardy.
This October, Hudson is enjoying champagne celebrations as a member of a team that won the NL Wild Card Game, the NLDS and now moves on to play the Cardinals for the right to advance to the World Series.
"Obviously, I'm glad I'm on a winner," Hudson said. "It'd have been tough if I'm wanting to extend my career after that injury and then I'm making plans for vacations in July and August. To come here and play for a proven winner and there's guys who really care about you and want to achieve something special, that's the reason why I still want to play. That's the reason why you should want to play."
John Schlegel is a national reporter for MLB.com. You can follow him on Twitter @JohnSchlegelMLB. This story was not subject to the approval of Major League Baseball or its clubs.