White Sox hitting coach marvels at Abreu's rookie year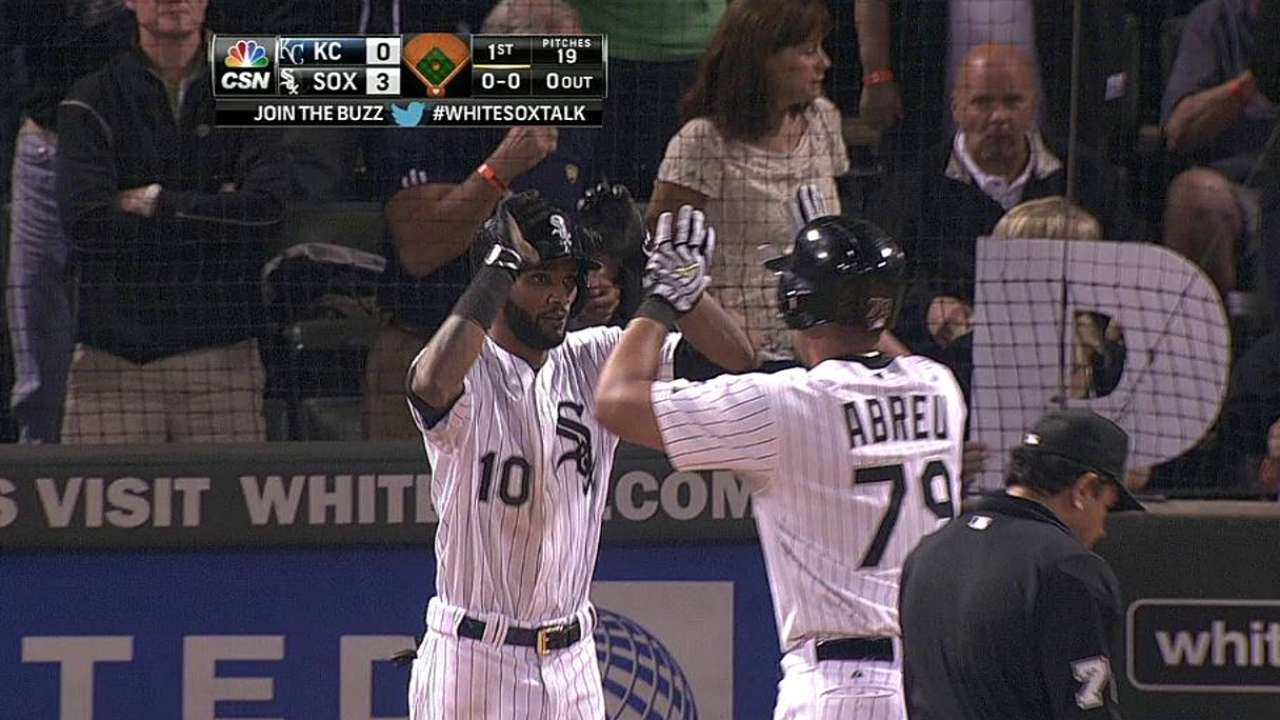 GLENDALE, Ariz. -- Jose Abreu's incredible 2014 Major League debut soon should be recognized with the American League Rookie of the Year honor.
It also took just this one campaign for the 27-year-old Abreu to establish himself as a White Sox franchise cornerstone.
"Obviously, he's dangerous," White Sox hitting coach Todd Steverson told MLB.com of Abreu, during a break from watching Instructional League action at the White Sox Camelback Ranch complex. "So, when you got a hitter in your lineup that is truly dangerous like he is, and has the ability to be a hitter also, then it becomes, 'What do we put around a guy like that?'
"He's already proven that he has the ability to do these things up here. If he can repeat, which is probably one of the hardest things for him going forward, I don't want to say prove it, but you [aren't a] secret. So having the mentality of trying to repeat that and having people around him that allow him to get back to what he did this year is key."
Abreu topped all big league hitters with his .581 slugging percentage and finished second to Victor Martinez with a .964 OPS. His 36 homers set a White Sox single-season rookie record and left Abreu tied for third with Mike Trout in the AL. His 107 RBIs placed Abreu fourth, and his .317 batting average ranked him fifth in the AL.
The balance in these numbers supported a fact that quickly became evident as his 145 games played progressed: Abreu was a complete offensive force, and not just a slugger. After hitting 25 homers through June, bringing up talk of maybe even reaching 50 in his inaugural campaign, Abreu hit 11 total over the final three months.
Of those 11 homers, two came in August, three came in September and only three were hit from Aug. 23 to the end of the season. There's no question the first crack at an 162-game schedule took its toll on Abreu, but even when he was struggling with power, Abreu hit .374 in July, .376 in August and .298 in September.
Steverson pointed out that opposing teams understood Abreu as the player to avoid in the White Sox lineup, so he wasn't getting the same pitches to hit. With a wry smile, Steverson added that Abreu also brought upon himself that late-season concern.
"In my opinion, he put those words in everybody's mouth," Steverson said. "If he was hitting .275 with 25 homers or he ended up with .275 and 25 and he wasn't .300 with leading the league in homers and all the rest of it, there's not a person in baseball that would have been like, 'Oh, that wasn't good.'
"So, what he had done in the first half forced everybody to say, 'Well, how much more can we get out of this?' Truth of the matter was he was good just right then. If he had stopped the season right then at the break, it was satisfying for what we had picked up. He put the expectations on himself by what he did."
Along with the powerful on-field results, Abreu proved to be of high-quality character and a tireless worker who followed a specific daily routine. Steverson isn't worried about Abreu immediately continuing that routine in the offseason, explaining that he was pretty "dusted" by the season's end.
That plan isn't strenuous, as much as it's detailed. But Abreu adjusted in-season, including dealing with the media clamor as the team's top player.
"People are tugging at him, and you can't just go in the cage any time you want," Steverson said. "Somebody needs to talk to you over here. You got an interview at this time. Balancing that in between going out and playing is what I think he really had to get used to this year."
"At first it was a little difficult for me because I'm not used to this," said Abreu of his media dealings through interpreter Julio Vinas during a season-ending interview. "Sometimes it would catch me off guard and I wasn't comfortable and maybe I would make a bad face every now and then, but it was nothing personal. It was just something for me to get used to and learn."
There's not much for the White Sox to learn about Abreu. They simply have to supplement and protect his production during this upcoming offseason.
"He has a winning attitude, and he wants to win," said Steverson of Abreu. "Hopefully, we get the pieces we need around him and everybody else.
"[Adam] Eaton has done a really good job. Conor [Gillaspie] came out and did some good stuff. Having Avi [Garcia] get those at-bats at the end of the year was good. Knowing that you have these pieces going forward gives you a brighter thought for the future."
Scott Merkin is a reporter for MLB.com. Read his blog, Merk's Works, and follow him on Twitter @scottmerkin. This story was not subject to the approval of Major League Baseball or its clubs.