Here's the skinny: Edwards eager to learn, progress
Cubs prospect gaining innings in AFL with eye on jump to bigs in 2015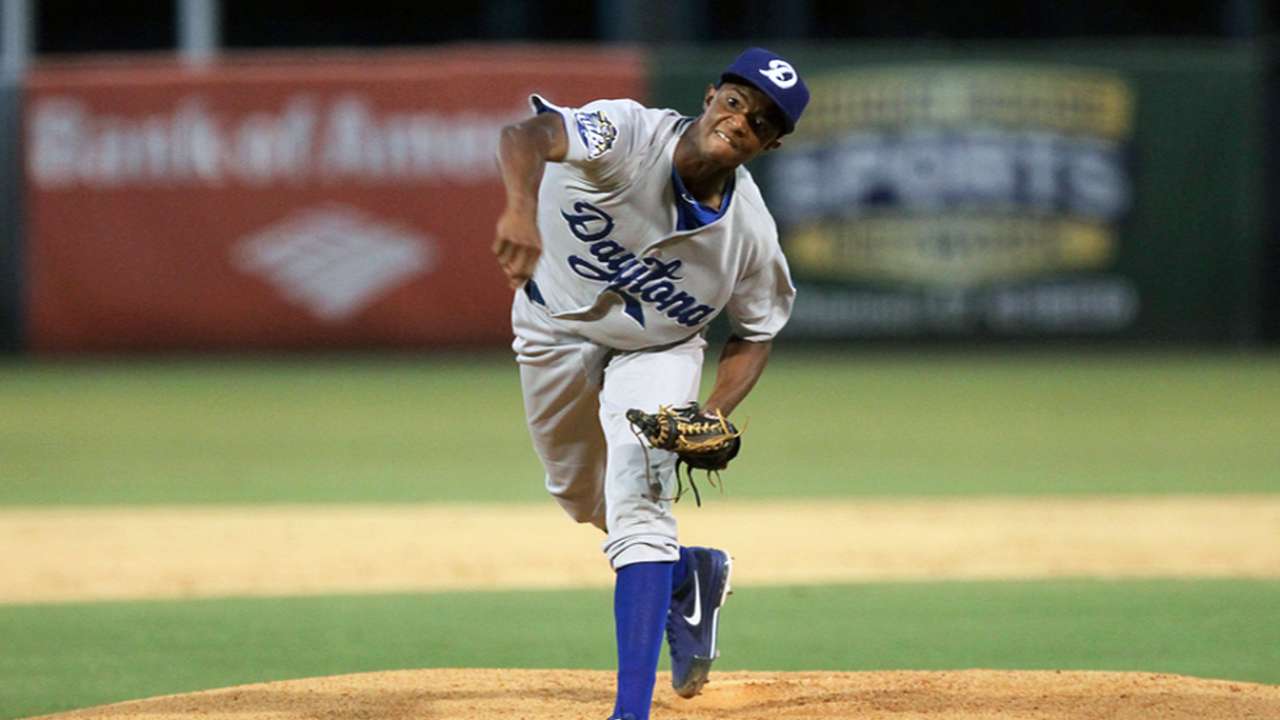 MESA, Ariz. -- Let's get the weight issue out of the way: C.J. Edwards does not weigh 155 pounds. The skinny Cubs pitching prospect is now 170 pounds and a few ounces. He hasn't exactly bulked up, but the right-hander is working on it.
"If it comes, it comes," he says. "If it doesn't, it doesn't."
Edwards, who is tired of being told to eat and weary of talking about it, has been pretty effective without any extra pounds.
In three Minor League seasons, he has a composite 14-7 record and 1.86 ERA in 50 games (49 starts), striking out 294 over 237 innings. Acquired from the Rangers in the Matt Garza trade in July 2013, Edwards spent last season at Double-A Tennessee, but was limited to 10 starts because of shoulder issues.
He felt discomfort in his right shoulder in April and was immediately brought to Chicago to be examined. The good news: It was a minor strain and some fatigue, and he didn't need surgery.
After rehabbing for nearly four months at the Cubs' complex in Mesa, Edwards, 23, eventually rejoined Tennessee to finish the season, and he is trying to make up for lost innings in the Arizona Fall League. He was scheduled to make his first start Friday at Cubs Park when the Mesa Solar Sox play host to the Surprise Saguaros, and he was expected to go three innings.
"That's what I think is the main reason I'm here -- they always say each time, go out there and learn something," Edwards said after batting practice Wednesday. "It's a good place to throw and work on pitches and command and stuff."
Edwards is fifth on MLB.com's list of top 20 Cubs prospects, and is joined on the Solar Sox roster by second-ranked Addison Russell, 10th-ranked Dan Vogelbach, outfielders Bijan Rademacher, Jacob Hannemann, and pitchers Zach Cates, Gerardo Concepcion and Ivan Pineryo. Edwards is eager to see the talent in the AFL.
"I'm just excited to be here around this bunch of guys," Edwards said. "Not bashing the other guys who didn't make it, but it feels great to be here with guys who developed pretty much the same way I did. The talent level goes from good to great. Anybody could've been here. Out of everybody, they chose us. I'm excited to see those guys."
The Solar Sox are made up of players from the Cubs, Nationals, Angels, Athletics and Blue Jays. The affable Edwards was already looking forward to getting to know his new teammates, and possibly making friends for life.
He made the most of his rehab time in Arizona, talking to veteran pitchers James McDonald and Jonathan Sanchez, who also were in Cubs camp.
"[McDonald] talked to me about baseball [and said], 'Don't get there and try to change things. Do the same thing that got you there,'" Edwards said. "'Once you get there, if everything is still working that you did in the Minor Leagues, it'll work in the big leagues. The only difference is you'll have veteran hitters and you have to command more and throw more strikes and don't fall behind in counts.'"
Edwards wanted to know all the details about Sanchez's no-hitter with the Giants in July 2009 against the Padres.
"[Sanchez's] exact words were, 'When I threw my no-hitter, my slider was good, so I felt I could throw my slider at any time,'" Edwards said. "He told me to keep throwing and have confidence in all your pitches."
At first, Edwards needed time to feel confident to pitch again. He admits to being nervous when he first returned from the disabled list.
"I'd been down for four months, so I was trying to find everything and put it together," he said. "Once I found it, I felt good and felt all my pitches were there."
Edwards isn't lacking confidence. In January, he predicted he would be in the big leagues by 2015. That was before his setback with the shoulder injury.
"I have faith I can be there in 2015," Edwards said Wednesday. "I can be there, and I have faith I can be there in 2015, and I'm ready to be there.
"My biggest thing is to keep that faith," he said. "My mom said, 'Power in the tongue.' I'm going to keep talking like I'm going to be there in 2015. If I'm not, it's not bashing anybody. They're going to wait and see when I'm ready; it's not when I want to go there. I trust the guys upstairs [in the front office] 100 percent. I can't wait to get there, but it's not my call."
Hopefully, the media guides will update his weight and height by then. Everyone in his family is tall and slim, so his body type is normal, Edwards said.
"I let it go in one ear and out the other," he said of all the talk about his slender frame. "I know for a fact how much I weigh. I got on a scale this morning. I know I weigh 170.2 and I'm 6-foot-3."
Carrie Muskat is a reporter for MLB.com. She writes a blog, Muskat Ramblings, and you can follow her on Twitter @CarrieMuskat. This story was not subject to the approval of Major League Baseball or its clubs.