Astros' Appel sharp in Fall League debut
Top pick in 2013 fires three shutout innings; two D-backs prospects hit HRs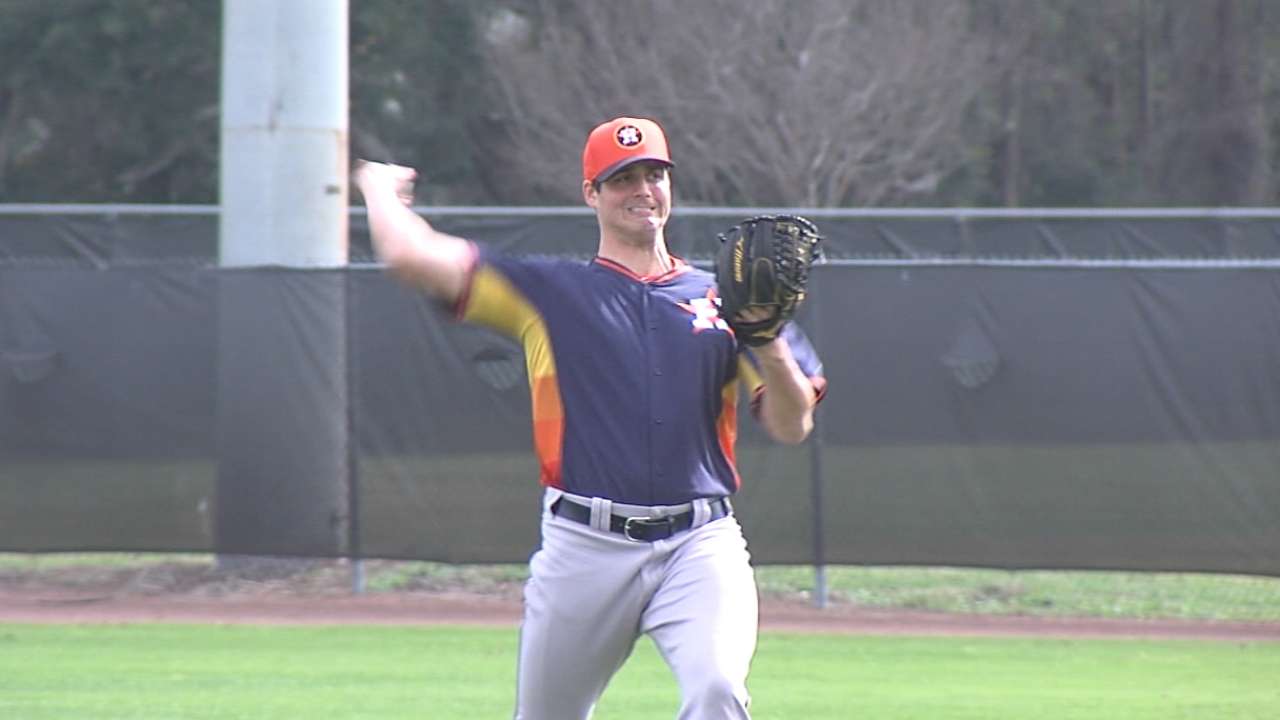 For right-hander Mark Appel, a trying start to his first full professional season has given way to the results expected from the top overall pick in the 2013 First-Year Player Draft.
Appel continued his turnaround Wednesday, as he threw three scoreless innings in his Arizona Fall League debut and Salt River defeated Scottsdale, 6-3.
Appel, ranked No. 41 on MLBPipeline.com's Top 100 Prospects list, struck out two batters and held the Scorpions to one hit and one walk. He threw 47 pitches.
Appel said he felt some nerves early in his start before settling into the outing.
"I was excited to go ahead and start the Arizona Fall League," said Appel, the Astros' No. 2 prospect. "I had a little bit of butterflies in the first inning. Once I got feet my wet, I felt normal. I thought I threw the ball well and my arm felt good."
Appel was able to work Wednesday with Tyler Heineman, his catcher at Double-A Corpus Christi. The pair worked together for the final month of the regular season, when Appel was promoted from Class A Advanced Lancaster.
Appel praised Heineman's ability behind the plate and said pitching to him has been beneficial.
"He called a great game, not just with me but all the way until the end," Appel said. "He's someone I feel real comfortable throwing the ball to."
Right-hander Christian Bergman relieved Appel to start the fourth inning. The change was a boon for the Scorpions, who greeted Bergman with three straight singles and took advantage of two errors and a wild pitch to score three runs in the inning and take the lead. For the second straight day, Greg Bird and Tyler Austin, the Yankees' Nos. 11 and 15 prospects, led Scottsdale's offense. Both singled and scored in the inning and Austin added an RBI.
But the Scorpions did no more damage against the Rafters' bullpen, as right-handers Jake Reed, Reid Redman and Enrique Burgos combined for five hitless innings. The effectiveness of Salt River's relief allowed its offense to score five runs over four innings to retake the lead and then put the game away.
"Reed was filthy in his two innings that he got and then Burgos shut it down," Appel said. "It was a combined effort with everybody playing their part, doing their job, taking care of the job they've been given."
Designated hitter Brandon Drury and first baseman Peter O'Brien, the D-backs' Nos. 6 and 7 prospects, each hit a home run to power the Rafters' offense. For O'Brien, it was his second in as many games to begin the AFL. He went 1-for-2 with two walks. Drury finished the night 1-for-5 with two RBIs.
Center fielder Byron Buxton, baseball's top prospect, added two hits and scored a run.
With his first start of the AFL in the books, Appel is looking forward to the rest of the fall. He said he wants to make the most of the opportunity to pitch in the AFL and show he deserves to be there.
Appel said he took a similar mindset when he was promoted to Corpus Christi in late July after struggling in the hitter-friendly parks of the California League. He went 2-5 with a 9.74 ERA in 12 starts for Lancaster, but found his stride in Corpus Christi. He posted a 3.69 ERA and struck out 38 batters in 39 innings for the Hooks.
Eager to build off that success, Appel said he didn't take much time off after the regular season ended.
"I was still working on my throwing program, working out and getting work in to be as prepared as possible to go out compete and have a great experience here," he said.
That effort showed Wednesday. Now, Appel said he wants to work on being more efficient on the mound so he can work deeper into games on his pitch count.
"I got a little bit behind hitters early in the game, but I started to hit my stride a little later," Appel said. "This is a great place to build off of. I'll get my work in this week and get ready for this next start."
Teddy Cahill is a reporter for MLB.com. Follow him on Twitter at @tedcahill. This story was not subject to the approval of Major League Baseball or its clubs.