Passion for baseball defines new GM Bridich
Graduate of Harvard, tri-captain as player; joined Rockies operations in '04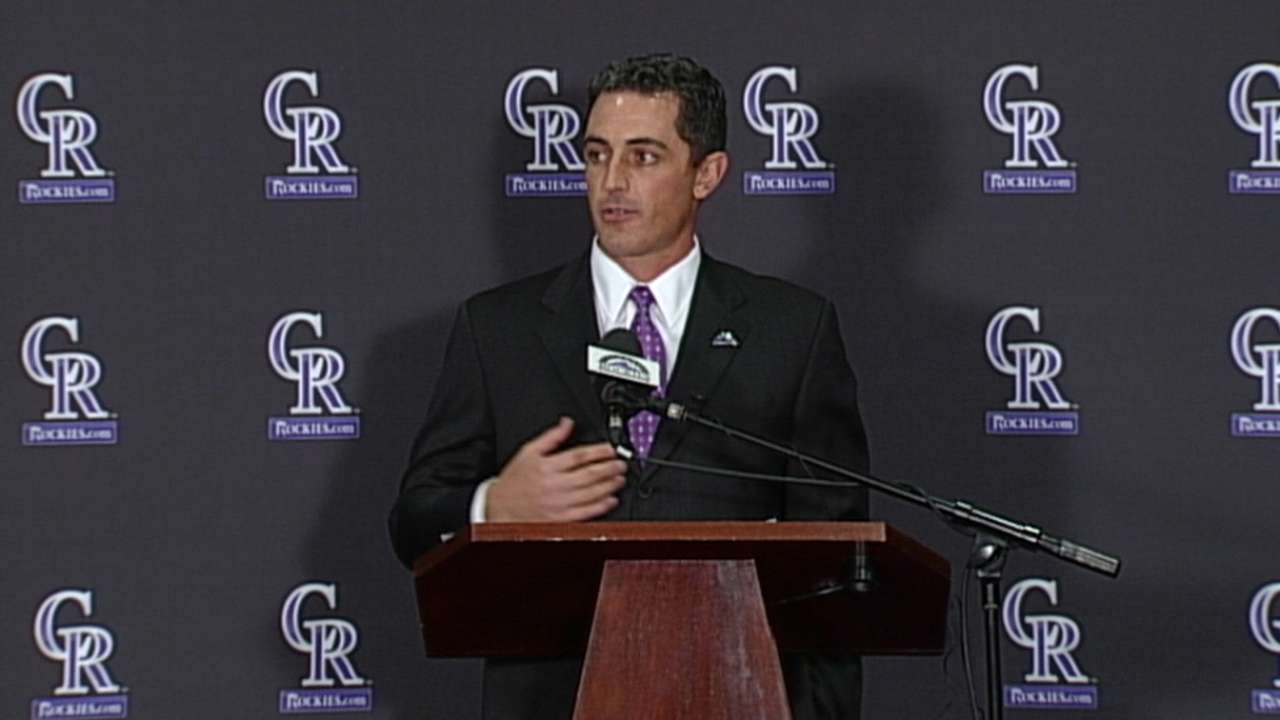 DENVER -- Rockies outfielder Charlie Blackmon recalls joining a group of Minor Leaguers on a lazy extended Spring Training day. Well, the day wasn't lazy as much as the players were -- until then-senior player-development director Jeff Bridich stepped among the guys in uniform.
Since graduating from Harvard University in 2000, Bridich built a career in professional baseball -- first in the office of the Commissioner of Baseball and since 2004 with the Rockies analyzing statistics, crunching payroll numbers and coming up with instruction. But a part of Bridich -- who was named Wednesday to replace Dan O'Dowd as the Rockies' general manager -- never stopped being the gritty catcher and outfielder who earned the honor of being a tri-captain his senior year.
"We were playing sloppy, making mental errors," said Blackmon, who at the time was working his way back from injury. "And then someone didn't run down the line after getting jammed. Jeff stopped practice, came over and explained that we were better than that, and needed to start playing like it. It was good to see that kind of competiveness out of him.
"That says that he wants to be involved. He strikes me as a guy who really knows his X's and O's and can crunch the numbers on the front-office side of it, but he knows what players are going through. He played the game and remembers what it's like to be a player, which is something that you feel might get lost in the shuffle. That's good."
Bridich, 37, who joined the Rockies as manager of Minor League operations in 2004, does not have an extensive public profile, and that's by design. Before taking over the Minor League system late in the 2011 season, Bridich did much of the nuts-and-bolts work on contracts starting in 2006, when he was promoted to senior director of baseball operations.
But the exchange with the Rockies' Minor Leaguers helps explain what the Rockies saw in Bridich, who smiled when reminded of the exchange after his introductory news conference Wednesday.
"There were standards that weren't being met," Bridich said. "It was hot. People were feeling sorry for themselves. They were there for a reason. They weren't there just to go through paces."
Bridich moves to the top of an organization that has had four straight losing seasons, including a 66-96 record this year. Only a 64-98 performance by the D-backs kept the Rockies from turning in a third straight last-place finish in the National League West.
That would be the very definition of standards not being met -- a process Bridich and manager Walt Weiss, as well as others in a front office that will be reshaped, hope to reverse.
The promotion of Bridich is not exactly a clean break -- a situation that will be examined in traditional and social media. But none of that fazes Bridich. He owns his role in the successes and struggles of the past. He's not afraid to be challenged or to challenge. He freely credited O'Dowd for being a mentor and "father figure" in the game, but made clear that he brings his own ideas to the job.
"A lot of the good things that happened under Dan's time here as a leader and a lot of the bad things that happened and some of the challenges that we continue to face, those are shared," Bridich said. "If Dan were here, he would not just say 'I only did the good things and I have no responsibility for the bad things.' So I'm not going to shirk from that responsibility. I've been a part of this organization for 10 years."
Bridich takes the job as a virtual unknown outside of the baseball world. Several broadcasters mispronounced his last name (it's BRIDE-ich) in initial reports, even in the local media. Bridich resisted anything resembling self-promotion, even in a positive sense. It might have hurt in that his name didn't surface in connection to recent general-manager openings elsewhere, but inside people knew his qualifications.
"He's been a guy that most of the organization has looked at as a future GM from when he got here," said Weiss, who worked with the organization in a special advisory role in 2002-08 before becoming manager after the 2012 season. "Everybody saw this coming some time ago -- maybe not the way this went down, but he was a GM in the making."
"I have about 160 text messages I've not yet answered...I look forward to getting started." #Rockies pic.twitter.com/fl4G5bAhlV

- Colorado Rockies (@Rockies) October 8, 2014
Former Rockies outfielder Ryan Spilborghs, now an analyst on Rockies broadcasts for Root Sports Rocky Mountain, had a similar impression years ago of Bridich, who is just two years older.
"He's always carried himself that way, and part of that is because he's completely passionate about baseball," Spilborghs said. "He's analytical in the sense that he's willing to look at certain numbers that other GMs aren't. You have to. But at the same time you have to trust your eyesight.
"Knowing Jeff's background as being a former player, being in the fire and in the fight with guys, I really think he does use his baseball judgment, coupled with advanced metrics and analytics. That is impressive."
Bridich has not set a manifesto. Although his Harvard education and understanding of numbers paints an analytical picture, he pointed out that his time as player-development director allowed him to develop the "relational aspect" of management.
But whether it's crunching numbers, gathering ideas -- even dressing down players in uniform, if necessary -- Bridich is simply about identifying what's wrong and correcting it.
"We need to focus on four straight years of losing," Bridich said. "If you ask anybody in this organization, it's unacceptable. It's tiring. It's certainly not what people want and expect inside the organization. But we can expect a cohesive process moving forward."
Thomas Harding is a reporter for MLB.com. Read his blog, Hardball in the Rockies, follow him on Twitter @harding_at_mlb, and like his Facebook page, Thomas Harding and Friends at www.Rockies.com. This story was not subject to the approval of Major League Baseball or its clubs.