MLB.com Columnist
Tracy Ringolsby
O'Dowd's decision to step down opens door
Rockies' farm director Bridich excited for new opportunity as GM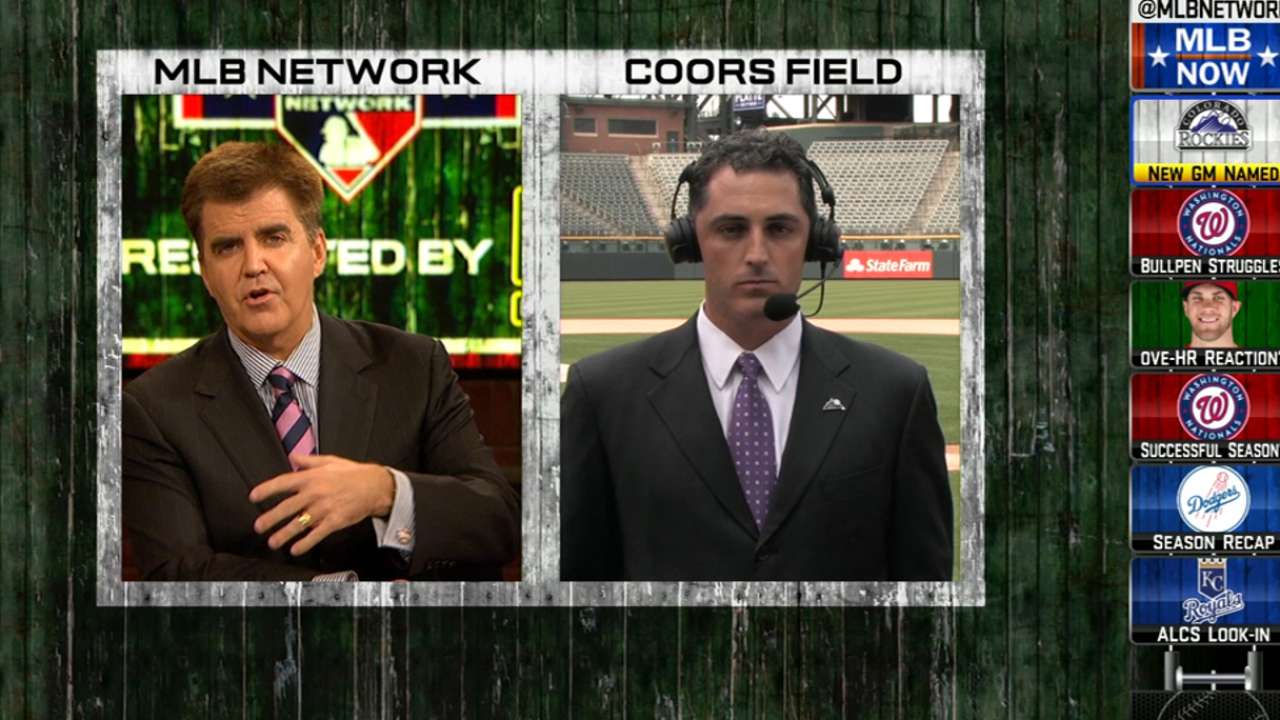 DENVER -- Dan O'Dowd knew it was time to move on.
Every job as a life expectancy. His tenure as the general manager of the Colorado Rockies had reached the end.
So when he was offered a multiyear contract extension last week, he told owner Dick Monfort thanks but no thanks. O'Dowd chose to resign. It wasn't easy. But it was more than money. Things were no longer moving forward, and his value system is such that he wasn't going to keep a job just to have a job.
For 15 years he had been on the job, longer than any of his peers other than Billy Beane in Oakland, Brian Sabean in San Francisco and Brian Cashman of the Yankees.
And the last four seasons had been particularly challenging, the Rockies finishing in fourth place in the NL West twice, including this season, and last place the two other times.
Just five years ago things were looking up. The Rockies had advanced to the postseason in both 2007 and 2009, making their first and only World Series appearance in '07, and a long-range plan that O'Dowd put in place when he was hired prior to the 2000 season seemed to be working.
The core of the roster was homegrown, including pitchers who came up through the farm system and considered pitching in Coors Field as a badge of courage.
Late in the 2010 season, however, the subtle signs of a changing structure in the hierarchy were visible. With the Rockies battling for the division title, Bill Geivett, an assistant to O'Dowd at the time, informed the media and then-manager Jim Tracy that members of the media would no longer be allowed to have casual sessions with Tracy each afternoon. Geivett said he didn't want Tracy distracted from preparation.
One game out of first with 14 games remaining in the 2010 season, the Rockies lost 13 of their final 14. Since then, Geivett's role had grown to the point of having an office in the clubhouse, and he was a fixture in the manager's office, which led Tracy to resign and walk away from the final year of his contract following the 2012 season.
Two years later, it was O'Dowd who wasn't comfortable with how that role had evolved, and he too walked away. Jeff Bridich, who had been in the front office for the last decade, most recently as the farm director, was promoted to general manager.
The irony is that Geivett, who had evolved into having as much -- if not more -- power over the big league operation than O'Dowd, also left the organization on Monday in the aftermath of Bridich being given the role to oversee the organization.
Bridich, 37, does know the organization, having worked with O'Dowd the last decade, but he will face a major adjustment. His success will hinge a lot on being able to get a blend of veteran baseball men, along with the support staff already in place, to help him through the learning process of being a general manager.
The son of a high school football coach in Milwaukee and a graduate of Harvard, where he played baseball for four years, Bridich has a work ethic and a value system that is impressive, but will it translate into success in the new job?
He won't fail for a lack of work ethic.
A few years ago, Bridich was involved in a discussion about the quick ascension of young general managers. He admitted that was his ambition.
It was mentioned to him that many of the young rising stars had opened doors by befriending national media types so they would have a support group to banter their name about when GM jobs came open.
Bridich shook his head.
It wasn't his way.
He made it clear that as much as he wanted a chance to run a club, he wanted to get that opportunity as a result of his work ethic and feel for the game, not because he was able to create a public relations campaign.
It might have taken him a little longer than others.
The opportunity, however, has finally arrived with the Rockies.
Tracy Ringolsby is a national columnist for MLB.com. This story was not subject to the approval of Major League Baseball or its clubs.