Season-long 'pen woes led to Dodgers' disappointing end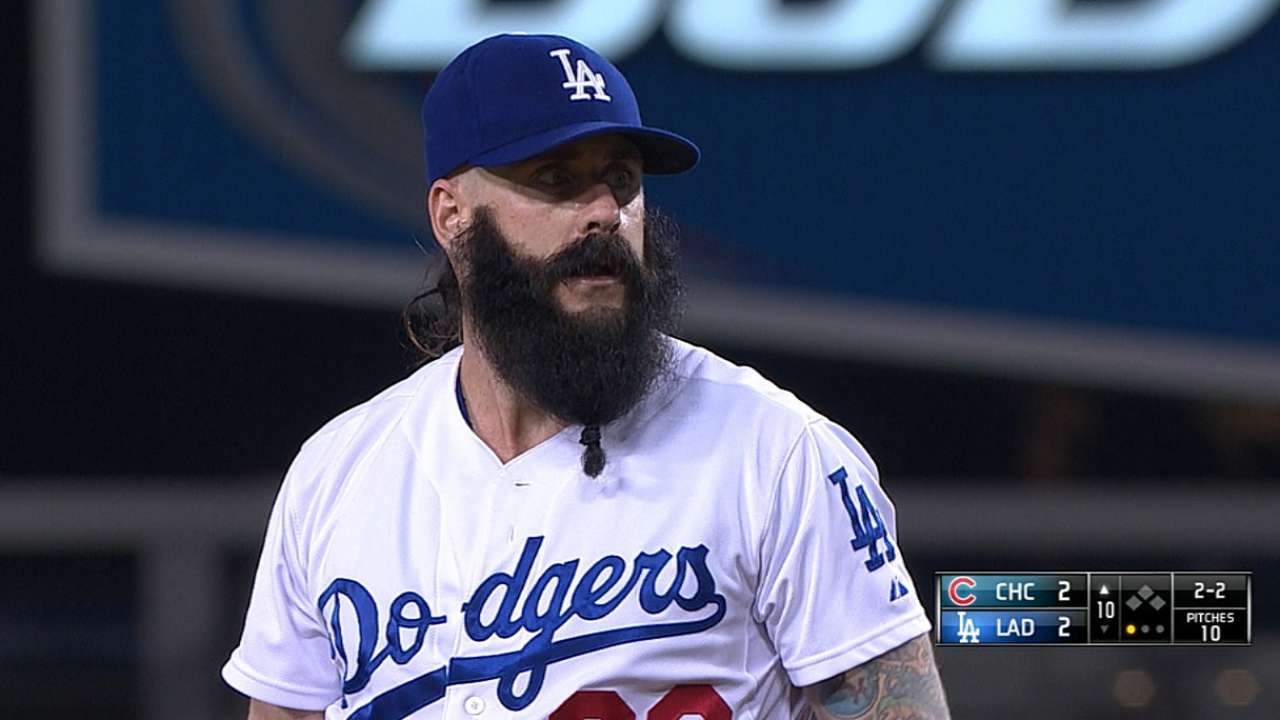 LOS ANGELES -- It was just one pitch in a Spring Training game, but it was a warning for what ultimately would doom the Dodgers this year.
Brian Wilson threw a pitch to then-A's prospect Addison Russell and looked uncomfortable on the mound to pitching coach Rick Honeycutt. Out came manager Don Mattingly and the medics, but Wilson insisted he was fine and was allowed to pitch.
For most of the 2014 season, Wilson insisted he was fine and was allowed to pitch. But this wasn't the same Wilson that returned from a second Tommy John surgery to sign with the Dodgers in midseason of '13 and provide a lights-out set-up man to closer Kenley Jansen. Last year's Wilson was rewarded with a two-year contract that will pay him another $10 million next season if, as expected, he exercises a player option.
This year's Wilson went on the disabled list in April with what was described as ulnar nerve irritation, although he suggested it was more to strengthen his arm from an interrupted Spring. But Wilson's velocity never returned, even though he raised eyebrows in the clubhouse in mid-September by saying he still had 95 mph in him, he was just saving it for the postseason.
As the postseason showed, Wilson's optimistic forecast wasn't borne out by radar guns or opposing bats and wasn't bought by Mattingly. As Clayton Kershaw was about to serve up that fateful curveball to Matt Adams Tuesday night with the season on the line, Mattingly had untested rookies Pedro Baez and Carlos Frias throwing in the bullpen.
"Obviously, your team is your team," Mattingly said when asked if he would have pulled Kershaw from Game 4 sooner if he had a more successful bullpen. "It goes back to the same question, is there anybody better, even on short rest, and even where he was at that point?"
The Dodgers spent $34 million on the bullpen alone attempting to prevent a comment like that. Most of the salary went to free agents, filling holes the farm system couldn't. The club only recently restarted international scouting efforts after neglect by previous ownership. Turning around the farm system takes years, and there is no budding reliever on the top-prospect list. The top pitching prospects (Julio Urias, Grant Holmes, Chris Anderson, Zach Lee, Tom Windle and Chris Reed) are considered starters.
Baez, a converted third baseman, had allowed the decisive Matt Holliday home run in Kershaw's Game 1 loss. Frias, a September callup after eight Minor League seasons, never entered a playoff game.
Watching the rookies warm up were former closers Wilson, Brandon League and J.P. Howell. Chris Perez, another former closer, might have been watching from home, having been left off the postseason roster after missing a $500,000 bonus by one appearance, even though he returned from injury to make seven scoreless appearances in September .
Veteran Jamey Wright was down there, too, as was Scott Elbert. Elbert had been designated for assignment two months earlier after two seasons of elbow problems, but was picked by management over Paco Rodriguez to be the second situational lefty. Elbert was the losing pitcher in Game 3.
Wilson, who hadn't allowed an earned run in 16 previous postseason games, pitched only once against the Cardinals, with the Dodgers trailing by two runs in Game 3. He allowed a leadoff double to Jhonny Peralta, intentionally walked Adams, struck out Yadier Molina and was replaced by Howell when the left-handed Jon Jay came to bat.
Mattingly managed Wilson carefully this year, spotting him against certain right-handed hitters and not overexposing him against lefties.
The unraveling of the Dodgers' bullpen traces to Wilson, but it was compounded by the sudden form reversal of the lefty Howell, who was nails for the first five months. Howell went into a September swoon and never pulled out of it. The domino effect had disastrous repercussions, as Mattingly had no confident alternatives and, in the end, wouldn't replace the best starting pitcher in the game while he still had a lead.
So, where was the depth?
Javy Guerra, another former closer, was lost on waivers to the White Sox. Injuries took their toll. Veteran swingman Paul Maholm blew out a knee in early August. Hard-throwing Chris Withrow, who would have been a candidate to take over the eighth inning, blew out his elbow and had Tommy John surgery. Jose Dominguez, with triple-digit velocity, didn't pitch after July 25 because of shoulder inflammation. Onelki Garcia missed virtually the entire season with elbow and knee surgery.
That the Dodgers took eight relievers into the playoffs (they took seven last year) reflected the concern the club had getting the ball to Jansen with a lead. Despite those calculations, or miscalculations, Mattingly's relievers had a 6.48 ERA in the series with the Cardinals. On the season, the Dodgers bullpen had a 3.80 ERA, 12th in the league.
Ken Gurnick is a reporter for MLB.com. This story was not subject to the approval of Major League Baseball or its clubs.