Saberhagen sees flashes of '85 in fearless Royals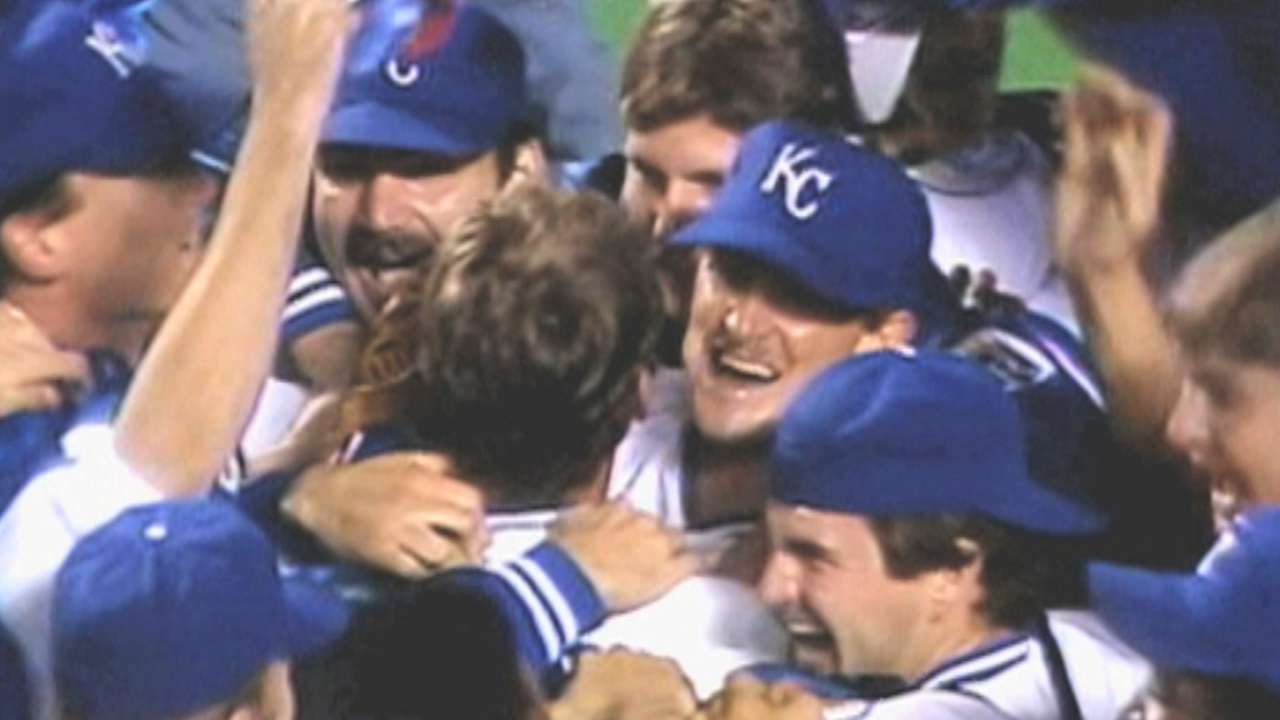 BALTIMORE -- Bret Saberhagen, the Most Valuable Player of the 1985 World Series, sees a similarity between those champion Royals and today's team -- their confidence level.
Saberhagen was the pitching star of the 1985 team that dispatched the Blue Jays in the American League Championship Series and then the Cardinals in the World Series.
"It was a long time ago," he said.
Confidence isn't the only interesting link Saberhagen has with the current Royals. Prior to the ALDS, closer Greg Holland returned home for the birth of his son, much as Saberhagen did on Oct. 26, 1985 -- the eve of the World Series clincher, pitched by the new dad -- for the birth of his son, Drew.
And can you believe this? Drew Saberhagen and Holland played baseball together for one season at Western Carolina University. Small world.
"Maybe that's a good omen," Holland said.
Saberhagen has been closely following -- both on TV and at Kauffman Stadium -- the 2014 Royals' rise to become what he calls "America's sweetheart team."
"They had a great last game against the Angels, they swung the bats really well," Saberhagen said. "I really feel that they have this confidence going on. After that game against Oakland -- the Wild Card, which I call the play-in game -- when they came back twice and ended up winning, it seemed like their confidence came through the roof.
"They felt like they were going to win. It didn't matter what the score was or how many runs they were down. I had the feeling that even if they were down two games to one that they might have come back and won the series. That's just that confidence they've got going on right now, which is a scary thing."
That brought back memories of the Royals' 1985 comebacks against the Blue Jays and St. Louis.
"That's kind of what we had against St. Louis. We were down, 3-1, in that first series against Toronto and we came back and won that," he said. "And then in St. Louis when we were down, 3-1, it was, 'Hey, we're right in the thick of this thing. The pressure is all on them. They've got to win one more.'"
The Cards did not, of course.
Saberhagen was just 21 when he starred in that '85 postseason, and now he's paying particular attention to this year's rookie rotation youngster, Yordano Ventura, who turned 23 this summer.
"He's an amazing pitcher, and the times that he struggles is when he loses that control a little bit. He seems to get himself into a little bit of a jam," Saberhagen said. "But he's got tons of velocity and he seems to locate pretty much the majority of the time. He's got very good mechanics. He's not a full-max guy, he's got his mechanics under control.
"A lot of times you see these guys that throw hard, and it's full max and they're trying to get everything they can out of it. But he's got a nice smooth delivery -- which I like -- and a good breaking ball, good changeup. I don't think he uses the changeup enough, but when you've got that overpowering fastball and guys can't catch up with it, I guess you don't need to use it that much. He's fun to watch."
Saberhagen is 50 these days and does a certain amount of recalling the glory of 1985.
"I reminisce about that all the time," he said. "But as you well know, it's not that crystal clear anymore because I just turned 50. So some of the memories get a little foggy, but it's still great to go back. Especially now with the Royals in the playoffs, you see a lot of playoff footage from 1985. It's cool to see, and it brings back a lot of those great memories."
Who knows? Another I-70 World Series could be in the making for K.C. and St. Louis.
"It's a good possibility," he said. "That would be crazy."
Dick Kaegel is a reporter for MLB.com. This story was not subject to the approval of Major League Baseball or its clubs.