Without a captain, Yankees look to veterans to lead
Sabathia, McCann and Beltran may help shoulder responsibility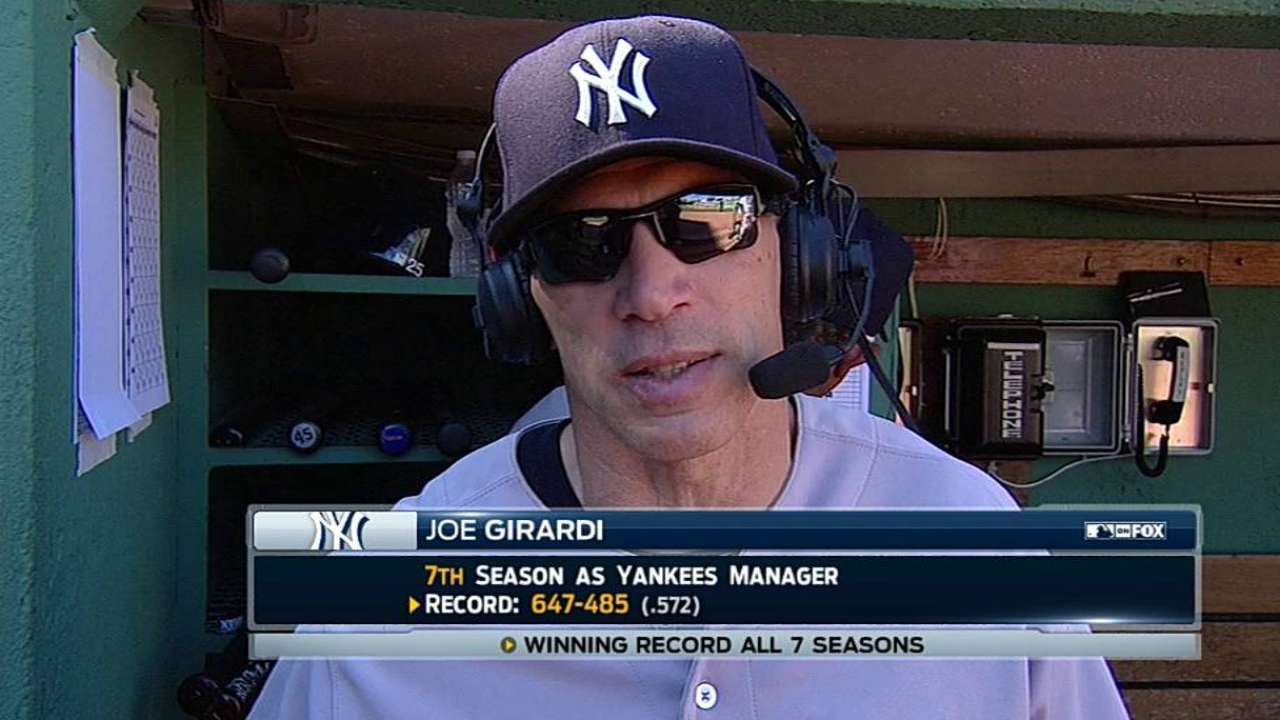 NEW YORK -- Seven full seasons passed between the Yankees captaincies of Don Mattingly and Derek Jeter, successful years marked by four World Series championships, and so the organization believes that clubhouse leadership can be a group effort next season.
The Yankees are set to head into a campaign without an official captain for the first time since 2003, and manager Joe Girardi will be looking to several key veterans -- including CC Sabathia, Brian McCann and Carlos Beltran -- to fill the void left by Jeter's retirement.
"I think it's important," Girardi said. "People have talked a lot about who's going to step up as the leader in the clubhouse, and I was on four teams here. There wasn't one particular leader. There will be guys that step up. I have no doubt in my mind."
Naming Jeter captain was George M. Steinbrenner's decision, with the late principal owner ordering it to be done with a hastily scheduled announcement during an Interleague series against the Reds in Cincinnati.
Mattingly held the title from 1991-95. Prior to that, Willie Randolph and Ron Guidry served as co-captains in '86-88, following Graig Nettles' tenure from '82-84. Thurman Munson had assumed the title in '76, an honor shelved for decades in Lou Gehrig's honor after '39.
The captaincy may remain dormant for some time. Girardi has said that if ownership asked him this winter about naming a new captain, "I would say, wait. I would say wait to see who you see really becomes the guy."
McCann's arrival this spring coincided with Jeter's retirement announcement, and so the star import was soon being asked about the idea of serving as the next Yankees captain; McCann laughed off the suggestion then, noting that he had not even played a single game in pinstripes.
With a season now under his belt, McCann showed the ability to handle a pitching staff -- one with more personalities than initially anticipated, thanks to numerous injuries -- and coaches believed that he set a good example for younger catchers.
Speaking after the team's last regular-season game, McCann said that it would be impossible to replicate what Jeter meant to the Yankees.
"You're not going to replace Derek Jeter, at all," McCann said. "What he produces on a daily basis is incredible. We just need guys to play hard, that's it. And I feel like we did that. We didn't get it done, but it wasn't from a lack of effort."
It is possible, Girardi allowed, that some players opted not to speak at times this past season in deference to Jeter.
"You wait your turn, just like a lot of times as a player, you have to wait your turn to where it's your time to shine," Girardi said.
Girardi indicated that he will be watching to see if Beltran steps into a more active leadership role. Beltran's first Yankees season was limited by injuries, but the veteran has impressive credentials that should allow his words to have resonance.
"Carlos is a guy that's been through a lot," Girardi said. "His voice is respected highly in that clubhouse, and he could have a big impact."
When discussing the idea of leadership, the blueprint of the '96 Yankees circulates often in Girardi's commentary. He recalls that closer John Wetteland relished the responsibility of leading the team's relievers.
"Let me tell you, he was in charge," Girardi said. "And they knew he was in charge."
After Wetteland left New York to sign with the Rangers as a free agent, Mariano Rivera accepted more than just Wetteland's old job. Gradually earning respect from the relief corps, Rivera soon made the bullpen his own.
"The transition didn't happen overnight, but pretty quickly. That was Mo's 'pen," Girardi said.
And that was just one area of the club. There were many personalities on those teams that players respected, with Girardi naming Paul O'Neill and David Cone in particular as creating a positive example for the young players that would follow.
"In the late '90s, it wasn't one guy, and that's OK with me too," Girardi said. "I'm not asking there to be one guy. Let there be a number of voices who know how to lead down there. It makes it easier on them, actually."
Bryan Hoch is a reporter for MLB.com. Follow him on Twitter @bryanhoch and read his MLBlog, Bombers Beat. This story was not subject to the approval of Major League Baseball or its clubs.