Bridich replaces O'Dowd as Rockies GM
Geivett, VP of Major League operations, also resigns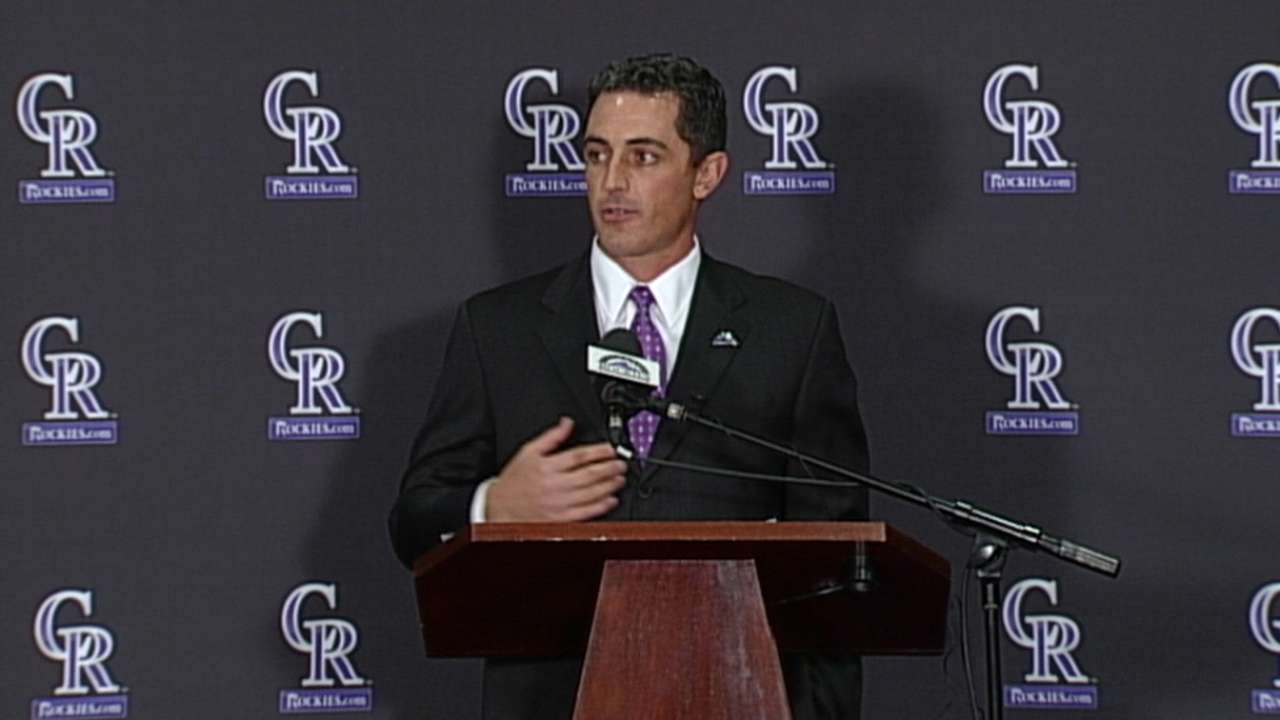 DENVER -- Jeff Bridich, who has spent 10 seasons in the Rockies' front office, was promoted to general manager on Wednesday. Dan O'Dowd, the general manager since 1999 who in addition became chief baseball officer during the 2012 season, and Bill Geivett, who has been with the club since 2000 and became senior vice president of Major League operations in 2012, resigned.
"We are very fortunate to have an extremely bright, energetic and talented group of individuals currently within our own organization that are ready and eager to utilize their skills and experience," Rockies owner, chairman and CEO Dick Monfort said. "I know Jeff is anxious to begin working on the goal of putting a championship team on the field that the Rockies staff, our fans and our region deserve."
The team held a news conference Wednesday at Coors Field.
"We are not where we want to be, we know that," Bridich said. "We are not where we expect to be, we know that. But we do have people who are determined to get there. Make no mistake, this organization wants to win and this organization is determined to win."
The overhaul comes on the heels of a 66-96 performance this year that represented the second-most losses in club history, and is more extensive than anticipated. Club officials ended the regular season believing there would be some reshuffling but nothing major. Front-office personnel began meeting late last week, and the new arrangement took focus during meetings on Tuesday.
The list of GMs is short in the 22-season history of the Rockies. Bob Gebhard held the job from the franchise's formative years through the 1999 season, when O'Dowd was hired.
Bridich, 37, is being promoted from senior director of player development, a title he has held since September 2011. He joined the Rockies in 2004 as manager of Minor League operations, and in 2006 became senior director of baseball operations -- a job that entailed contract issues, player transactions, payroll management, financial and statistical analysis and rules administration. During that period, Bridich was also instrumental in the team's strategy in arbitration cases.
#Rockies Manager Walt Weiss on GM Jeff Bridich: "We've all known that Jeff is a rising star." pic.twitter.com/5ZT2SzGap2

- Colorado Rockies (@Rockies) October 8, 2014
Before joining the Rockies, Bridich worked in the Commissioner's Office from 2001-04 in the department of Minor League contracts and transactions.
Bridich, a Milwaukee native, played four seasons as a catcher and outfielder at Harvard University, graduating in 2000.
O'Dowd's tenure, which began on Sept. 20, 1999, was the fourth-longest currently in the Majors, behind those of the Giants' Brian Sabean (starting in 1996), the Athletics' Billy Beane (Oct. 17, 1997) and the Yankees' Brian Cashman (Feb. 3, 1998).
O'Dowd, 55, was instrumental in hiring four managers -- Buddy Bell (2000-02), Clint Hurdle (2002-09), Jim Tracy (2009-12) and Walt Weiss (2013-14), with Weiss being hired under the arrangement in which the club's day-to-day operation was overseen by Geivett.
The O'Dowd years included four winning seasons and two playoff appearances -- a surprise World Series trip in 2007 and an appearance in the National League Division Series in 2009. After the 2009 playoff appearance -- a season during which he replaced Hurdle (now the Pirates' manager) with Tracy -- O'Dowd's peers voted him The Sporting News' Major League Executive of the Year.
The Rockies went 83-79 in 2010, but late-season injuries and a difficult September stretch nixed a possible playoff run under Tracy. The Rockies have not had a winning season since.
Like Gebhard before him, O'Dowd tried many plans in an effort to overcome the challenge of pitching at a high altitude. The most radical was an experiment with a four-man starting rotation in 2012, at a time when the rotation was beset with injuries and ineffectiveness. The plan was abandoned before the season ended.
"Pitching is a global issue in baseball," Bridich said. "Any team, any organization, never feels like they have enough pitching, ever. ... Part of the reality here is we need to have very talented, highly talented [and] skilled pitchers and we need to have depth. I think it's fair to say that health, especially this past season, really hurt us.
"The altitude is part of our reality. Whatever. It's part of our reality, it's been part of our reality for 20 years. ... It's not something we think about a whole lot. I think the media and fans, I think they think about it a lot more than we do internally, because it is part of our reality and we're not going to use it as an excuse. We have been able to win in it."
When the Rockies shuffled their front office in late 2012, the setup had O'Dowd overseeing plans and policies in the Minor League system during the season and taking total charge during the offseason, with Geivett embedded with the club at home and on the road during the season. Geivett maintained an office in the Rockies' clubhouse area.
Geivett, 51, joined the Rockies' front office in November 2000, and oversaw player personnel and the Rockies' Minor League system before becoming the senior vice president of Major League operations, which carried the dual title of assistant GM. Under that arrangement, Geivett and Weiss were the main spokesmen when it came to the club's roster-building strategy.
Geivett was in charge of the Minor League system when it was named Baseball America's Organization of the Year in 2007.
Before joining the Rockies, Geivett worked in the front offices of the Expos, Rays and Dodgers, was a coach and instructor in the Yankees system, and coached at Loyola Marymount and Long Beach State. He played collegiate ball at the University of California-Santa Barbara and played four seasons as an infielder in the Angels system.
"I want to thank Dan and Bill for their years of commitment to the Rockies organization," Monfort said. "They have been friends and colleagues, and their families have been a part of the Rockies family for a very long time."
Thomas Harding is a reporter for MLB.com. This story was not subject to the approval of Major League Baseball or its clubs.