Celebrating clinches 'never gets old' for Giants
San Francisco players party after securing third NLCS berth in five years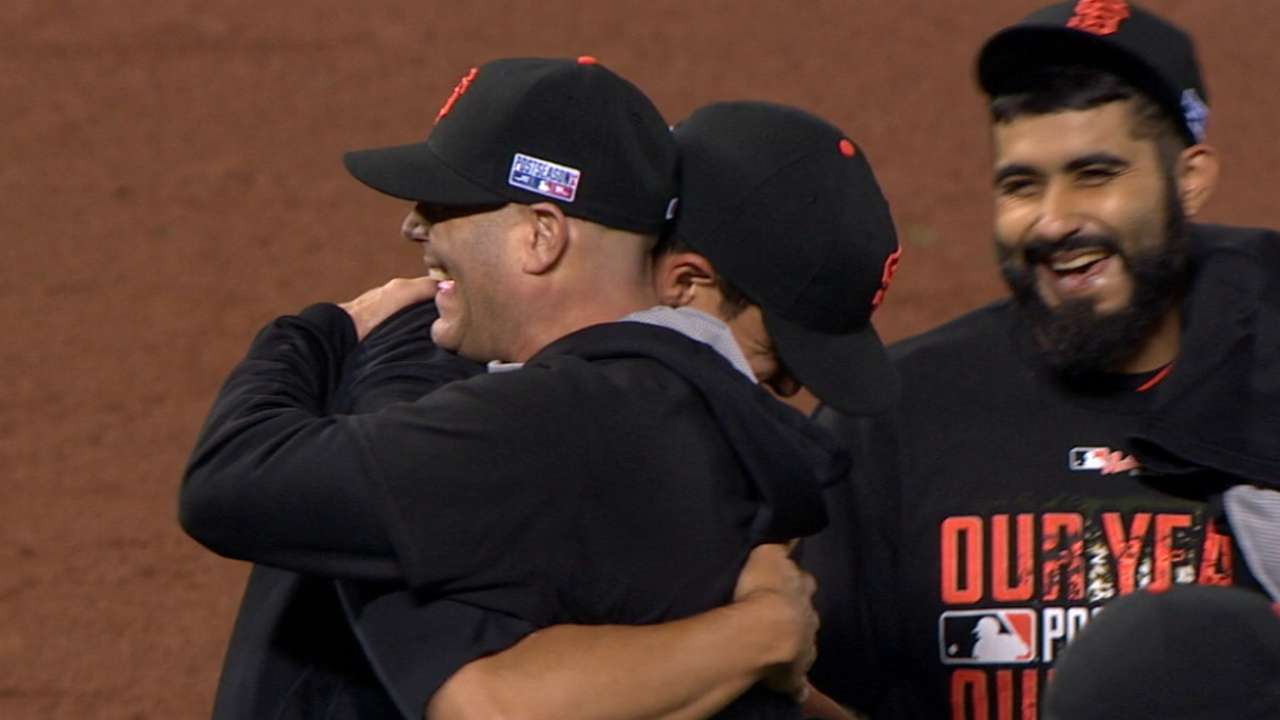 SAN FRANCISCO -- Hunter Pence, spiritual leader of the Giants, the man who made a catch that will be discussed for years to come in Game 4 of the National League Division Series on Tuesday, gathered teammates and reporters in the middle of the home clubhouse after his team's series-clinching 3-2 victory over the Nationals at AT&T Park.
"Stop your interviews!" Pence yelled, and dozens flocked to hear what the hero had in store for his latest celebratory speech.
Then Pence stopped talking. Ryan Vogelsong -- the right-hander who held Washington to one run on two hits over 5 2/3 innings -- took center stage. It was Vogelsong, not Pence, who led the NL Championship Series-bound Giants in a short -- and, yes, profane -- version of their signature chant: "Yes! Yes! Yes!"
"I felt good to find a way to help out," Pence said afterward, a serious understatement for someone who crashed into the right-field wall to rob Jayson Werth of extra bases and end Vogelsong's night on a high note. "Given an opportunity, it feels good."
Pence remained in a generous mood as the party raged on, distributing cigars to his teammates to complement a sea of champagne and beer.
The Giants, of course, have been here before, having locked up their third NLCS trip in the last five years. The previous two ended in World Series parades. But that doesn't make the moment any less sweet.
"Never gets old," said Brandon Belt. "Love to keep on doing it and hopefully we can make it a World Series this year."
"It's a good feeling," added Buster Posey. "It's a good burn."
Perhaps the greatest takeaway for the Giants is that this team can win under just about any circumstances. They took the series from the Nats, 3-1, despite scoring only nine runs total and despite missing several key players due to injuries.
"We're just resilient. We'll never give up," said Belt. "We know we're down a few players, major players to our lineup, but all that means is that somebody else has to step up, and that's what seems to happen every time out."
For one of those missing pieces -- left fielder Michael Morse, who sat out the NLDS with a left oblique strain but says he's feeling "100 percent" -- the series victory could mean another shot to contribute.
"It says something about this team and this organization," Morse said of San Francisco's latest deep postseason run. "It's like [manager Bruce] Bochy says: that championship blood."
Aaron Leibowitz is an associate reporter for MLB.com. This story was not subject to the approval of Major League Baseball or its clubs.