Yankees prospects lift Scottsdale in AFL opener
Bird, Austin combine for six RBIs in victory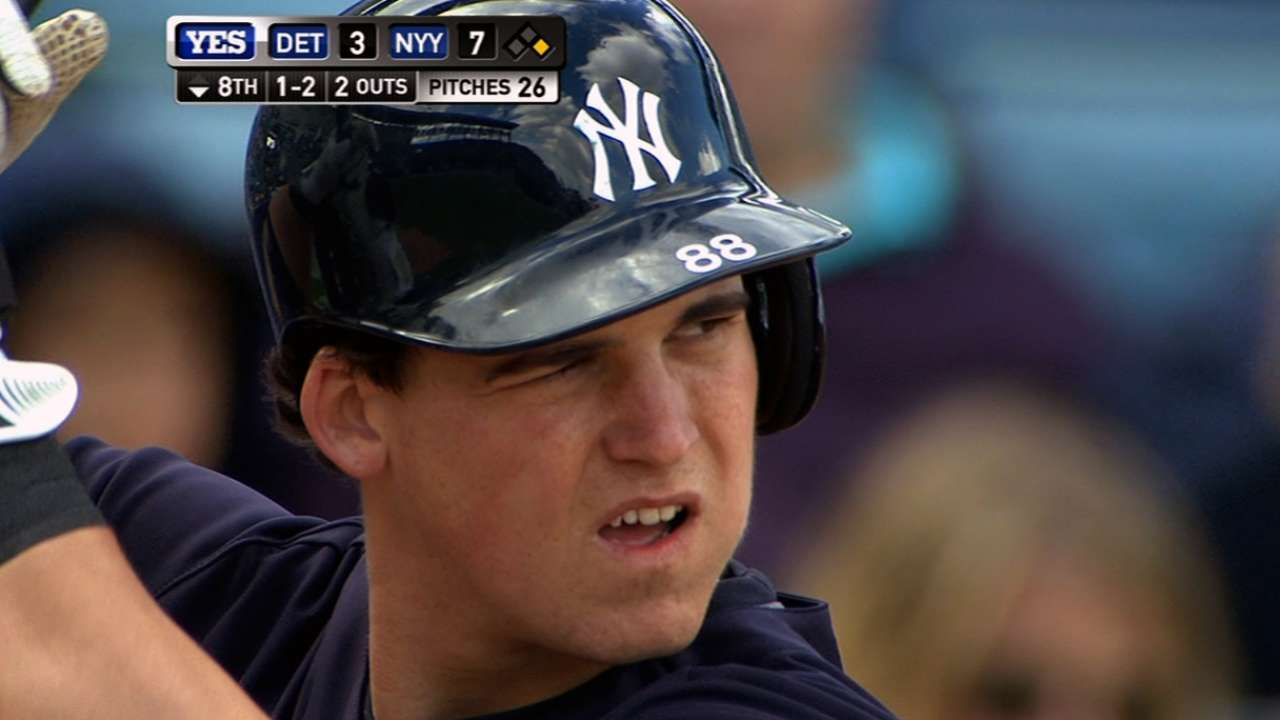 With Archie Bradley and Tyler Glasnow on the mound as Salt River hosted Scottsdale on Opening Day in the Arizona Fall League, the final game of the day was expected to be a pitchers' duel. But after early exits for both power pitchers, both of whom are the top prospect in their organizations, power bats took over the game Tuesday.
Led by Yankees prospects Greg Bird and Tyler Austin, Scottsdale outslugged Salt River, 7-4.
Bird and Austin accounted for all six of Scottsdale's RBIs. Bird, the Yankees' No. 11 prospect, went 3-for-5 with a home run and two doubles. He scored three runs and drove in four in the victory. Austin, the Yankees' No. 15 prospect, finished the night 2-for-4 with two RBIs and a stolen base.
"Obviously we've had some time off since the season ended," Bird said. "But I felt like I finished the season strong and carried it over until tonight and we got a good win."
The Scorpions also got a boost from outfielder Brandon Nimmo, the Mets' No. 3 prospect, who went 2-for-5 with two runs, a double and a stolen base. Catcher Elias Diaz also scored twice.
Before coming to the fall league, Bird and Austin were teammates for the final month of the regular season in Double-A Trenton. Bird was promoted to Trenton in August after starting the season with Class A Advanced Tampa and has quickly been impressed by Austin.
"I think he had a real good year," Bird said. "I think he started off slow, but once I got there he was tearing it up and I know he had a good second half. Tonight was him continuing that."
Austin was hampered by injuries early in the season, but played much better after the Eastern League's All-Star break. The 23-year old hit .336/.397/.557 with five home runs in 33 games in the second half.
Like Austin, Bird spent part of the season on the disabled list. A back injury sidelined him for the first month of the season, but he played well once he got back on the field. In 102 games between Tampa and Trenton, the 21-year old hit .271/.376/.472 with 14 home runs.
Bird said physically he feels great and has been able to get back in a groove at the plate.
"Any time you get a late start, it's going to take a little bit to get going," he said. "Once I got going, I felt like I got back to my old self."
Tuesday also marked the return to action of another player who was hampered by injuries this season. Outfielder Byron Buxton, the game's top prospect, played for the first time since Aug. 13 when he suffered a concussion as a result of a frightful outfield collision while playing his first game for Double-A New Britain.
Buxton, the Twins' top prospect, played center field and led off Tuesday for Salt River. He went 0-for-4 with a run, a walk and a stolen base.
The Rafters offense was led by catcher Peter O'Brien, the D-backs' No. 7 prospect. He went 2-for-3 with a home run, a walk and two RBIs.
With all the offense, the promising pitchers' duel fizzled early. Bradley, ranked No. 9 on MLBPipeline.com's Top 100 Prospects list, took the loss after allowing three runs (one earned) on four hits and a walk in two innings. He struck out one batter and threw 41 pitches.
Glasnow, ranked No. 16 on the Top 100, fared no better. He walked three batters in the first inning and was removed after throwing 29 pitches and getting two outs. But Scottsdale's bullpen and offense picked up their 21-year starting pitcher to secure an Opening Day victory.
Though players in the AFL are more focused on development than results, Bird said the Scorpions are pleased with the way they started the season.
"Obviously we're all out here to work on something, but winning is fun," he said. "Everyone agrees with that. We were able to get off on the right foot tonight."
Teddy Cahill is a reporter for MLB.com. Follow him on Twitter at @tedcahill. This story was not subject to the approval of Major League Baseball or its clubs.