MLB.com Columnist
Richard Justice
Mattingly does admirable job, doesn't deserve blame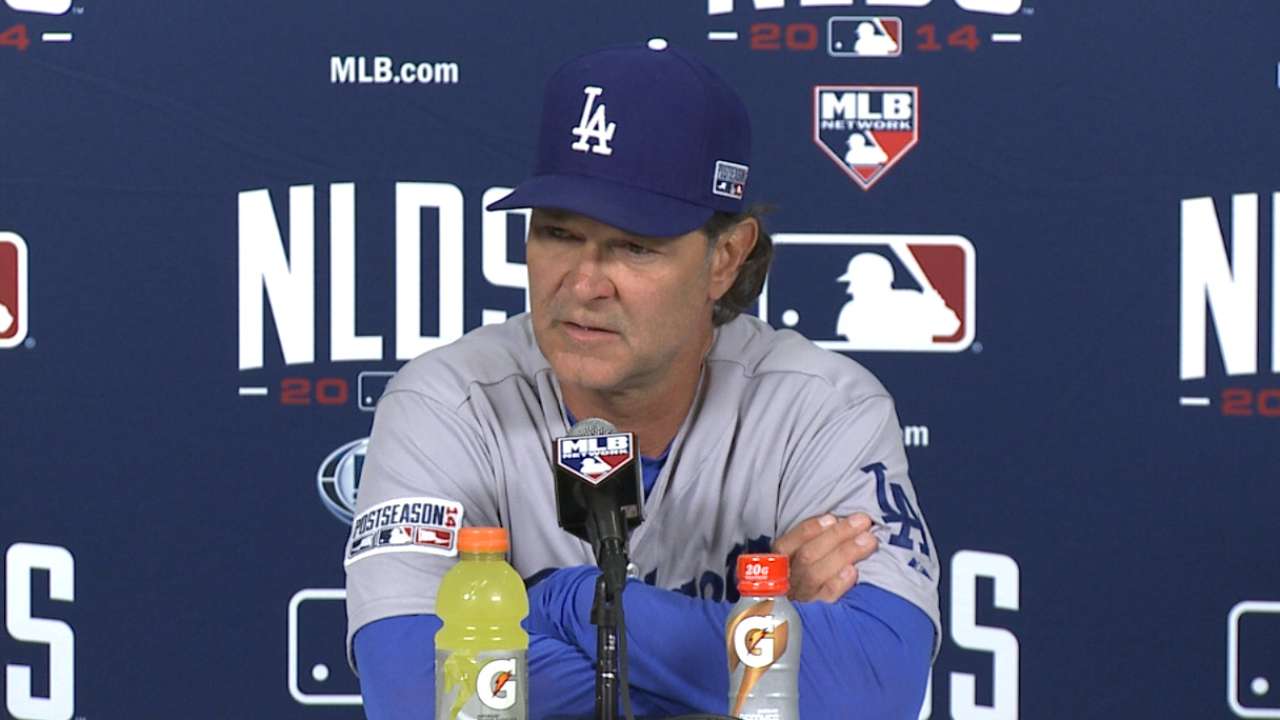 ST. LOUIS -- Dodgers manager Don Mattingly understands he'll be the focus of the postmortems after the Dodgers' 3-2 loss in Game 4 of the National League Division Series.
He had 10 different managers during his 14 seasons as a player for the Yankees. Billy Martin had three tours of duty during his time.
So Mattingly understands that managers get dismissed for all sorts of reasons and that they get blamed for things they shouldn't be blamed for.
Managers often are evaluated for things over which they have little control. That has been happening in baseball for about 120 years. It's one of the reasons we love the game. When a manager sends Jimmy up to pinch-hit, everyone in the park knows he should go with John.
Never mind that these are percentage calls, usually separated by the thinnest of margins. Still, when a team disappoints, it's tradition that someone takes the fall.
Again, Mattingly understands this. The Dodgers turned a team over to Mattingly that had baseball's largest payroll and a string of big stars.
Therefore, that team is supposed to win, right? Now with the Dodgers having been eliminated from the postseason by the Cardinals with a 3-2 loss on Tuesday afternoon, Mattingly will find himself under the microscope.
He left himself open to being second-guessed with a string of moves that didn't work. For instance, he might have stayed with his ace, Clayton Kershaw, a tad too long in Game 1. Kershaw threw 117 pitches in that game and seemed out of gas by the time Mattingly came to get him.
Then in Game 2, he might have hooked Zack Greinke a bit too soon. In Game 3, he called on little-used reliever Scott Elbert with the game on the line in the seventh inning. In Game 4, he benched his struggling star, Yasiel Puig.
Now the Dodgers are going home sooner than they were expected to, and so it's likely to be a difficult few weeks of evaluation.
Here's the bottom line. Unless the Dodgers can lure Joe Maddon -- to pull one name out of thin air -- away from the Tampa Bay Rays, they simply aren't going to get anyone better than Mattingly.
Plenty of people were skeptical when the Dodgers hired him four seasons ago. He hadn't had a minute of managerial experience. Back then, that kind of thing was unusual. Now it's all the rage to hire smart, talented people and allow them to learn on the fly.
In his four seasons, he has proven himself again and again. First, his personality -- that is, his honesty and essential decency -- play well over a ninth-month season. His teams play consistently hard, and Mattingly has put his players in position to win. Perhaps his biggest accomplishment is taking a clubhouse with big salaries and big personalities and worked hard to get it to function as a cohesive unit.
When the Dodgers dissect this season, they surely will see they put Mattingly in a tough spot. What was supposed to be deep, talented pitching staff was gutted by injuries, both in the rotation and the bullpen.
The Dodgers did win 94 games, but at one point, they were so desperate for pitching that general manager Ned Colletti made a quick tour of his farm system to see if the organization had arms that might provide immediate help.
Those weaknesses were exposed against the Cardinals, in a National League Division Series the Dodgers lost three games to one.
Mattingly had just three starting pitchers -- Kershaw, Greinke and Hyun-Jin Ryu -- he trusted. And when Ryu pitched Game 3, he'd thrown one inning in 30 days. Other than closer Kenley Jansen, Mattingly's bullpen was likewise stretched thin.
And his hitters were controlled by the Cardinals. Adrian Gonzalez, Dee Gordon and Juan Uribe all hit less than .200 in the series, and Puig was benched in Game 4 after striking out seven times in a span of eight at-bats.
The Dodgers batted just .194 with runners in scoring position for the series. They scored nine runs in one game and a total of six in the other three.
So when the Dodgers plunge into the offseason, their priorities will be pitching and most likely a shortstop to replace free agent-to-be Hanley Ramirez.
"We'll look at everything and kind of where we need to improve, how do we get better," Mattingly said. "And at the end of the day you lose, you don't worry about one situation or another, you just worry about the win or the loss."
Richard Justice is a columnist for MLB.com. Read his blog, Justice4U. This story was not subject to the approval of Major League Baseball or its clubs.