Cards add new wrinkle to postgame celebration
Players skip using goggles, introduce squirt guns to clubhouse party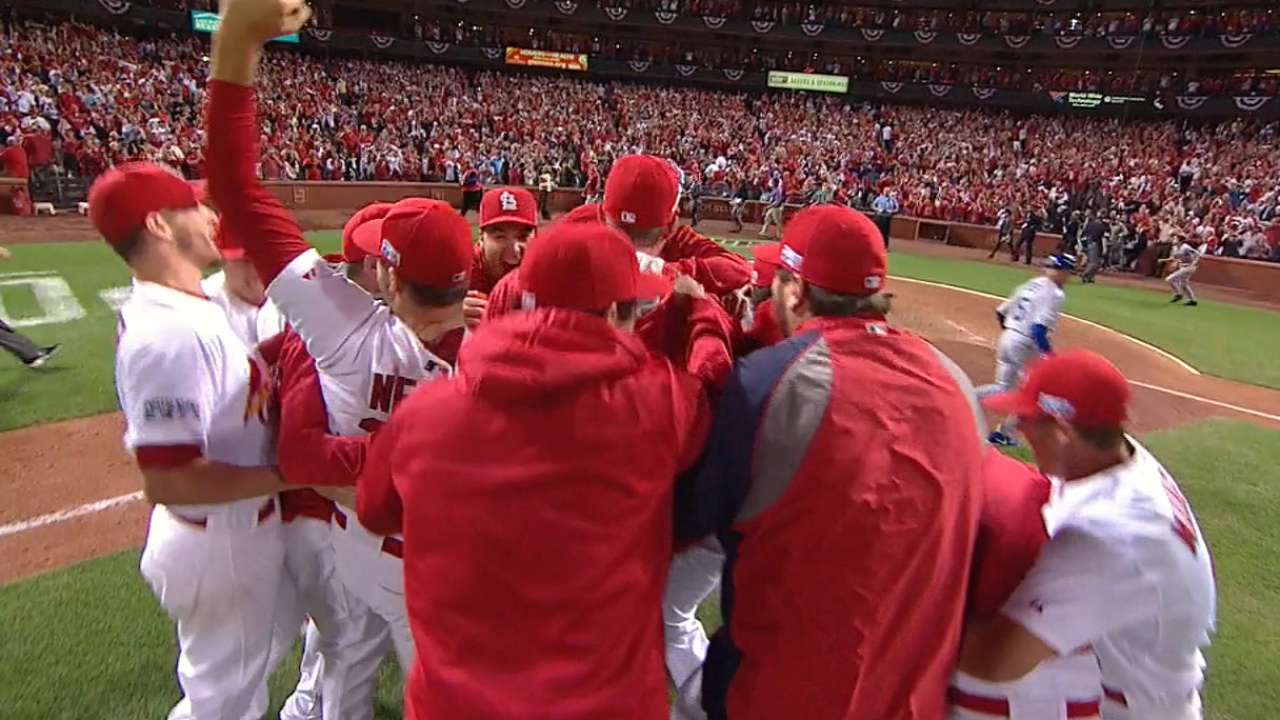 ST. LOUIS -- The Cardinals' clubhouse celebration after they beat the Dodgers, 3-2, in Game 4 of their National League Division Series clincher Tuesday looked largely like a lot of the other raucous parties teams have when they win in the postseason.
There was champagne and beer being sprayed, the lockers were protected by plastic, the players were running around in their new "Division Series Champion" T-shirts and hats that they're given as soon as the last out was made.
But there were a few new elements that worked their way into this particular celebration as well. They were, in no particular order of importance:
1. Nobody wore goggles.
2. Some players opted to use squirt guns, filled with the celebratory beverage of choice, rather than the traditional shaking of the bottle and subsequent spraying of the bottle.
3. Everyone was really, really jazzed about Matt Adams' game-winning home run.
First, the goggles. At some point over time, goggles became the thing to wear during clinching celebrations. These days, you may see teams all wearing the same style, from the same manufacturer, indicating there may have been a deal made ahead of time. Some players go out on their own to wear some special concoction, as Giants pitcher Matt Cain did in 2012, wearing goggles with a built-in camera to capture the celebration without having to actually hold a recording device.
But the Cardinals, those plucky traditionalists, decided to do this the old fashioned way and just let the champagne burn, baby, burn.
It's never felt so good.
"I've been to the playoffs five other times, and I've lost every time," reliever Pat Neshek said. "If it's going to burn, I'll take it. This is the best. This is probably the best win of my baseball career."
The squirt guns didn't really add to the flavor of the celebration, except to provide some level of entertainment value. Not that there's a lack of things to gape at during a crazy clubhouse scene, what with the players laughing and yelling, executives hugging and looking relieved, and wives taking selfies with half-empty champagne bottles.
Still, squirt guns eliminated the possibility of the old duck-and-cover, because you can't see the stream coming, often from the other side of the room.
"Good one," manager Mike Matheny bellowed, laughing, to one of his players. "That could have cost me my eye."
But goggles and squirt guns notwithstanding, the focus of this celebration, other than the frenetic chatter about the Cardinals heading to the NL Championship Series, was on Adams. His three-run homer off Clayton Kershaw in the seventh inning not only gave the Cardinals the 3-2 lead they'd need to nail this win down, but it gave America a glimpse of the large and lumbering first baseman skipping down the first-base line as he watched the ball land in the Cardinals' bullpen.
"Some people are calling it the Big City Leap, so maybe we'll be able to go ahead and patent that," Adams said. "I was just super excited and really didn't know what I was doing."
Across the clubhouse, veteran right-hander Adam Wainwright bragged to reporters that he called that homer, seconds before Adams hit it.
"After the first pitch, I said, '[If Kershaw] throws a strike breaking ball here, he's going to hit a home run,'" Wainwright said. "And he sure did. I feel pretty smart."
General Manager Jon Mozeliak, sipping on a bottle of water and managing to look dignified and put together even with parts of him soaked in bubbly, was asked to assess how improbable it is for any team to stay consistent enough over time to make it to four straight NLCS.
For many organizations, the proverbial window doesn't stay open that long. Free agency, aging players and large, back-loaded contracts can all be contributing factors to clubs needing to take a few steps back every few years in order to retool.
There's no indication the Cardinals have that in their near future.
"I haven't had a lot of time to reflect on what this all means historically, but I think what it is really is a testament to our organization," Mozeliak said. "We made it a point to want to make sure that we could do this internally and have the depth to be successful by building within. You're seeing that pay off right now."
Because of that depth, this particular postseason clinching celebration wasn't a first for many Cardinals players.
"It never gets old," said Wainwright, who is playing in his fifth postseason and will be the Game 1 starter of the fourth NLCS he's been a part of. "We had a good time in here. This is what we play for. We're excited to be in this moment right now. We're going to enjoy it."
From here on out, the only sting this group wants to feel is from too much champagne -- sans goggles.
Alyson Footer is a national correspondent for MLB.com. Follow her on Twitter @alysonfooter. This story was not subject to the approval of Major League Baseball or its clubs.