Pence a perfect fit as Giants' spiritual leader
All-Star outfielder steps up with inspiring messages to team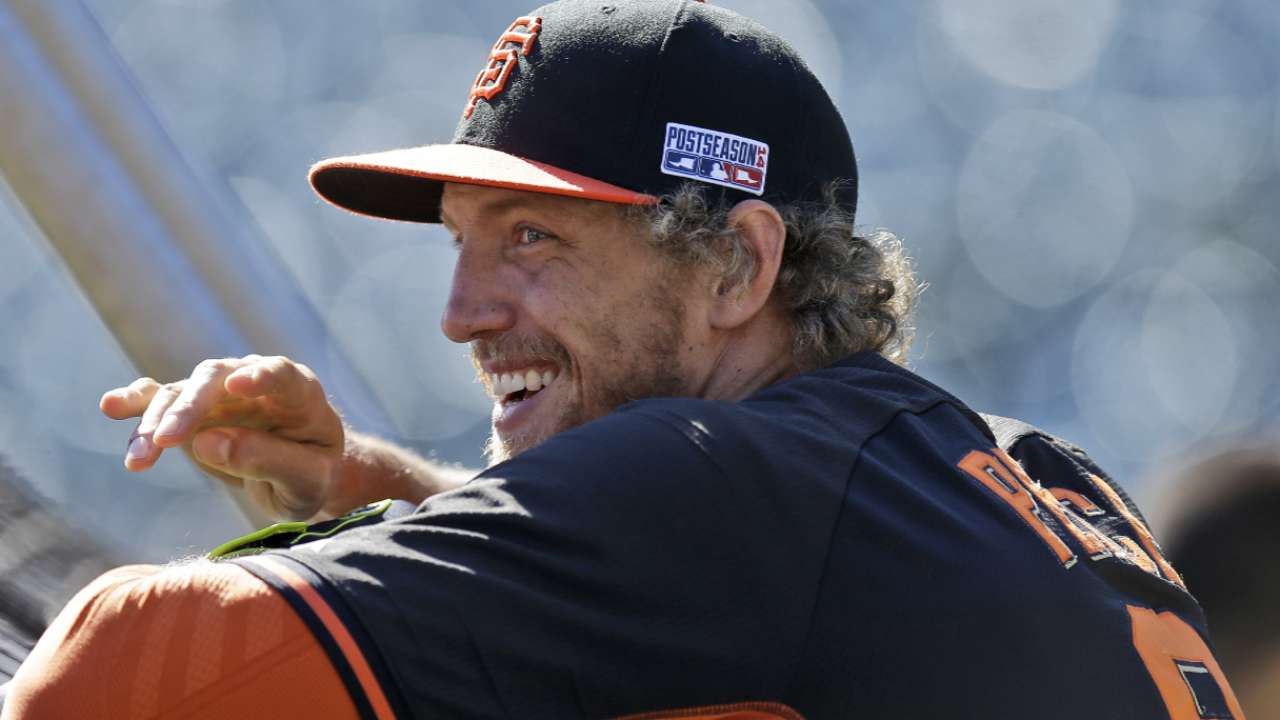 SAN FRANCISCO -- The question of whether the Giants and Hunter Pence discovered something special when they found each other two-plus years ago can be summed up in a single, three-word answer: Yes! Yes! Yes!
From this year's signature chant and dating back to his stirring speech in the visiting dugout in Cincinnati that became a catalyst to a 2012 World Series run, Pence has become the spiritual leader of the team. With All-Star talents on display nearly every single day in between, Pence and the Giants are made for each other, like peas and carrots.
As Pence prepared for Game 4 of the National League Division Series on Tuesday, he reflected on how things have evolved since his trade from the Phillies two years ago at the Trade Deadline, a deal that came one year after he'd been dealt from the Astros organization that drafted him.
"I definitely didn't know what San Francisco had in store," said Pence. "And it's definitely a really fun city. The fan base is incredible. So I think that was somewhat of a surprise, kind of how my personality [fit] with the city vibe and the team and the organization."
The Giants already had a pack of very popular and productive players, including the likes of Buster Posey, Pablo Sandoval and Tim Lincecum, all of whom have huge followings in San Francisco. But Pence has inserted himself right into that group and become a leader on a team that is hoping to make another run at the ring.
For Giants manager Bruce Bochy, having a player like Pence who can step up and deliver positive messages to the club can only help make the team better. Pence's talents on the field earned him All-Star honors this year and a five-year, $90 million contract last fall, and the 31-year-old has clearly established himself as a go-to leader on the team.
"I've had a few players that will step up and say some things, especially if I'm having a meeting," said Bochy, in his 20th season as a Major League manager. "But, you know, Hunter's a little different, there's no getting around it. He's inspiring, how he plays, and also in the clubhouse and when he says something, because he says it with such passion.
"As a manager, you love players who will step into the breach and say something and help you out in that area and having some leadership inside that clubhouse."
And, at times, outside the clubhouse. His summer included a randomly engaging series of "Hunter Pence signs" jokingly meant to distract him during a torrid road trip, and a stolen scooter that was returned after a citywide effort to find it. Then, Pence adopted the "Yes! Yes! Yes!" chant that WWE wrestler Daniel Bryan made famous, first using it for homers and then as a team motto for all Giants fans to shout, too.
When Bryan showed up for Game 3 to lead the AT&T Park crowd in the chant, he and Pence hung out for a while before the wrestler addressed the crowd.
"We were really thrilled to have him, and he really fired us up," Pence said. "It was a moment I won't ever forget."
Add it to the litany of such moments for Pence so far in his Giants career, and he's hungry for more. That was evident in his Game 162 speech to the home crowd at AT&T Park, sending the fans into several renditions of saying "Yes! Yes! Yes!" during a speech of several minutes -- as clear an indication as anything that he is seen as not only a spokesman for the team but one of the faces of the franchise.
And it's another sign that Pence's arrival with the Giants two years ago was a perfect pairing, right from the beginning.
"I really felt at home," Pence said.
John Schlegel is a national reporter for MLB.com. You can follow him on Twitter @JohnSchlegelMLB. This story was not subject to the approval of Major League Baseball or its clubs.