Up and Adams: Cards again clip Clayton, head to NLCS
Club to vie for pennant against Giants after slugger's clutch home run
ST. LOUIS -- After watching the pitcher who will likely beat him out for another Cy Young Award carve up the Cardinals through six innings, Adam Wainwright settled alongside Matt Carpenter near the dugout railing to see if another lucky seventh was in store for St. Louis' offense.
Two singles, both just out of the reach of the Dodgers' middle infielders, brought Matt Adams to the plate, and after a first-pitch strike, Wainwright turned to his right: "If he throws a curveball for a strike right now," he told Carpenter, "he's going to hit it out of the park."
It was the perfect setup to the latest October magic under the shadow of the Gateway Arch.
In a series where home runs carried the Cardinals to a two-games-to-one-lead in the National League Division Series, Adams knocked Clayton Kershaw out and sent the Dodgers home with a blast in Game 4 on Tuesday. It erased a two-run deficit, sent the home dugout into a frenzy and lifted the Cardinals to a 3-2 win, their fourth postseason victory in two October series against baseball's best pitcher.
"He made me look pretty smart right there," Wainwright said amid the postgame celebration. "It's crazy how sometimes you just get a feeling. You just get a feeling that something great is going to happen."
Of all the ways to advance to their fourth consecutive NL Championship Series, this had to be among the most improbable.
"To do it in the fashion that we did, it's nothing short of incredible," said Carpenter, whose three home runs, three doubles and seven RBIs through the first three games of the series, helped set the stage for a series-clincher in front of 46,906 at Busch Stadium. "We have something special going on right now."
The Cardinals' next opponent will be the Giants, to whom they lost in the 2012 NLCS. Game 1 will be played on Saturday at Busch Stadium (7 p.m. CT on FOX).
This will be the Cardinals' ninth trip to the NLCS since 2000, and they will make it having won more playoff games during that span (63) than any other team in the Majors. They moved out of a first-place tie with the Yankees on that list with their latest come-from-behind win.
"That's something that these guys should be very, very proud of," manager Mike Matheny said. "To kind of think about that, it's something probably for the offseason because we feel like we have a couple more things left to accomplish. But right now, you can see these guys are enjoying this, and they should."
Tuesday's script played out oh so familiarly, with Kershaw dominating for six innings and the Cardinals falling into an early hole. But there's been something special about the seventh inning all series for the Cardinals, and once again, a bit of October magic brewed.
Adams, who hit .190 with three homers in 121 at-bats against lefties during the regular season, spent last winter preparing for what would become a career-defining moment. He passed a long winter in central Pennsylvania hitting off a pitching machine that simulated offspeed pitches from a left-handed pitcher. Ready to prove himself as an everyday player, it was an area in which Adams needed to improve.
He revisited the exercise leading into this series, too, aware that the Cardinals would face two lefty starters.
When he connected on Kershaw's 0-1 curveball in the seventh, dropping it into the Cardinals' bullpen, Adams started a celebration that wouldn't stop until Trevor Rosenthal worked around a one-out walk and two-out single to seal the victory. He raised both hands upon making contact and showcased a leap that will be talked about for years.
"I don't think I touched the ground the whole way around the bases," Adams said afterward. "Some people are calling it the 'Big City Leap,' so maybe we'll be able to go ahead and patent that. I was just super excited and really didn't know what I was doing."
The Cardinals built toward the seventh-inning climax just as they had in Game 1, with singles up the middle by Matt Holliday and Jhonny Peralta. Dodgers manager Don Mattingly, clearly wary of his relief options, stuck with Kershaw as the lefty, pitching on three days' rest, reached the 100-pitch mark. Kershaw would throw only two more, walking off the mound after losing a seventh-inning lead for the second time in four days.
"The season ended, and I'm a big part of the reason why," Kershaw said. "It doesn't matter how I pitched. It's bad deja vu all over again."
Leading into the inning, Kershaw had blanked the Cardinals on one hit (a single) while striking out nine.
"From an offensive standpoint, we almost didn't have a pulse for most of that game," general manager John Mozeliak said from a beer- and champagne-soaked home clubhouse. "Then two hits and a home run and you have the lead. It was amazing."
Kershaw, who allowed one homer to a left-handed hitter over 27 regular-season starts, was tagged for two such blasts in this series. The Cardinals, who hit an NL-low 105 homers this year, used the long ball to drive in 13 of their 18 DS runs. That included each of their final 11.
And of the seven home runs the Cardinals hit in the series, five were of the left-on-left variety. The club did that only eight times (over 555 at-bats) all year. Each NLDS blast was crucial, as the Cardinals won the series with a pair of one-run victories and the other by a margin of two.
The Cardinals scored 13 of their runs in the seventh innings, 11 of those coming in seventh innings Kershaw started. It was an eight-run seventh against him in Game 1 that turned the tide of the short series.
"You wonder what we would have been able to do tonight if we had not pulled that off the first time," Matheny said. "What that does is it gives you that confidence. Once you have a couple of those comebacks, you show yourself you can do it, especially when you show yourself against a pitcher of that caliber."
The win was given to reliever Marco Gonzales, who threw three scoreless innings in the series, but credit Shelby Miller with matching Kershaw through most of his 5 2/3-inning outing. After waiting two years to make a postseason start, Miller came out strong after two weeks of rest. Matheny later called it Miller's "I told you so" moment.
Miller breezed through four innings on 44 pitches, throwing fastballs by the Dodgers' hitters early and then mixing in his reinvented curveball the second time through the order.
"I was really, really anxious the whole time, just excited to get out there," Miller said. "You have to cope with what you have and find ways to get wins, find ways to make pitches in big situations, in this kind of game."
He worked out of trouble in the fifth before the Dodgers nipped him in the sixth. Consecutive singles set up a run-scoring opportunity on Matt Kemp's double play. After hitting Hanley Ramirez and walking Andre Ethier, Miller's day was over.
He left to a sustained ovation but watched Seth Maness allow one inherited runner to score to provide Kershaw with more of a cushion. Catcher Yadier Molina prevented further scoring by catching Ethier straying too far off third. With the help of a replay review, Molina was awarded the pickoff.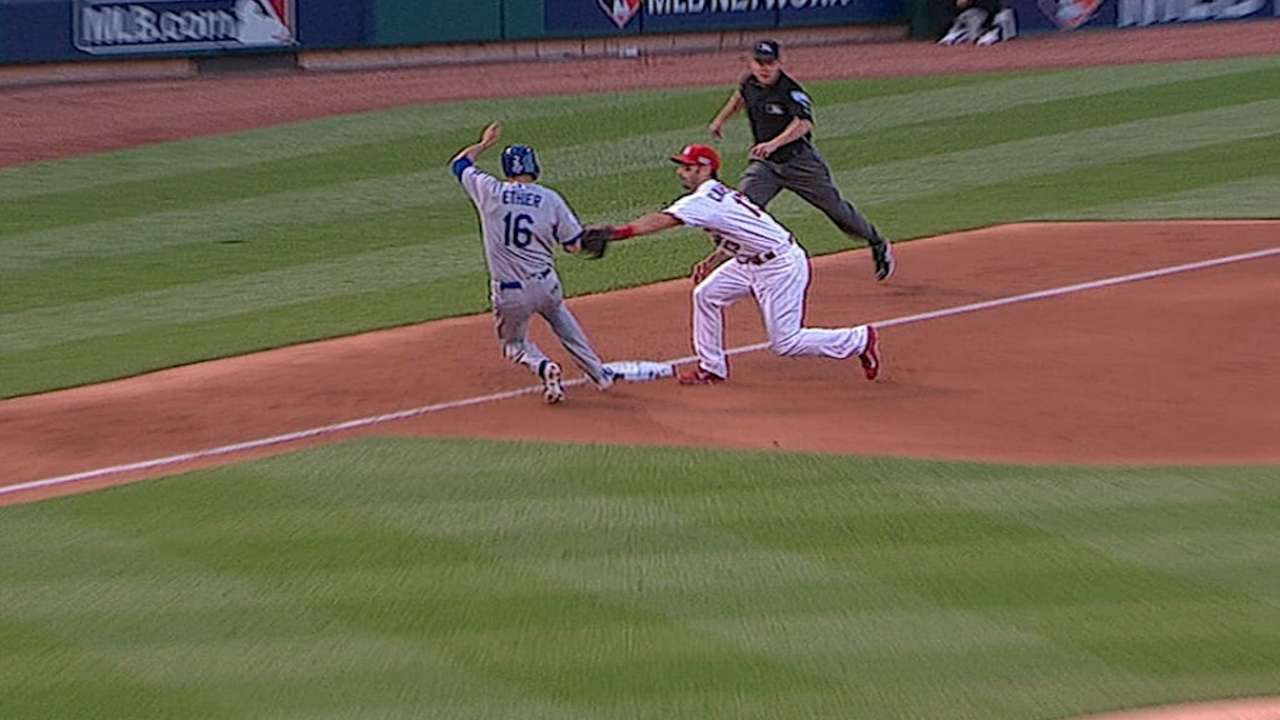 Molina then helped Rosenthal navigate through a tricky ninth, ensuring the Cardinals that they would not be making a return trip to Los Angeles. Accurate with his premonition on Tuesday, Wainwright will get the ball in the NLCS Game 1.
"In any situation, no matter what the score says, or what the media or fans think is going to happen, we in this clubhouse believe we're going to win," Wainwright said. "And when you have that belief going into a series against tough teams, we have an edge."
Jenifer Langosch is a reporter for MLB.com. Read her blog, By Gosh, It's Langosch, and follow her on Twitter @LangoschMLB. This story was not subject to the approval of Major League Baseball or its clubs.