MLB.com Columnist
Lindsay Berra
Castillo looking to rack up at-bats in AFL action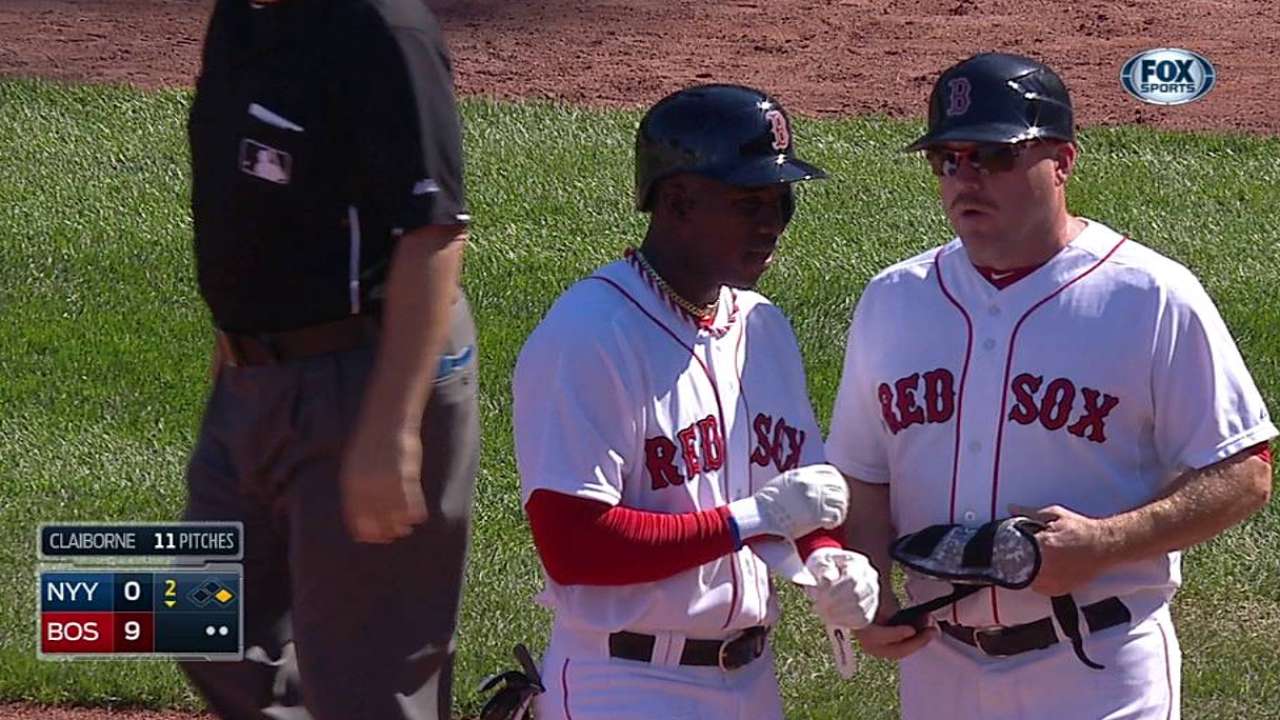 Red Sox outfielder Rusney Castillo did not make his Arizona Fall League debut on Tuesday afternoon as his Surprise Saguaros dropped a 5-4 decision to the Peoria Javelinas in Surprise, Ariz.
It was simply a manager's decision that kept Castillo out of the lineup, but the 27-year-old is looking forward to racking up at least 100 at-bats during his time out West.
"I just want to get at bats," Castillo said through an interpreter. "I hadn't played in almost a year and got so few at-bats in the Major Leagues, I just want to get 100 at-bats here and get another 100 in Puerto Rico so I can be ready to play next year."
Castillo will remain in Arizona until the end of October before moving on to Puerto Rico to play winter ball through the end of November.
The Red Sox have said they hope Castillo can accumulate 200 at-bats before the start of Spring Training, where he will be a favorite to earn the starting job in center field despite the overabundance of players in Boston's outfield.
After defecting from Cuba last January, Castillo was forced to sit idle in Florida, working out and training without a team, while he established residency and was declared eligible to play by the U.S. government.
Because Castillo had played five years professionally in Cuba before defecting, he was exempt from international signing bonus limits. In August, he signed a seven-year, $72.5 million contract with Boston. Since then, Castillo played for the Rookie Gulf Coast League Red Sox, Double-A Portland and Triple-A Pawtucket.
In 11 Minor League playoff games, Castillo posted a .293 average with a home run and five RBIs in 41 at-bats. He also stole two bases and did not commit an error in the outfield.
In 10 games with the Red Sox at the end of the Major League season, Castillo hit .333 with two home runs and six RBIs.
"Obviously, it's a big difference playing here, but I try to keep it simple," Castillo said. "It's the same ball, it's the same bat, it's the same game. I just go out there and try to do my best."
When the 5-foot-9 Castillo made his debut in Rookie ball, he weighed 205 pounds, 10 pounds more than he weighed while in Cuba. He is comfortable with his new physique.
"I gained a little bit of weight, but I want to stay where I am right now, and as long as I keep playing and keep staying active, that will happen," he said. "I feel really good right now, I feel like I have good power."
Red Sox manager John Farrell has said that Castillo looked "very comfortable" at the big league level, despite his hasty trip through the Boston system. Castillo, though, acknowledges that he's still learning.
"I'm a big-game guy," he said. "I just want to learn how people play here and help the other guys and help the team."
Lindsay Berra is a reporter for MLB.com. This story was not subject to the approval of Major League Baseball or its clubs.