Yost views Gore as necessary part of roster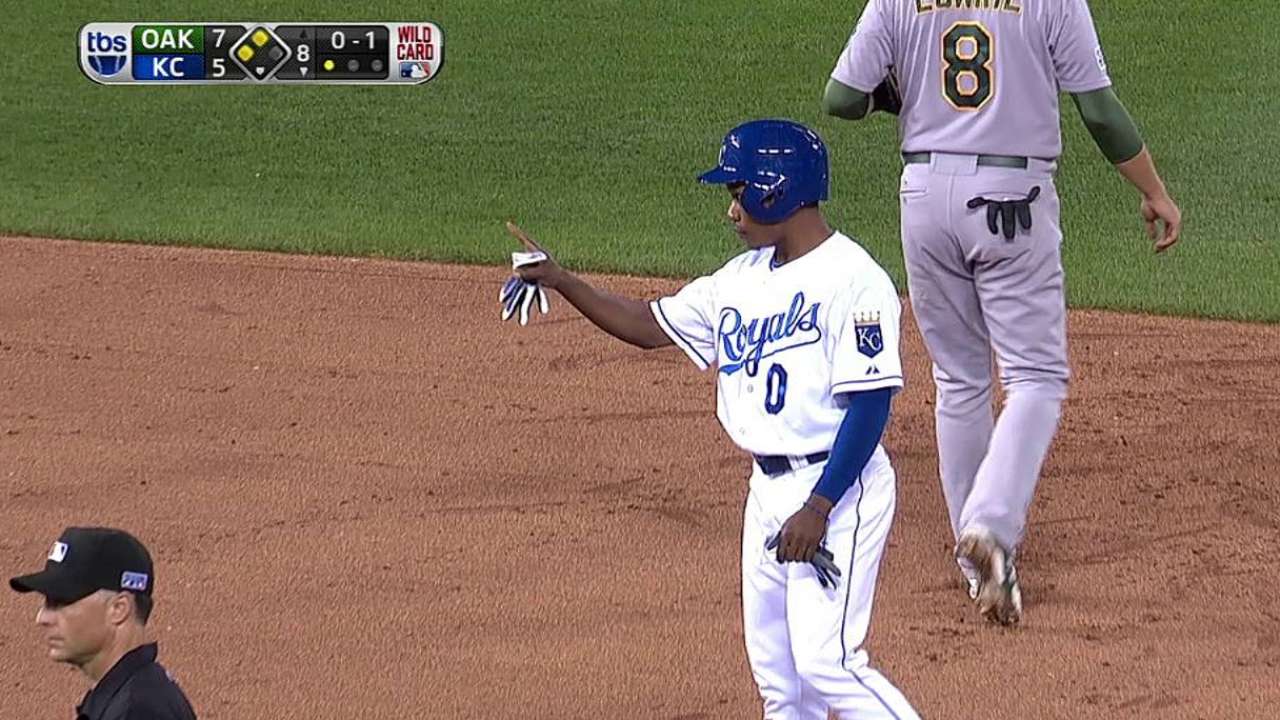 KANSAS CITY -- Anyone watching the Royals' first four playoff games can have no doubt that pinch-runner Terrance Gore is a valuable asset to the team.
The same holds for Royals manager Ned Yost, who took it a step further at the team's workout Tuesday, making a Barry Bonds comparison to the impact Gore provides off the bench.
"I view him as a necessity," Yost said. "I view him as a guy like having Barry Bonds on the bench late that can come in and win a ballgame for you."
While Gore is the antithesis of Bonds in terms of hitting -- Gore had a .257 slugging percentage in the Minors this year, compared to Bonds' .607 figure in 22 MLB seasons -- Yost's point of his seemingly inevitable impact whenever he trots out to replace a Kansas City baserunner is well taken.
Despite only two Major League plate appearances, Gore has gone 8-for-8 on steal attempts. He swiped five bags in the regular season after his Aug. 31 callup, and in four postseason games he's added three more.
Yost did not release concrete details on Kansas City's roster for the American League Championship Series versus the Orioles (Game 1 is Friday at 7 p.m. CT on TBS), but his ringing endorsement of Gore almost ensures the diminutive outfielder's spot on it.
"Gore gives us that opportunity if we get a guy on base in the seventh or eighth inning to get into scoring position," Yost said. "We feel like we did with [Jarrod] Dyson the last couple years -- that [Gore is] a valuable weapon off the bench."
For further evidence of Gore's standing, Yost revealed the high likelihood that in selecting an ALCS roster, which he must finalize by Friday, nothing would change from the 25-man unit he implemented for Kansas City's three-game sweep of the Angels in the AL Division Series.
"At the end of the day, it might stay exactly the way it was before," Yost said. "We met for a while this morning, but we have until Friday, so we'll continue to use the time to think through things."
The Royals kept 11 pitchers and 14 position players on the ALDS roster.
The 11 pitchers were James Shields, Yordano Ventura, Jason Vargas, Danny Duffy, Jeremy Guthrie, Greg Holland, Wade Davis, Kelvin Herrera, Brandon Finnegan, Jason Frasor and Tim Collins.
The 14 position players were infielders Eric Hosmer, Omar Infante, Alcides Escobar, Mike Moustakas and Christian Colon; outfielders Nori Aoki, Lorenzo Cain, Alex Gordon, Dyson, Josh Willingham and Gore; catchers Salvador Perez and Erik Kratz; and designated hitter Billy Butler.
"We're still leaning towards 11 pitchers. I think everyone's comfortable with 11 pitchers, right now," Yost said. "That's where we're sitting right now. Things change, though."
Jackson Alexander is an associate reporter for MLB.com. This story was not subject to the approval of Major League Baseball or its clubs.