Braves solidify numerous front-office positions
Schuerholz promotes from within, brings back familiar faces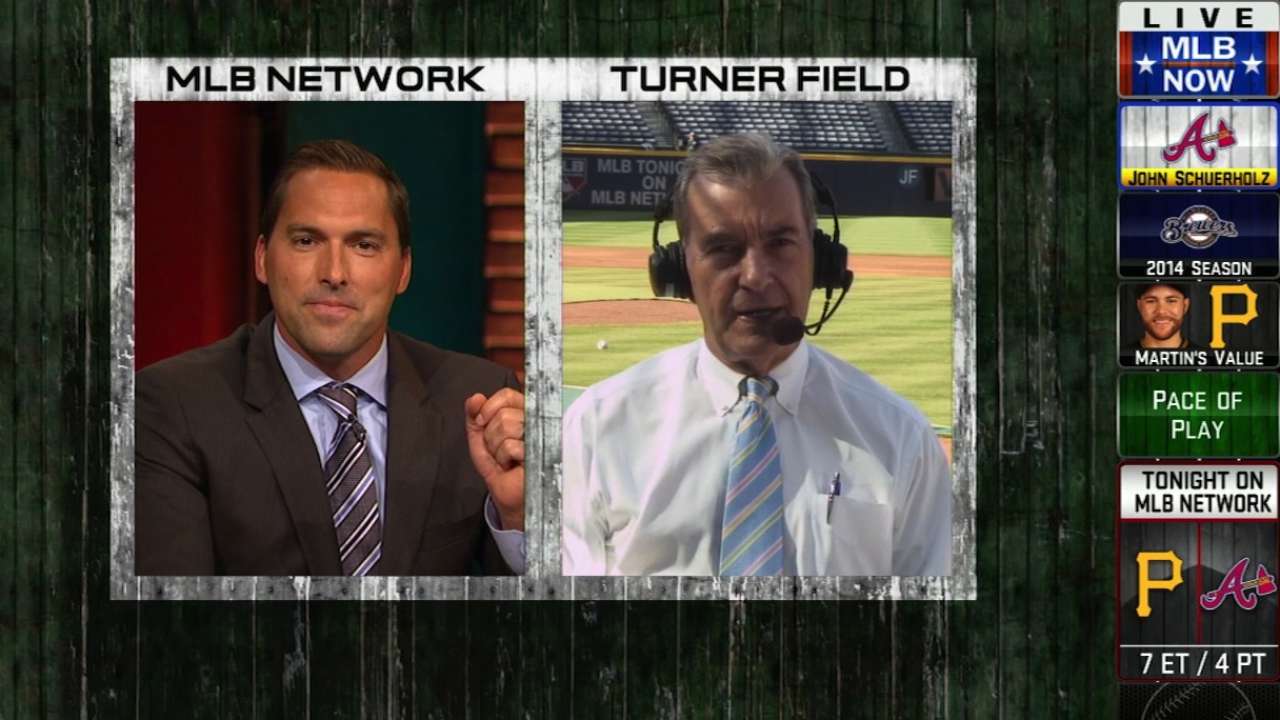 ATLANTA -- As Braves president John Schuerholz reconstructs his baseball operations staff, he has opted to bring back a couple of familiar faces to help restore order to a player development department that lacked cohesion and harmony over the past few years.
Two weeks after terminating former general manager Frank Wren, the Braves are still evaluating who will assume his role on a full-time basis. But on Tuesday afternoon, they officially confirmed that Roy Clark, Gordon Blakeley and Dave Trembley will be joining a front office that will now include Jonathan Schuerholz and a promoted Brian Bridges.
Though these additions and promotions have been speculated the past few days, the Braves have now provided clear indication of the roles these men will assume. Clark, who is one of the game's most respected amateur scouts, and Blakeley, who has had great success in the international market during his heralded scouting career, will both serve as special assistants to the general manager.
Trembley has been hired to serve as the director of player development. The younger Schuerholz, who spent the past six seasons as a Minor League manager and instructor within the organization, joins his father's front office to serve as the assistant director of player development.
Bridges, who is credited with signing Alex Wood, Mike Minor and Craig Kimbrel, has been promoted to scouting director, a role that will allow him to work under the guidance of Clark.
The Braves also announced that Rick Williams will assume a more prominent role at the Major League level as he begins his second season with the club as a special assistant to the general manager.
These hires, especially those of Clark and Blakeley, hint that the Braves will eventually hire a general manager who is familiar with the organization and these individuals. Thus, interim GM John Hart, assistant GM John Coppolella and Royals general manager Dayton Moore remain the most likely candidates.
Even if there is still a desire to give Coppolella a chance to gain more seasoning over the next couple of years, the addition of Blakeley proves that the rising assistant GM now has a greater say within the organization. Coppolella has long considered Blakeley and Schuerholz as the two most influential men in his career.
Blakeley spent the past two decades with the Yankees, who employed him as a farm director, vice president of international and professional scouting, senior VP of player personnel and special assistant to the GM. Since entering the professional baseball world as an area scout for the Mariners in 1988, he has been credited with signing a number of stars, including Robinson Cano, Alfonso Soriano, Alex Rodriguez, Jose Contreras, Orlando Hernandez and Hideki Matsui.
"Gordon is one of the elite talent evaluators in the game." Hart said. "Adding someone with his experience and success to our organization is important for us."
The Braves are also excited about the return of Clark, who served as their scouting director from 1999-2009. Along with proving himself as one of the game's top scouts during this span, Clark also developed a bond with Moore, who skyrocketed his way toward the top of the Braves' front office from '96-06 and then assumed his current role with the Royals.
Clark's strong personality and talent should be better accepted and utilized now that he is back within the elder Schuerholz's system. Multiple sources have said Clark's hands were tied as he served as the assistant general manager and vice president of player personnel for the Nationals from 2010-13. He spent this past season with the Dodgers as a scouting crosschecker.
Clark brought Bridges into the Braves organization in 2008, and the two have maintained a close friendship over the past few years. Bridges spent the past four seasons as a regional cross checker in the southeast, a region that the Braves have always scouted heavily.
Trembley drew rave reviews as he served as the Braves Minor League field coordinator from 2011-12. After spending the past two seasons as the Astros' bench coach, Trembley will attempt to use his great communication skills to restore order to the farm system.
Though the younger Schuerholz earned legitimate respect as he worked his way up through the Minor League ranks as a manager, his move to the front office is not necessarily surprising. Blessed with some of the same communication skills that helped his father become one of the game's most successful front office executives, he will now get a look at the game from a different angle.
Former director of player personnel Ronnie Richardson has been reassigned to serve as a Major League scout. Matt Carroll, Dave Holliday, Jeff Schugel, and Brad Sloan will also serve in this role for the Braves.
The Braves also promoted three promising young members of their front office. Matt Grabowski was promoted to assistant director of scouting and analytics. Ron Knight will now serve as manager of Minor League administration. A.J. Scola will be an assistant in the player development department.
Mark Bowman is a reporter for MLB.com. This story was not subject to the approval of Major League Baseball or its clubs.