Alvarez's Olympic success helping him rise as shortstop
Sox prospect, a silver medalist in speed skating, is used to heavy training, tight schedules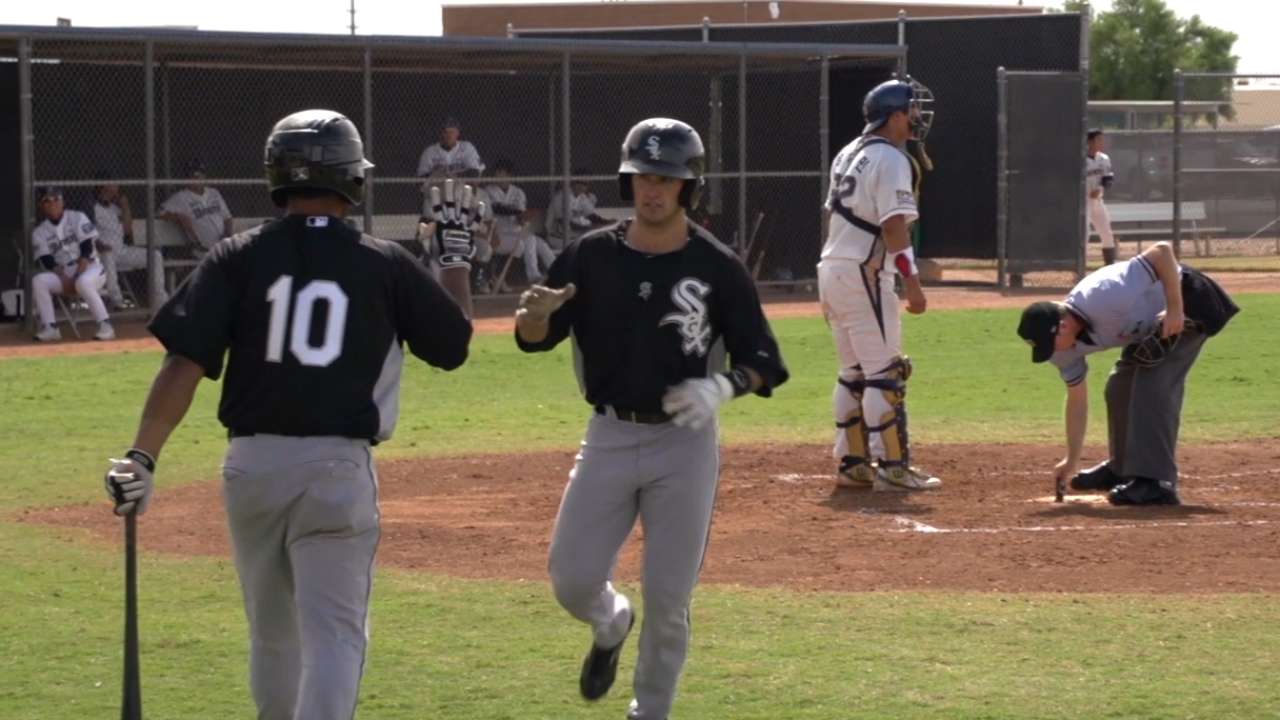 GLENDALE, Ariz. -- Ask Eddy Alvarez what sort of professional baseball player he envisions becoming, and the 5-foot-9, 175-pound switch-hitter smiles and defers his response to a later date.
"I have no idea who I am yet. I really don't," said Alvarez with a laugh, speaking before a White Sox Instructional League contest Tuesday in Goodyear against a Reds affiliate. "Some days I'll get a couple of singles, and the next day I'll hit two home runs. Anything to produce runs and help my team win, that's what I want to be."
Here's what we know about Alvarez:
He's an incredible athlete with great baseball instincts, despite not being part of the game since playing for Salt Lake Community College in 2011. There was a little bit of uncertainty as to whether Alvarez had the arm strength to play shortstop, but those concerns were quickly erased by his defensive play for the Arizona Rookie League White Sox and Class A Kannapolis this past season.
The outgoing and energetic 24-year-old, who turns 25 in three months, also has a unique notch in his belt; he won a silver medal in the 5000 meter short track speed skating relay during the 2014 Winter Olympics in Sochi. His plan all along was to leave the short-track world after the Olympics and move on to baseball.
After working out for Mike Gellinger, the White Sox Arizona Rookie League manager and former big league assistant hitting coach, the organization quickly signed Alvarez on June 11.
"There were other looks. I talked to other scouts and what not," Alvarez said. "I told myself I was going to sign the first contract I saw. And the White Sox were there."
"First of all, it's a great story," said White Sox general manager Rick Hahn of Alvarez. "It's a real impressive testament to him and his resolve and his desire to play the game, that despite his successes in another field, he was willing to start really from the bottom with open tryouts and then extended and rookie ball. Beyond that, it's also a pretty impressive accomplishment as well as he performed last year."
Over 45 games between the Arizona Rookie League and Kannapolis, Alvarez hit .346 with a .433 on-base percentage, a .500 slugging percentage and nine stolen bases. He profiles as a top-of-the-order sort of talent, but after going deep against the Korean team NC Dinos during Monday's Instructional League action in Peoria, Ariz., Alvarez showed there's some extra-base pop in his bat as well.
When questioned about his age -- slightly older than most prospects -- Alvarez speaks about being "young at heart" and "playing like a young guy." The truth is that Alvarez looks young from any point of view and, most importantly, he strives to improve every day.
"We saw [Alvarez] really good in Kannapolis the last couple of weeks there," said White Sox director of player development Nick Capra. "With our first-year kids, you see that in all of them, they get tired at this stage with Instructional League. You see wear and tear is hitting him a little bit. But he has shown a lot of good things for us. We are excited."
"Every day I'm learning something. It's incredible," Alvarez said. "I didn't think I could do that, but I really do. The coaches have so much to offer. The scheduling is awesome, it really is. It kind of reminds me of the schedule I had in training with skating. It was tight, but run extremely well and professional."
Players often come to Spring Training claiming to be in the best shape of their lives. Alvarez easily and accurately could have made that comment when his mentor, Carlos Castillo, brought him to the White Sox open tryout. Castillo is a friend and former teammate of Nick Alvarez, Eddy's brother and a Dodgers' Minor Leaguer from 2000-06.
Workouts as part of his Olympic Training were typically "six-to-eight hours per day, six days per week, 11 months of the year." They were grueling endeavors that taught Alvarez a great deal. He has incorporated some of those lessons into the world of baseball.
"Just being able to transition that to my baseball career, it's fun. This is almost easy," said a smiling Alvarez. "We did a lot of cross training. We were cycling, running, doing weights. A lot of that lower base build, I was able to bring that to the baseball world, and I rely a lot on my lower half in my swing. The torque, the load and being able to control my timing, it has actually helped me immensely."
"This was an excellent debut season. He did a great job," said Hahn of Alvarez, who figures to start '15 at Class A Winston-Salem. "Our PD [player development] did a great job with the transition and next year, when he enters the year knowing what to expect, we'll get a truer read in terms of what his upside is, what his ceiling is."
Scott Merkin is a reporter for MLB.com. Read his blog, Merk's Works, and follow him on Twitter @scottmerkin. This story was not subject to the approval of Major League Baseball or its clubs.