Ethier starts as Puig sits until end of Game 4
Mattingly cites matchups for benching; outfielder enters late as pinch-runner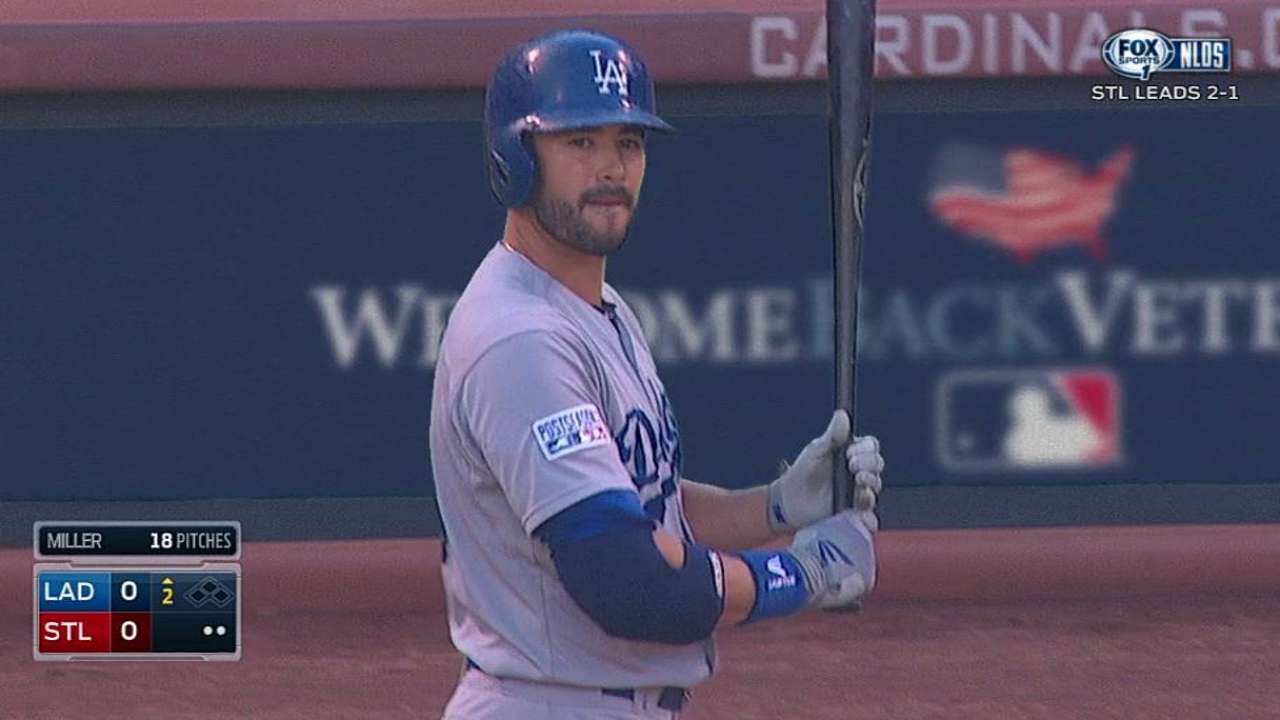 ST. LOUIS -- Dodgers manager Don Mattingly shook up his lineup for Game 4 of the National League Division Series on Tuesday, benching Yasiel Puig and replacing him in center field with Andre Ethier in the club's season-ending 3-2 loss to the Cardinals.
Ethier went 0-for-2 with two walks, one strikeout and was ruled out at third base after initially believing a pitch got away from catcher Yadier Molina in a critical sixth-inning play. Ethier initially was called safe, but the call was overturned on a challenge.
Puig was used as a pinch-runner for A.J. Ellis with one out in the ninth inning, but was stranded at second base when the game ended.
Before the game, Mattingly said Puig was healthy and the switch was made "because it gives us the best chance to win today. It's not about anything bad with Yasiel."
Mattingly also said Ethier was a better matchup against Cardinals starter Shelby Miller. In the regular season, Ethier homered off Miller on June 29 and was 2-for-6 lifetime against the St. Louis right-hander. Puig was 1-for-2 with a double, walk and strikeout against Miller.
Puig said he felt fine and had no advance notice he wouldn't start, learning of it when he saw the lineup after arriving at Busch Stadium. But he said he respected Mattingly's decision.
"I don't need him to tell me about it, either," Puig said. "They made the decision. Now it's my responsibility to support my teammates from the dugout."
Puig tripled Monday night and scored the club's only run. But he also struck out three times in Game 3, four times in Game 2 and once in Game 1. In 12 at-bats, he has eight strikeouts, three hits, scored four runs with a walk and played his typically aggressive outfield. Ethier is 1-for-2 with a double in the series. "Maybe I'm putting pressure on myself," Puig said, but he insisted being hit by a pitch in the first inning of Game 1 had "nothing to do with striking out."
"I'm facing good pitchers," he said. "I haven't been able to connect with good pitches they throw."
On the Sunday off-day, Mattingly said he was concerned that the Cardinals had stirred the emotional Puig in a pair of on-field dustups with Molina. Mattingly said he and the coaches had talked to Puig about simplifying the game, ignoring distractions "and just play baseball."
Ethier has been the odd-man out of the Dodgers' crowded outfield. He opened the season as the starting center fielder and played regularly while first Matt Kemp, then Carl Crawford, battled injuries. Once everyone was healthy after the All-Star break, Mattingly moved made Puig the starting center fielder, moved Kemp to right, put Crawford in left and sent Ethier to the bench.
Ken Gurnick is a reporter for MLB.com. This story was not subject to the approval of Major League Baseball or its clubs.