MLB.com Columnist
Jim Callis
Walker, stacked lineup make Surprise intriguing AFL team
Mariners hurler, loaded outfield give Saguaros roster to keep an eye on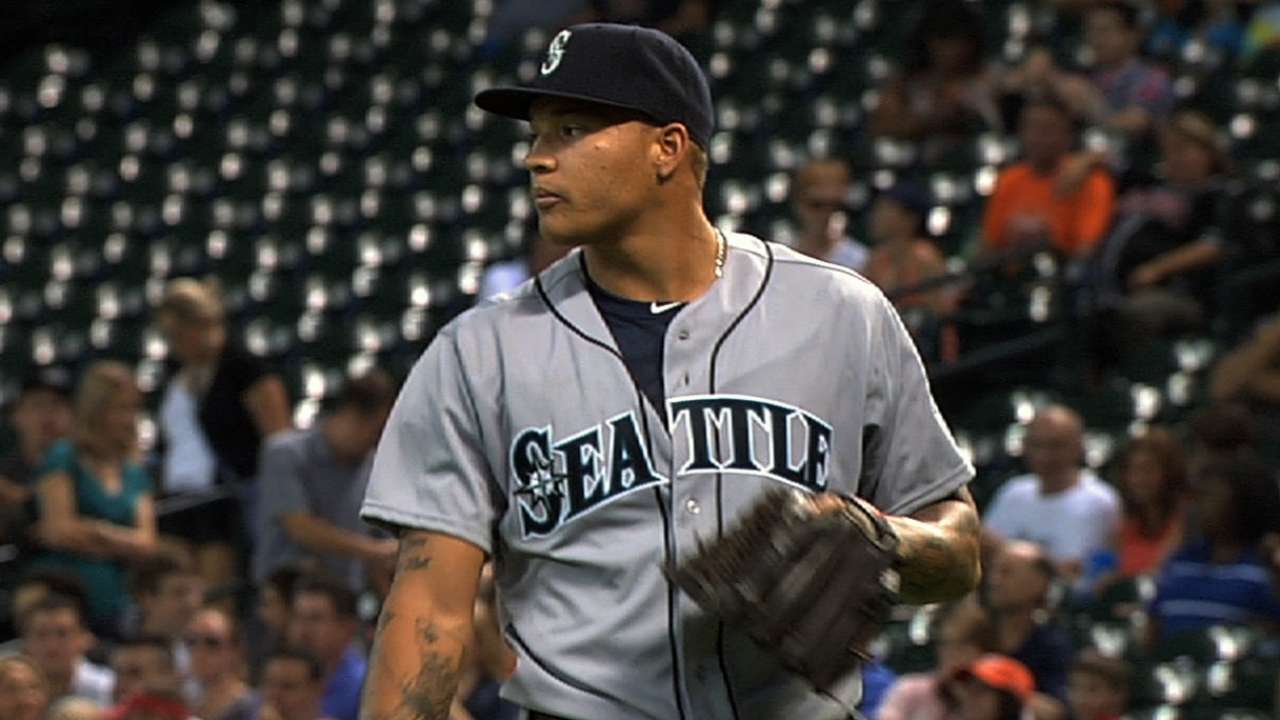 There's a good amount of subjectivity regarding baseball prospects. With the evaluation of talent being in the eye of the beholder, finding consensus is often difficult. Even Jim Callis and Jonathan Mayo of MLBPipeline.com don't always see eye to eye. They discuss their viewpoints regularly in a feature called Pipeline Perspectives. Submit a topic for them to debate.
As in the Minor Leagues, the focus in the Arizona Fall League is on developing talent. To call winning a secondary goal might be giving it more importance than it deserves.
But as in the Minors, the AFL does keep score and does crown a playoff champion after the regular season. Led by standouts such as catcher Jorge Alfaro (Rangers), second baseman Mookie Betts (Red Sox), left-hander Eduardo Rodriguez (then with the Orioles, now with the Red Sox) and shortstop Jonathan Schoop (Orioles), the Surprise Saguaros won the 2013 title.
If the makeup of the AFL's Opening Day rosters is any indication, Surprise is primed to become the league's first repeat champion since the Phoenix Desert Dogs won five straight playoffs from 2004-08. The Saguaros easily have more talent than any other club in the league, though Jonathan Mayo disagrees and prefers the Salt River Rafters.
No AFL team can match Surprise's depth of position players -- and none is particularly close. The Saguaros' embarrassment of riches begins in the outfield, where they have five legitimate prospects.
Jesse Winker (Reds), who has one of the sweetest swings in the Minors, batted .317/.426/.580 as a 20-year-old in high Class A in the first half before missing most of the second half with a wrist injury sustained in an automobile accident. Hunter Renfroe (Padres) was the 13th overall pick in the 2013 First-Year Player Draft and hit 21 homers while reaching Double-A in his first full pro season. Nick Williams (Rangers) has lightning bat speed and a .293/.342/.489 line in three pro seasons.
Rusney Castillo (Red Sox) signed a $72.5 million contract in late August and appeared in Boston by the end of September, showing off his enticing power/speed combination by homering twice and stealing three bases in 10 big league games. (Castillo doesn't officially count as a prospect by MLBPipeline.com standards because he's 27 and didn't count against the international bonus pool, but he's not an established Major League either.) The fifth-best Surprise outfielder is Mallex Smith (Padres), and all he did in 2014 was bat .310/.403/.432 between two Class A stops while leading the Minors with 88 steals.
The Saguaros' infield is just as impressive, despite Jurickson Profar (Rangers) getting scratched because of lingering shoulder issues. Even without Profar, Surprise has the two best second basemen in the AFL in Sean Coyle (Red Sox), who has solid power and speed, and Jace Peterson (Padres), a former McNeese State defensive back who doesn't necessarily have a standout tool but contributes in all phases of the game.
The Saguaros also have the AFL's top third baseman in D.J. Peterson (Mariners), the 12th overall pick in 2013 who hit .297/.360/.552 with 31 homers and 111 RBIs in his first full pro season. Plan B at the hot corner is another slugging Mariner (and another former defensive back, from Rutgers), Patrick Kivlehan, who has a .299/.366/.491 line with 48 homers in 338 pro games.
You want shortstops? Surprise has plenty of them too, starting with Trea Turner (Padres), the 13th overall pick in the 2014 Draft who's a top-of-the-line runner with more pop (perhaps too much for his own good) than the typical burner. Behind Turner are smooth-fielding Deven Marrero (Red Sox), whose bat showed promise in Double-A this year, and intriguing Michael DeLeon (Rangers), who finished the season in high Class A at age 17 and is the youngest player in AFL history.
While the Saguaros have no obvious standouts at catcher or first base, those are the two thinnest positions in the Minors and in the AFL. Teams also rarely send highly touted pitchers to Arizona because they don't want to pile too many innings on them. The exceptions usually are guys who missed time during the regular season with non-serious and/or non-arm injuries, or first-year players getting placed on the fast track -- and Surprise has one of each.
If right-hander Taijuan Walker (Mariners) hadn't exceeded 50 big league innings in his final start of 2014, a complete-game 1-0 loss to the Blue Jays, he'd still qualify as a rookie/prospect and be in the discussion for the most talented pitching prospect in baseball. Walker, who missed most of April and May with a shoulder impingement, was back to throwing in mid-90s and getting outs with his improved curveball and splitter/changeup at season's end.
Righty Nick Howard spent his junior season at Virginia as the all-but-unhittable closer on the Cavaliers' College World Series runner-up team, but the Reds drafted him 19th overall in June with the idea of making him a starter. After making five starts among his 11 appearances and totaling 33 2/3 pro innings after signing for $1,990,500, he'll get more rotation work with the Saguaros. He's capable of running his fastball up to 98 mph and also has a power slider than can be unhittable.
Anyone heading to Arizona to see prospects in action should make Surprise their first stop. And if the Saguaros play to their capabilities, they'll once again be the last AFL team standing.
Jim Callis is a reporter for MLB.com and writes a blog, Callis' Corner. Follow @jimcallisMLB on Twitter. This story was not subject to the approval of Major League Baseball or its clubs.