MLB.com Columnist
Phil Rogers
Blink-and-you'll-miss-him Gore soaking up KC's run
Specialist gives Royals speed dimension as club tears through playoffs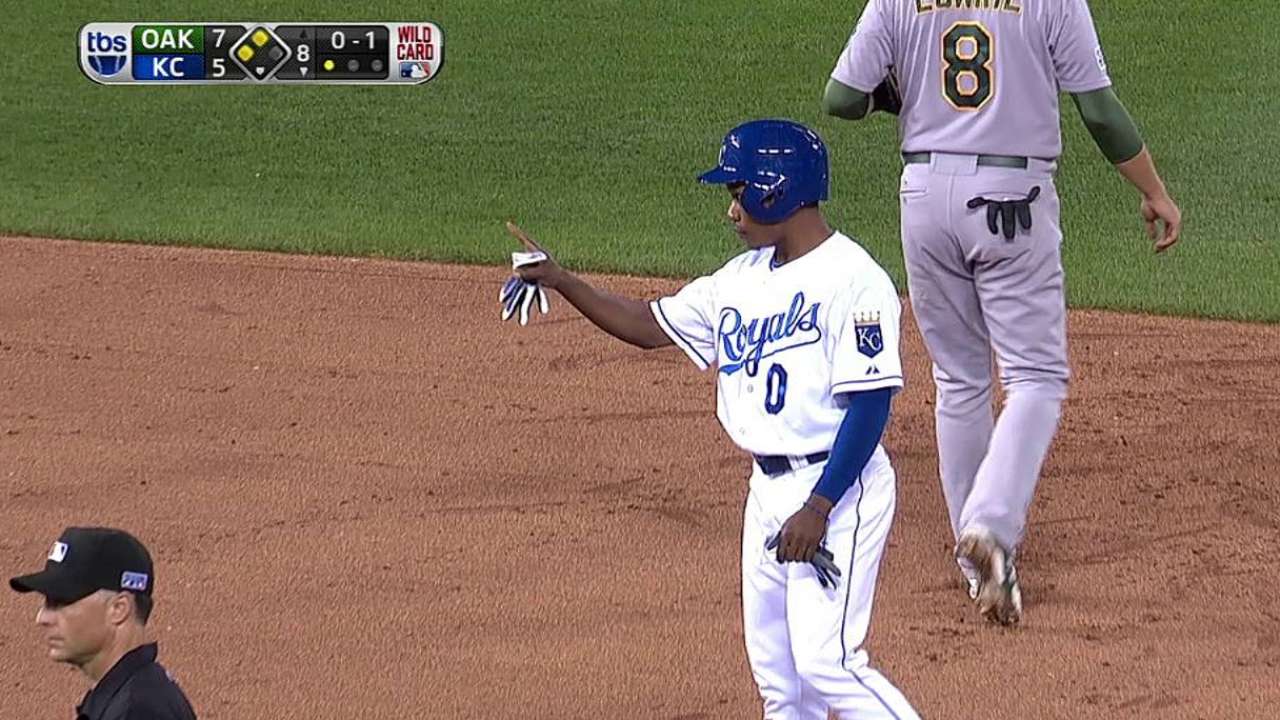 KANSAS CITY -- Terrance Gore can't stop smiling. He's only human, after all.
In the Instructional League just a year ago, Gore has turned into the Herb Washington of his generation, a basestealing specialist who epitomizes the speed and maneuverability of the Royals, baseball's hottest team.
It seems fitting that the 5-foot-7 Gore wears No. 0. But these days, he's a clinching machine. He was promoted from Class A Advanced Wilmington to Triple-A Omaha in time to help the Storm Chasers clinch their division title in the Pacific Coast League but didn't actually spray champagne there, as the decisive victory ended too late for many of his teammates.
"It rained that night, and the game didn't start until 11:30,'' Gore said. "We had older guys on the team, married guys, and afterward they said, 'We're going home to see our families, we'll celebrate tomorrow.' I left [to join the Royals] the next day, so I missed that celebration.''
Gore has more than made up for it over the last five weeks. He got soaked in the clubhouse at U.S. Cellular Field in Chicago on Sept. 26, when the Royals clinched an American League Wild Card spot, and then on Sunday night at Kauffman Stadium, after they finished off the Angels in a shocking sweep in the AL Division Series.
But if you really wanted to see Gore get excited, you had to be in Kansas City on Sept. 15. That was the night he scored from second base on Lorenzo Cain's chopper over the mound. Alexei Ramirez fielded it cutting across the infield but didn't even bother to throw home as Gore dashed across the plate with the winning run. He was running on the play and rounded third like a race car, little more than a blur when he crossed the plate.
"I think it was an 0-2 [count],'' Gore said. "I said, 'This 0-2 pitch probably is going to be somewhere out of the zone, so I'm going.' I looked in, saw Cain hit a little two-hopper -- no doubt in my mind Cain was going to be safe. I said, 'I'm going home.'"
There's a lot to like about the Royals, a team well-constructed by Dayton Moore and well-prepared by Ned Yost and his coaches. It has studs in the critical spots -- Cain, Eric Hosmer, Salvador Perez, James Shields, Yordano Ventura, Wade Davis and Greg Holland -- and complements them with top-of-the-chart specialists like Brandon Finnegan and Gore.
Gore, 23, was a 20th-round Draft pick from Gulf Coast Community College in 2011. He has a career .237 batting average with zero home runs in 1,048 at-bats in the Minor Leagues and may never spend a full season in the Major Leagues. It's telling that when he was sent to Surprise, Ariz., for Instructional League last year, he was given orders to bunt every time he came to the plate.
Just as significant is that Gore welcomed the chance to work on that part of his game.
"I bunted the whole month,'' Gore said. "Literally I didn't swing a bat at all. It was fun. It made my game so much better. It showed me all you have to do is bunt the ball a little bit. That's got to be my primary thing to do in baseball. I'm not swinging the stick, not hitting home runs, but bunting improves everything. When I start bunting, I kid you not, I literally started hitting the ball really hard. I saw the ball hit the bat. My swing is the same way. It improves all kinds of stuff in your skills.''
Gore's speed is, literally, off the charts. Jarrod Dyson, the Royals' center fielder, runs to first base in 3.6 seconds from the left-handed batter's box. Gore gets there even quicker from the right-handed batter's box, clocked at times at 3.5. The top rating on the scale used by scouts is 80, but Gore is faster than the standard required for an 80.
Billy Hamilton, the Reds' National League Rookie of the Year candidate, set a Minor League record with 155 stolen bases in 2012, and White Sox prospect Micah Johnson swiped 84 in '13. Gore, with 168 steals in 330 games, hasn't had a season when he stacked stolen bases on top of themselves like that -- he had 52 steals this season -- but the potential is there.
Moore identified Gore as a potential stretch-run, postseason difference-maker long ago, which is why he promoted him to Omaha in early August. He wanted Gore to work on getting jumps against more experienced pitchers on his way to Kansas City.
Gore knew he was being turned from a full-time outfielder into a specialist, at least for a couple of months, and welcomed the opportunity.
"They told me I probably wouldn't play as much,'' Gore said. "'I'm just happy to have a jersey on. Of course I can run pretty good, so I figure if that's what they wanted me to do. I stay positive and go from there.''
Yost has used Gore in seven of the Royals' last eight games, and nothing's happened to discourage him from continuing to use him as the stakes get higher. Gore has picked up only two plate appearances with Kansas City but has eight stolen bases (and no caught stealings) and five runs scored.
Sometimes it seems like the only way to catch Gore is if he overslides the bag. He seems like a candidate to be picked off but hasn't been yet, always seeming to get back to first base easily. He is benefitting from the scouting reports and advice of Rusty Kuntz, the Royals' long-time outfield and baserunning instructor, who doubles as first-base coach.
"At the beginning I was a little nervous,'' Gore said. "Now, Rusty Kuntz, he knows everything about pitchers. He breaks it down. He makes my job easier. I can't thank him enough for that. It makes it so much easier for me.''
Gore has also attached himself at the hips with Dyson, who ranks ninth all-time on the Royals with 120 stolen bases. With Yost starting an outfield that has Alex Gordon in left, Cain in center and Nori Aoki in right, the two give Kansas City two strong cards to play in the extra innings.
"He taught me some keys to look at, some keys not to look at,'' Gore said about Dyson. "I used to look at the front foot, now I don't even look at it anymore. I noticed in Triple-A they do a little balk move, but not here.''
Washington was a sprinter before forward-thinking A's owner Charlie Finley made him a baserunning specialist. He lasted only two seasons before there was no longer room for him on a Major League roster, appearing in 105 games without ever getting to the plate. He was something of a postseason flop, getting thrown out in his only two stolen base attempts, but collected a World Series ring with Oakland in 1974.
Gore has a chance to have a better career. If he can put the ball in play against big league pitchers, he could have a long career as an extra outfielder. But it would be cool to pick up some jewelry this year, in case this is as good as it gets.
There will be a time when this experience seems like a blur to Gore -- just like he is when he has hit his stride, in search of the next base.
Phil Rogers is a columnist for MLB.com. This story was not subject to the approval of Major League Baseball or its clubs.