MLB.com Columnist
Jim Callis
Top prospect Gallo works on defense at instructional league
Rangers work with youngsters in Arizona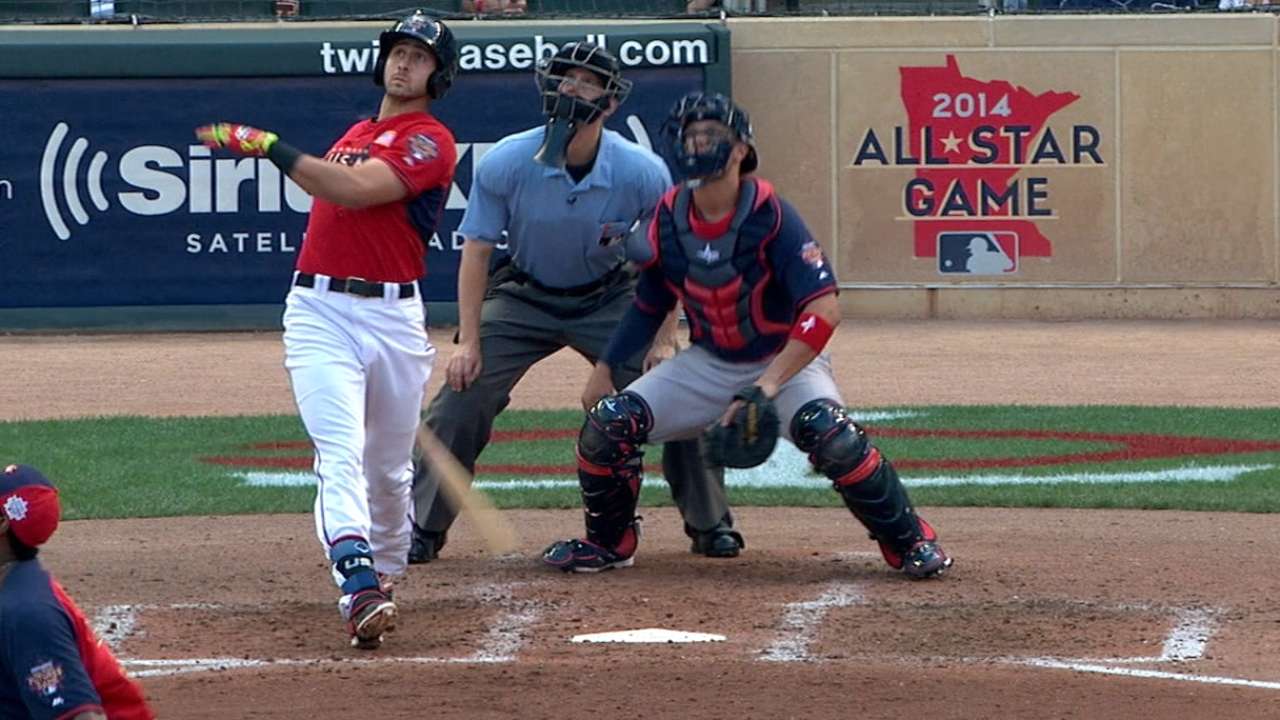 No one doubts Joey Gallo's power. He set a Rookie-level Arizona League record with 18 homers (in just 43 games) in his 2012 pro debut and led the Minor Leagues with 40 blasts in his first full season in '13. This year, he put on an unforgettable show at the Sirius XM All-Star Futures Game and finished second in the Minors with 42 homers while reaching Double-A at age 20.
Gallo's defensive skills, however, are more in question. He has a well above-average arm that delivered upper-90s fastballs in high school, but he's also 6-foot-5 with below-average speed who may not be ideally suited for his present position of third base. So the Rangers exposed him to other positions during his three weeks in instructional league.
With Adrian Beltre signed through '16 and Prince Fielder locked up through '20, Gallo's initial opportunity in Texas could come in the outfield -- so he got some time there. More surprisingly, he also saw action at shortstop, with the goal to enhance his first-step quickness rather than to groom him as an eventual replacement for Elvis Andrus.
Gallo also used his time in Surprise, Ariz., to work on his offensive game. He slammed 21 homers at each of his two stops in '14, but after batting .323/.463/.735 with a 51/64 BB/K ratio with Class A Advanced Myrtle Beach, he slipped to .232/.334/.524 with a 36/115 BB/K ratio at Double-A Frisco.
"We bounced him around at a couple of new positions, and he showed some agility at shortstop and looked good in the outfield," Rangers senior director of Minor League operations Mike Daly said. "He did some work with the bat because he didn't have as much success at Frisco.
"He worked on shortening his swing, because he still needs to make more contact. He also worked on using the whole field and facing left-handed breaking balls. It was really a productive instructional league for him."
More from the Rangers' instructional league program:
● Nomar Mazara continued to build on his breakthrough '14 season during his three weeks in Surprise, skipping the final week to join Licey in the Dominican Winter League. He worked on his quickness and his outfield play, and he also honed his left-handed swing.
Mazara's swing was plenty potent during the regular season. Signed for an international-record $4.95 million out of the Dominican Republic three years earlier, he batted .271/.362/.478 with 22 homers between Class A Hickory and Frisco at age 19. He boosted his productivity once he advanced to Double-A in August.
"He's always been a young guy who's shown a knack for controlling the strike zone," Daly said of Mazara, who drew 66 walks versus 121 strikeouts in '14. "He missed some hittable pitches at Hickory the year before, but once he got going, he did some damage and he didn't miss those pitches any more. Same thing in Frisco, he did damage when he got his pitch.
"He's very mature for 19. He has a quiet confidence, a presence. He just gets it."
● Another precocious Ranger is shortstop Michael DeLeon, who reached Class A Advanced as a 17-year-old at the end of the season and will become the youngest player in Arizona Fall League history when that season opens this week.
DeLeon initially was overshadowed in Texas' international spending spree in '13. The Rangers topped all clubs with $8.42 million in bonuses, including $1.8 million for Dominican outfielder Jose Almonte, $1.35 million for Venezuelan shortstop Yeyson Yrizzari and $1.3 million for Dominican right-hander Marcos Diplan. Signed for $550,000 out of the Dominican, DeLeon didn't seem like as much of a big deal by comparison.
While Almonte, Yrizzari and Diplan all spent their first pro seasons in Rookie ball, DeLeon actually made his debut in Double-A as an emergency fill-in in May. After he doubled in three at-bats and handled eight chances flawlessly, Texas used him to plug a hole in Class A after two shortstops went down there. Promoted to Myrtle Beach in August, he drove in 12 runs in 14 games (including the playoffs).
The Rangers initially ticketed Jurickson Profar for the Arizona Fall League after he missed the entire big league season, but his shoulder issues continue to linger. So they called once again on DeLeon, who will play his AFL home games where he spent instructional league. He'll probably start twice a week for the Surprise Saguaros and spend his downtime trying to add strength to his skinny 6-foot-1 frame.
"He's a defense-first guy with a contact bat," Daly said. "He competes. He's 157 pounds soaking wet right now, but he puts the bat on the ball. He has very good game awareness. We look at the Fall League as another opportunity for him with Profar going down."
● Texas' top '14 First-Year Player Draft picks are continuing their introduction to pro ball with a month in the instructional league program, which ends Friday. Right-hander Luis Ortiz (first round) has focused on strength and conditioning while showcasing a 90-93 mph fastball when he has taken the mound. Ti'quan Forbes (second round) has worked on making the transition from shortstop in high school to third base in the pros, and Josh Morgan (third round) has impressed with his defensive prowess at shortstop.
Jim Callis is a reporter for MLB.com and writes a blog, Callis' Corner. Follow @jimcallisMLB on Twitter. This story was not subject to the approval of Major League Baseball or its clubs.