Top Pirates prospect Glasnow on the fast track
Righty set to start in AFL opener after spending season at Bradenton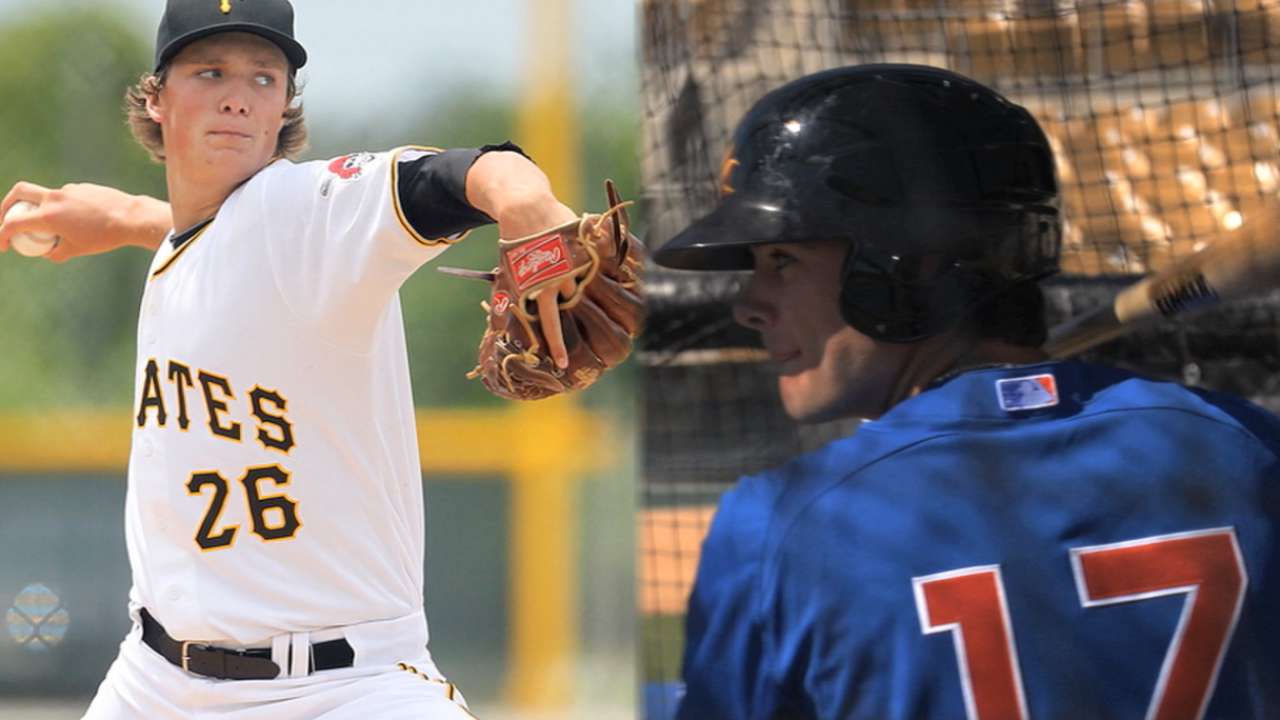 PITTSBURGH -- When you are a fast-rising ballplayer, you don't get to rest on your laurels. You don't get to rest, period. Thus, Tyler Glasnow will be back on the mound Tuesday night, pitching for Scottsdale under the Arizona palms, 39 days after doing his thing for Bradenton under the Florida palms.
Glasnow's thing was quite mind-blowing. With the Marauders of the Class A Advanced Florida State League, he went 12-5 with a 1.74 ERA and 157 strikeouts in 124 1/3 innings. Domination every fifth day earned the 6-foot-7, 21-year-old right-hander top prospect ratings from multiple sources, including MLB.com's Pipeline.
It also earned him Opening Night duties for the Arizona Fall League Scorpions at Salt River at 9:35 p.m. ET.
Glasnow will take the next step on his ascension. And this is a big step. Few Class A players are ever invited to compete in baseball's so-called "finishing school." Of the eight Pirates prospects on Scottsdale's roster, in fact, Glasnow is the only one without at least Double-A experience.
Double-A Altoona is definitely his next destination.
"My goal in the Fall League is to learn to throw breaking balls in non-breaking-ball counts, continue to confidently throw the changeup, and take all that into Double-A," Glasnow said. "That, and the speed separation between my changeup and fastball. On a good day, the change is 86 [mph] when I'm throwing 96-97 [mph]."
Glasnow's fast track may be fast enough to have him in Pittsburgh by next season, at the very least for a September glimpse. This is not an outrageous projection: A year after Gerrit Cole's Bradenton tenure, he was in the Pirates' rotation.
During his Marauders days, by the way, Cole was 5-1 with a 2.55 ERA and 69 strikeouts in 67 innings.
Glasnow was drafted in the fifth round of the 2011 First-Year Player Draft in which Cole was the No. 1 overall choice. The big difference in their timelines is that Cole, drafted out of UCLA, stepping-stoned all the way up to Triple-A in his first pro season of 2012, while Glasnow, drafted as a 17-year-old out of Hart High School in Santa Clarita, Calif., has developed more gradually.
And more spectacularly. Rather than a dramatic breakthrough, Glasnow's 2014 merely sustained his pro resume. In three seasons, he has an ERA of 1.94, a WHIP of 1.04 and a .160 opponents' average; as he has harnessed his stuff, he has fanned 321 in 235 2/3 innings the last two seasons.
So it is entirely sensible for Glasnow to duplicate Cole's meteoric rise and end 2015 in PNC Park.
Cole, in fact, was one of the steeped Major League starters who encouraged Glasnow to adopt a habit that has made a big difference for him.
"A lot of big league starters told me to get a routine and stick to it, live by it," Glasnow said. "That's been a huge help. The consistency between starts, writing down my routine. After a rough start to the season, I kinda realized I had to stick to it, and after that, every start was the same. That's a big piece for starting pitchers.
"That, plus just having more starts under my belt. Honestly, it just comes with time. I think I was a lot better pitcher [in 2014] than I was last year. I just want to continue to progress, learn what I can, and not put too much pressure on myself."
Other than preparing the same way between starts, there has been nothing routine about Glasnow's progress.
Tom Singer is a reporter for MLB.com and writes an MLBlog Change for a Nickel. He can also be found on Twitter @Tom_Singer. This story was not subject to the approval of Major League Baseball or its clubs.