Left-handed complements powering Cardinals
Carpenter, Wong homer in Game 3 as southpaw swingers continue pounding Dodgers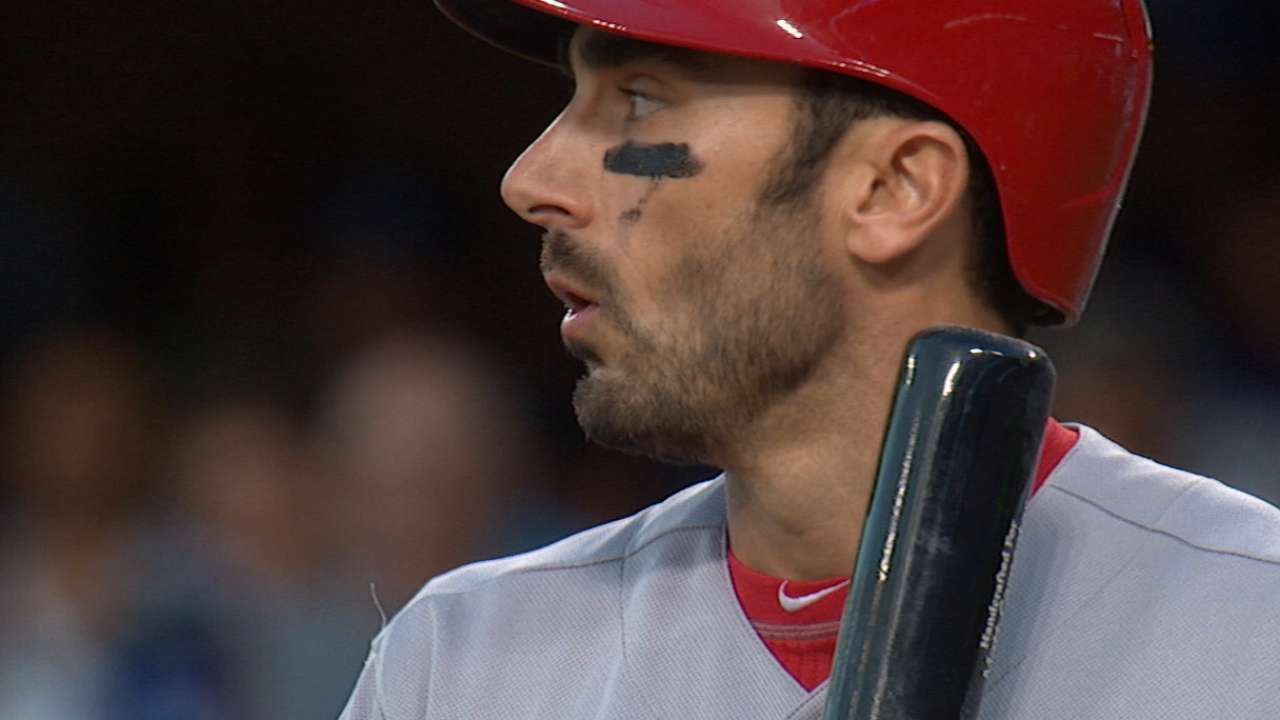 ST. LOUIS -- There's no secret about the array of left-handed bats on the Cardinals roster.
That, admitted Dodgers manager Don Mattingly, is a big part of why in filling out the bullpen they opted to keep a second left-hander, Scott Elbert, to go with veteran J.P. Howell.
Not that it has made any difference so far in the National League Division Series.
The Cardinals took a 2-games-to-1 lead in the best-of-five series with a 3-1 victory at Busch Stadium on Monday night. And it was left-handed-hitting Matt Carpenter who put the first run on the board with a home run off left-handed starter Hyun-Jin Ryu to lead off the third, and left-handed-hitting second baseman Kolten Wong who delivered the game-winning two-run shot of Elbert in the seventh.
"I can't pinpoint one thing," said Ryu, "but if it's anything, it's that left-handed hitters sit on the outside balls and it seems those balls are easier for them to hit."
That is by design.
"Our left-handed hitters are fundamentally good hitters," said Cardinals general manager John Mozeliak. "They don't have long, power swings. They stay on the ball and hit it hard.''
They certainly have in the first three games against the Dodgers. The five left-handed bats on the Cardinals Division Series roster are a combined 14-for-32 and it has been an impactful 14-for-32.
"We put the roster together the roster the way we did because we knew the Cardinals were a team with some good left-handed hitters and we wanted to try to be able to neutralize them," said Mattingly. "Obviously to this point we have not been able to. ... We've just go to continue to maybe search a little different avenue to try to get these guys out. They're the guys that seem to be hurt us as much as anybody."
Wong had that game-winning home run in Game 3.
Carpenter is not only 5-for-10, but as well as the home run off Ryu in Game 3, he had a home run in the sixth and then the three-run double in the eight-run seventh inning that knocked out Clayton Kershaw in the Cardinals' 10-9 Game 1 victory, and homered off Howell in Game 2.
"I think it's just us really, really focusing more so," said first baseman Matt Adams, another lefty swinger. "I'm not saying that we didn't focus against left-handers during the regular season, but we're ready to face them because we know they have a lot of them. It's just us barreling down and getting the pitches that we want and getting the barrel to them."
That goes back to Mozeliak's appraisal, which was evident in that eight-run seventh inning in Game 1, which saw Adams single up the middle to drive in the first run in the rally, lefty Jon Jay single the opposite way into left field to drive in the second run, and Carpenter double to deep right with the bases loaded.
"These guys take a lot of pride in not wanting to be that guy that has to be pulled when a lefty gets into the rotation and we're facing them," said manager Mike Matheny. "They work at it. It's nice to see it payoff."
Tracy Ringolsby is a columnist for MLB.com. Read his blog, Write 'em Cowboy. This story was not subject to the approval of Major League Baseball or its clubs.