Bullpen breakdown leaves Dodgers in NLDS hole
Elbert allows tiebreaking homer in seventh after Ryu's six strong innings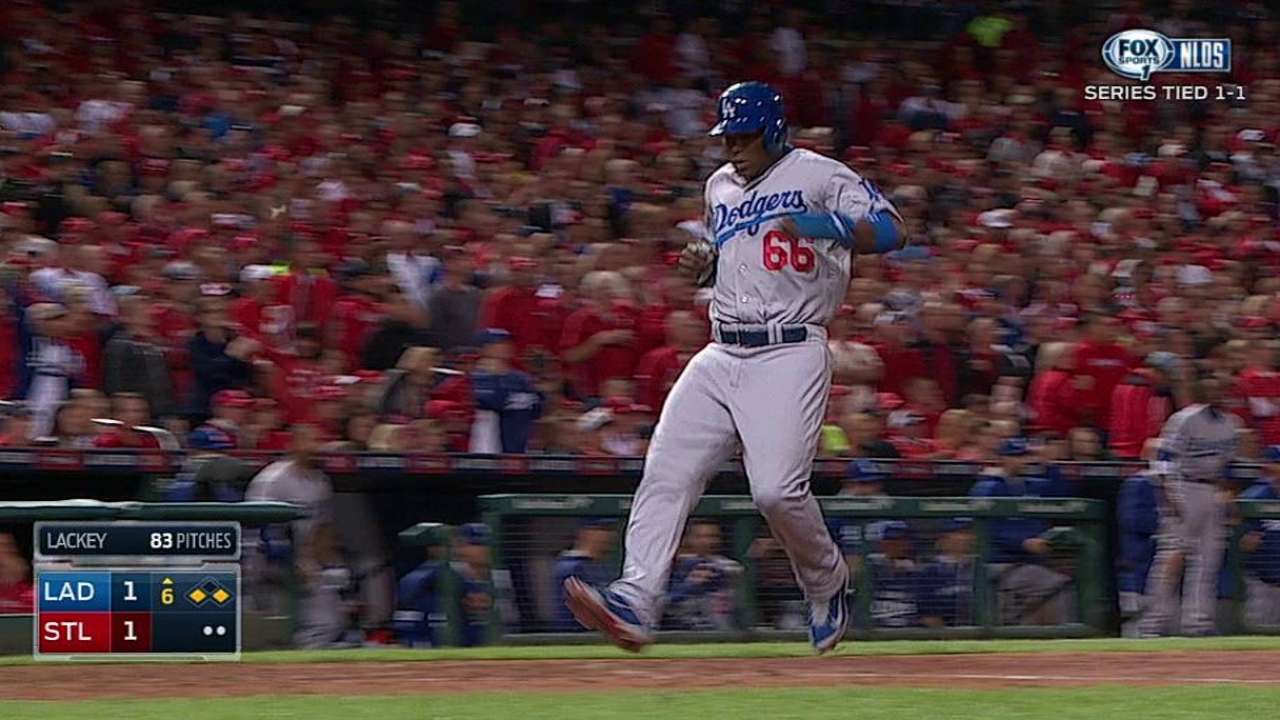 ST. LOUIS -- When the Dodgers submitted a playoff roster with eight relievers instead of the seven they used last October, it was a red-flag warning that something like this could happen.
On Monday night, the bullpen continued its struggles in this series as left-handed hitter Kolten Wong slugged a two-run homer off left-handed reliever Scott Elbert in the bottom of the seventh inning and the Cardinals beat the Dodgers, 3-1, to take a 2-1 lead in the best-of-five National League Division Series.
Facing elimination, the Dodgers start Clayton Kershaw on Tuesday (2 p.m. PT on FOX Sports 1) on three days' rest. Last year on short rest, Kershaw pitched six solid innings for a no-decision against the Braves in the NLDS. But also last year pitching on regular rest in the NL Championship Series, Kershaw allowed seven runs to the Cardinals and the Dodgers were eliminated at Busch Stadium, where they are 1-9 in postseason games.
"We've got to win," right fielder Matt Kemp said. "It's must win, do or die."
Elbert is a Missouri native added to the postseason roster instead of Paco Rodriguez after a handful of strong September outings, but also after two years on the sidelines with three elbow operations. He even was designated for assignment this summer when his rehab stalled. But he faced five Cardinals batters in Game 3 and allowed three extra-base hits, torpedoing the solid return of starter Hyun-Jin Ryu, who evenly dueled Cardinals starter John Lackey.
"When we decided to put him on the postseason roster, he's there to get lefties out," manager Don Mattingly said of Elbert. "That's why we put the roster together the way we did. We knew the Cardinals were a team with some good left handed hitters, and we wanted to try to be able to neutralize them. Obviously to this point we have not been able to."
Left-handed batters hit both homers and drove in all three runs for the Cardinals in this game. On the series, Cardinals lefties have four of six homers and have driven in 10 of 15 runs, with Matt Carpenter slugging 1.500 with three homers, three doubles and seven RBIs. The Dodgers staff ERA is 5.19, despite 13 innings and one earned run combined from Ryu and Zack Greinke.
Relievers Pedro Baez, J.P. Howell and Elbert have allowed a home run in each of the three games, underscoring the crisis the Dodgers now face once their starting pitcher leaves. The home runs allowed by Baez and Elbert accounted for the decisive runs in both losses.
The Dodgers gave it one last try in the ninth. With Cards closer Trevor Rosenthal throwing 99 mph, the inning started with Kemp called out on strikes, then jawing with plate umpire Dale Scott, who was hearing about his strike zone it from both dugouts all night.
"By far, the worst I've ever seen," said Kemp. Hanley Ramirez (3-for-4) and Carl Crawford singled. Ramirez tagged to third on Juan Uribe's flyout to right. But A.J. Ellis flied out to right.
Ryu was making his first start since being sidelined by a sore shoulder after a one-inning outing in San Francisco on Sept. 12. Throwing 93 mph fastballs, Ryu showed no signs of the injury. He made 94 pitches over six innings, the only run allowed being a home run to Carpenter, and he hits them off just about every Dodgers pitcher.
"Pretty amazing that a guy can be off that long and be that sharp," said Mattingly, who lifted Ryu for a pinch-hitter in the seventh.
Ryu said he "definitely could have kept on pitching," but added that Mattingly "makes the decision that's best for the team."
After one pitch, however, the Dodgers' bullpen was about to undo everything Ryu had done. Yadier Molina drilled that first pitch into the left-field corner for a double. He was sacrificed to third base by Jon Jay on the first pitch. With the infield in, Wong homered on the first pitch.
"He put a great swing on a ball that was down," catcher Ellis said. "We tried to get in a little bit, get a popup or a weak ground ball. Maybe it got too much of the plate. Everything happened quickly there."
Pinch-hitter Oscar Taveras grounded out, then Carpenter doubled to chase Elbert, once a hard-throwing first-round pick whose fastest pitch was 89 mph.
"I need to go out and do a better job," said Elbert. "I didn't execute."
Randal Grichuk greeted Brandon League with a single, Carpenter held at third. League stopped Matt Holliday's smoked comebacker with his calf and threw him out to end the inning.
The only Dodgers run was scored by Yasiel Puig. Although he also struck out three times, giving him eight in his last nine at-bats, Puig led off the sixth inning with a line drive into the right-field corner that Grichuk misplayed into a triple. Adrian Gonzalez flied to shallow left for the first out. Kemp struck out. But Ramirez doubled into the right-field corner to score Puig. Crawford struck out to strand Ramirez.
The Dodgers put runners in scoring position the first two innings without scoring, wasting a single and stolen base from Dee Gordon in the first and Ellis' sixth hit of the series in the second. The Dodgers were 1-for-11 with runners in scoring position.
Ryu pitched around a walk to Holliday in a scoreless first inning and escaped the second inning still scoreless despite starting it with singles by Matt Adams and Molina.
But Carpenter led off the third inning with his daily home run, crushing a 1-2 changeup. Carpenter is the first Cardinal to homer in three consecutive games in the same series. Albert Pujols homered in three consecutive postseason games over two different series.
Lefties hit .283 off Ryu this year.
"I can't pinpoint one thing, but left-handers are sitting on outside balls and they are hitting outside balls easier than inside balls," Ryu said.
The margin could have been much worse if not for a miraculous double play started by reliever Howell. With one out and the bases loaded in the bottom of the eighth, Howell's glove hit the mound to brace himself following a pitch just as Wong sent a comebacker that found the glove, and Howell then started a 1-2-3 double play.
Ken Gurnick is a reporter for MLB.com. This story was not subject to the approval of Major League Baseball or its clubs.