How much did short rest affect Kershaw in Game 4?
History shows mixed results, but with the move more often unsuccessful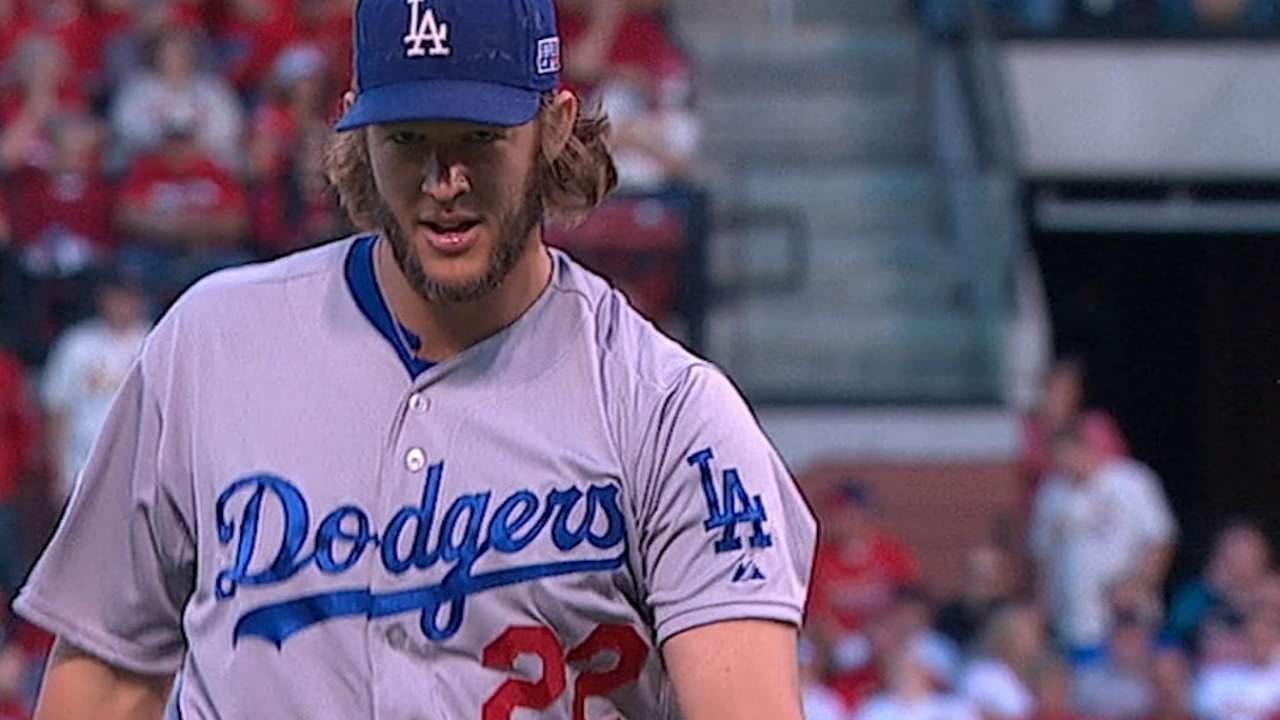 Clayton Kershaw will take a lot of the heat for the Dodgers' early playoff exit this season, and, sure, some of that is justified.
But Kershaw pitched Game 4 on short rest, and he threw 101 pitches without allowing a run before Matt Adams' home run sealed his playoff fate in a 3-2 loss. Simply put, pitchers hardly ever throw back-to-back 100-pitch outings with just three days in between. In the last 15 seasons, only three other pitchers (the Marlins' Josh Beckett and the Yankees' CC Sabathia and Hiroki Kuroda) have done so in the postseason. Of course, Kershaw wasn't about to blame fatigue.
"I felt great, it just didn't work out," Kershaw said. "The season ended and I'm a big part of the reason why. It doesn't matter how I pitched. It's bad deja vu all over again. I felt we had a really good chance to win. I'm thankful we got here and hope to be back."
This wasn't Kershaw's first postseason start on short rest. In Game 4 of the 2013 NLDS, Kershaw allowed two runs over six innings as the Dodgers eliminated the Braves, but he was pulled after just 91 pitches. As Kershaw's experience shows, sending out a starter on short rest is always a gamble, and the numbers skew heavily against starting a pitcher who doesn't have his full rest between starts. Here are a few other facts and figures that demonstrate this.
(For the purposes of this exercise, we're taking into account only pitchers who started on short rest after making a start. Kansas City's Yordano Ventura technically started on two days' rest Friday in the American League Division Series against the Angels, but he did so after throwing just one-third of an inning in relief on Tuesday in the AL Wild Card Game vs. the A's.)
• Since 2004, starters on short rest are 5-7 with a 4.72 ERA in 21 starts in the postseason. In that timeframe, teams using a starter on short rest are now a combined 5-12 against teams who use a starter on full rest.
• Understandably, the area most affected by short rest is length. Just six of the 21 starters in those games have pitched more than six innings, and Detroit's Justin Verlander did so only after his Game 1 start in the 2011 ALDS was cut short by rain.
• Aside from Verlander, here is the full list of starters to pitch more than six innings on short rest in the postseason since 2004:
Hiroki Kuroda, Yankees, 2012 ALCS Game 2: 7 2/3 IP, 3 ER, 5 hits, 11 Ks.
Derek Lowe, Braves, 2010 NLDS Game 4: 6 1/3 IP, 2 ER, 2 hits, 8 Ks.
CC Sabathia, Yankees, 2009 WS Game 4: 6 2/3 IP, 3 ER, 7 hits, 3 Ks.
CC Sabathia, Yankees, 2009 ALCS Game 4: 8 IP, ER, 5 hits, 5 Ks.
Tim Hudson, A's, 2005 ALDS Game 4: 7 IP, 3 ER, 6 hits, 5 Ks.
As you can see, the only real dominant short-rest start in the past 10 postseasons was Sabathia's gem against the Angels in the 2009 ALCS. A pitcher's stuff may be there initially -- as Kershaw's was on Tuesday, but by these numbers, we can deduce that it's clearly much harder to dominate deep into a game without at least four days off.
• As we mentioned earlier, Kershaw joined a list of just four pitchers since 2000 who have thrown 100 pitches in a playoff game and then thrown another 100 pitches three days later. In last year's NLDS, manager Don Mattingly dipped into his bullpen after Kerhsaw had thrown just 91 pitches.
Kershaw was the first pitcher since San Diego's Kevin Brown in the 1998 NLDS to throw 110 pitches and then hit the century mark in his next start on short rest.
• Teams using a starter on short rest against a team with a starter on full rest are 18-36 in the postseason since 1995. This may be the most telling statistic of all. Typically, a team won't go to a pitcher on three days' rest unless he's a quality starter. Well, in the Wild Card era, those quality starters have led their teams to victory on short rest one-third of the time.
• On 14 occasions since 1995, two short-rest starters have opposed each other in a postseason game. Sabathia and Verlander matched up in Game 3 after that soggy ALDS Game 1 in 2011. But the most recent genuine occurrence was the fateful Game 7 of the 2004 ALCS, when Lowe pitched six innings of one-run ball on just two days' rest to lead the Red Sox past their arch rivals and into the World Series. He defeated the Yankees' Kevin Brown, who lasted 1 1/3 innings and allowed five earned runs on three days' rest.
There was some speculation Cardinals manager Mike Matheny would bring back Wainwright to go against Kershaw in Game 4, but the St. Louis skipper stuck with Shelby Miller as his starter.
• The most important disclaimer here is that combined ERA totals don't necessarily tell the whole story. A handful of starters -- notably Bartolo Colon, A.J. Burnett and Chien-Ming Wang -- have had extremely poor outings on short rest, skewing the ERA higher than we might expect.
• Since 2007, just three pitchers have started on short rest, looking to close out a series. Those three pitchers are a combined 2-0 with a 2.54 ERA, and all three helped their teams clinch that night. Along with Kershaw last season, Chris Carpenter (2011) of the Cardinals and Andy Pettitte ('09) of the Yankees were each solid on short rest in World Series clinchers.
In that same time frame, five pitchers, including Kershaw now, have started on short rest, looking to stave off elimination. Carpenter -- who did so in a Game 7, so his numbers apply for both categories -- was the only pitcher whose team was victorious, and the other four pitchers combined to post a 4.66 ERA.
• Sabathia (2009) was the last starter to pitch multiple games within the same postseason on short rest. Since the Wild Card era began, only six pitchers have pitched at least two playoff games on short rest in the same year. Pettitte (1996), Baltimore's Mike Mussina ('97), Cleveland's Jaret Wright ('97), Brown ('98), then with San Diego, and Arizona's Curt Schilling (2001), were the other pitchers to do so.
In their short rest starts during those seasons, those six pitchers combined to go 5-1 with a 1.77 ERA. What does that tell us? Well, for one, if a pitcher is successful on three days' rest, there's a good chance he'll be able to answer the call again later in that postseason.
• Long gone are the days of pitchers throwing entire postseasons on three days' rest. But it was a relatively common occurrence for much of the divisional era. Dating back to 1969 -- the first year Major League Baseball split into divisions -- 13 pitchers have thrown at least three playoff games on short rest in the same postseason.
Only Atlanta's John Smoltz (1992) and Orel Hershiser (1988) made four starts in one postseason on short rest. And Hershiser went 3-0 with a 0.79 ERA in those outings, on his way to NLCS and World Series MVP honors for the Dodgers.
AJ Cassavell is a reporter for MLB.com. Follow him on Twitter @ajcassavell. This story was not subject to the approval of Major League Baseball or its clubs.